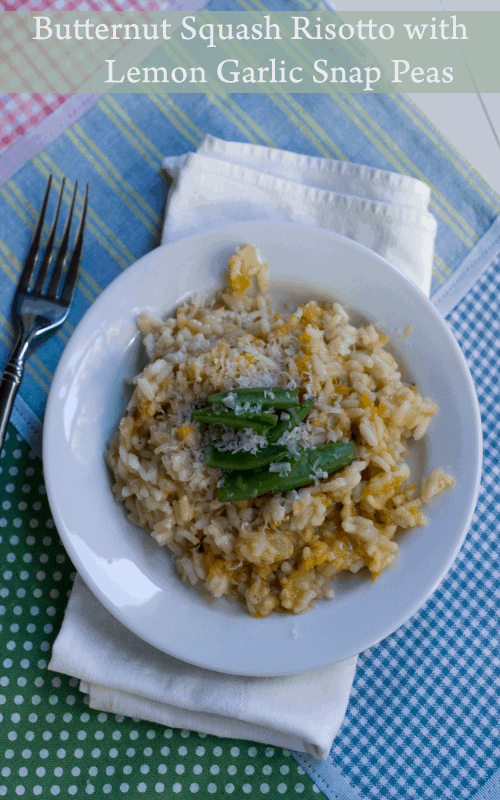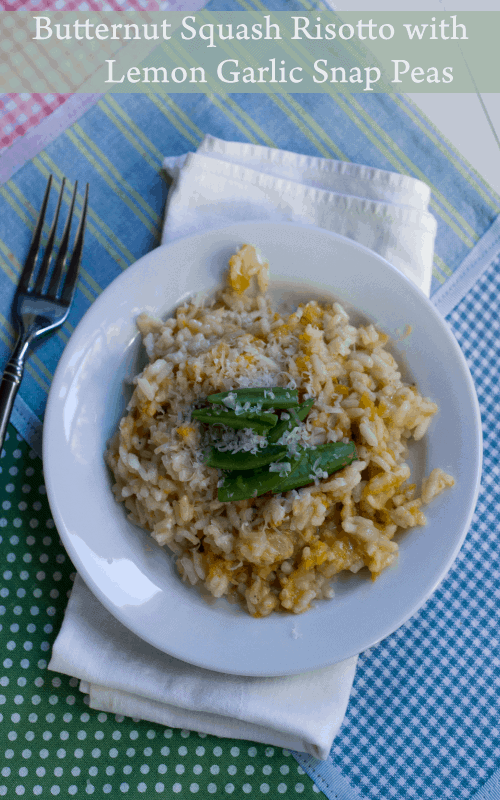 Yesterday was one of my favorite days of the year – time change! It stays light longer meaning spring is just around the corner. To celebrate I decided to cook a risotto that would bridge the gap. I made a Butternut Squash Risotto with Lemon Garlic Snap Peas using Land  O Lakes  Butter with Canola Oil.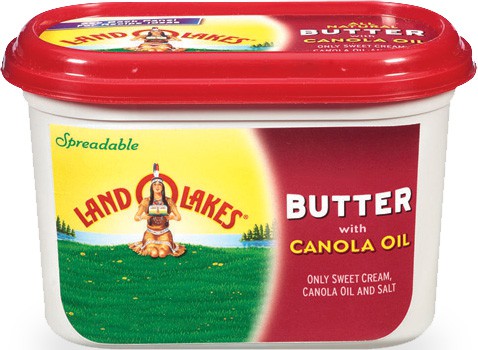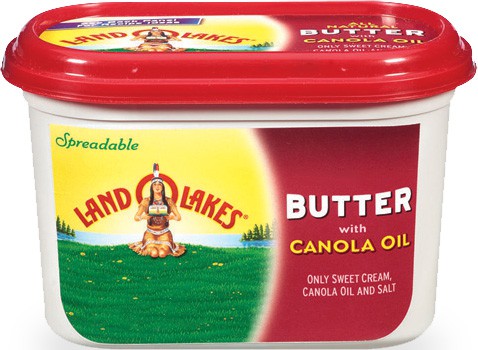 Have you tried this yet? Land O Lakes® Butter with Canola Oil is made with only three simple ingredients: sweet cream, canola oil and salt. It gives you the fresh butter taste you love with the spreadable convenience you want. As I become more conscious of what I am eating I love knowing exactly what is in it and can feel great about serving it to my family and friends. There are no additives just 3 simple ingredients.
There is always a tub of Land O Lakes® Butter with Canola Oil in my refrigerator. The product is spreadable right out of the refrigerator, making it so convenient. It's ready to spread I on toast or your favorite waffles and pancakes in the morning.
One of the highlights of writing recipes and about food is the opportunities I have been granted. I have had the pleasure to interact with and learn about the suppliers of my favorite products. Land O'Lakes is a farmer-owned cooperative that produces sweet cream that's churned into Land O Lakes® Butter.
It is perfect for risotto's where I would usually mix butter and oil. With Land O Lakes® Butter with Canola Oil I don't need to use both. I am a risotto lover. It is a great foundation for building a one pot dinner. I took butternut squash and added sugar snap peas that I quickly saute in the butter, garlic and lemon juice. It makes a nice crunchy topping to a rich and creamy risotto.
I find making risotto therapeutic.  It is a slow process and not something you can hurry. I sautéed the peas while the rice was cooking. Pour a glass of wine and sip while you are stirring.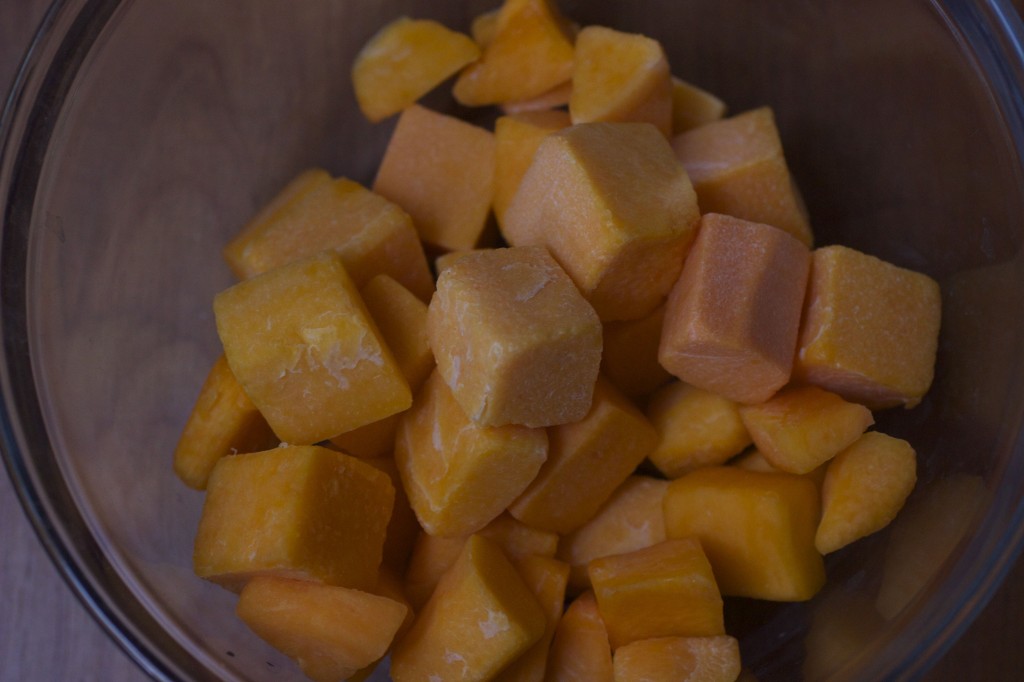 First, take the butternut squash and place in a bowl. Microwave on high for 2 minutes or until the squash is tender.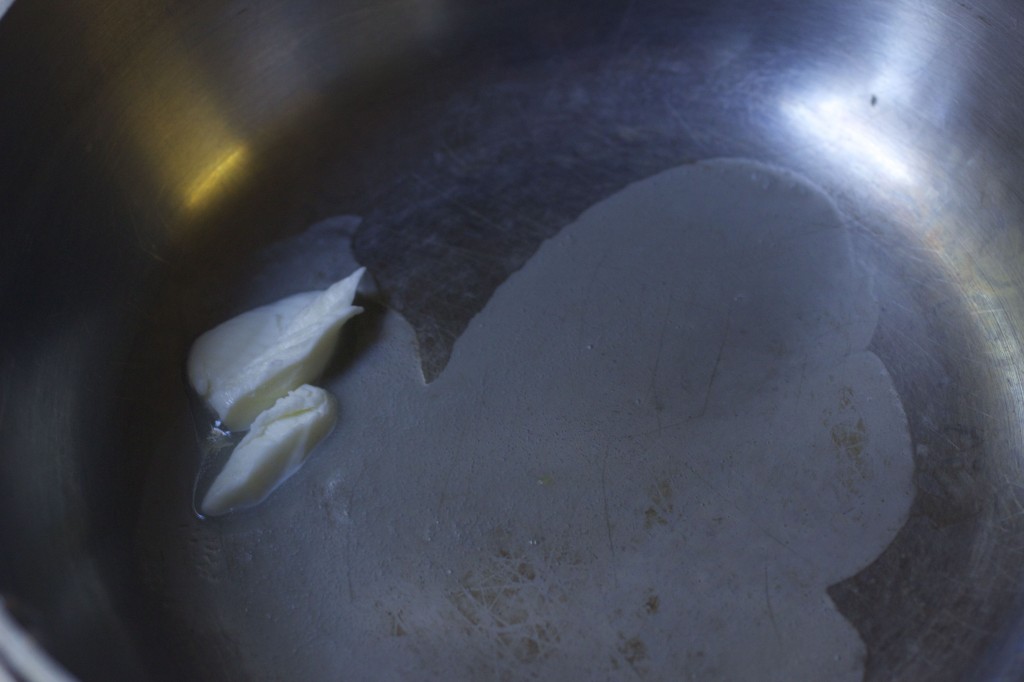 Place a tablespoon of butter and garlic in a skillet. Melt and cook for 1 minute over medium heat. Add the snap peas and lemon juice. Cook for 1-2 minutes. Remove with a slotted spoon on a plate.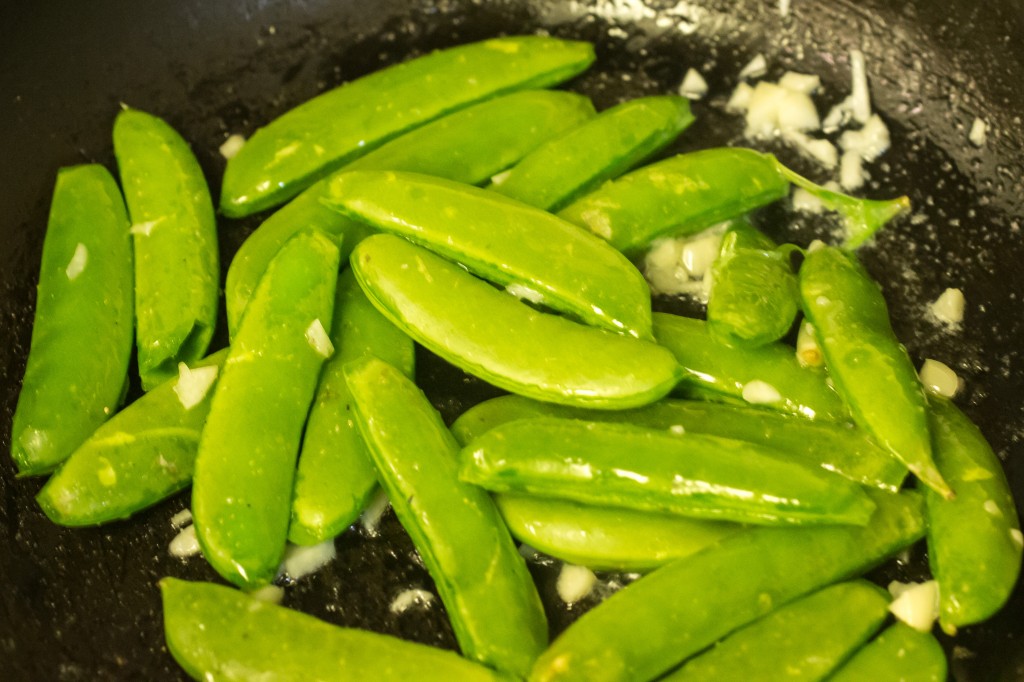 In a medium skillet add two tablespoons of butter and melt over medium to medium high heat. Add the shallots and garlic. Cook for 1 to 2 minutes.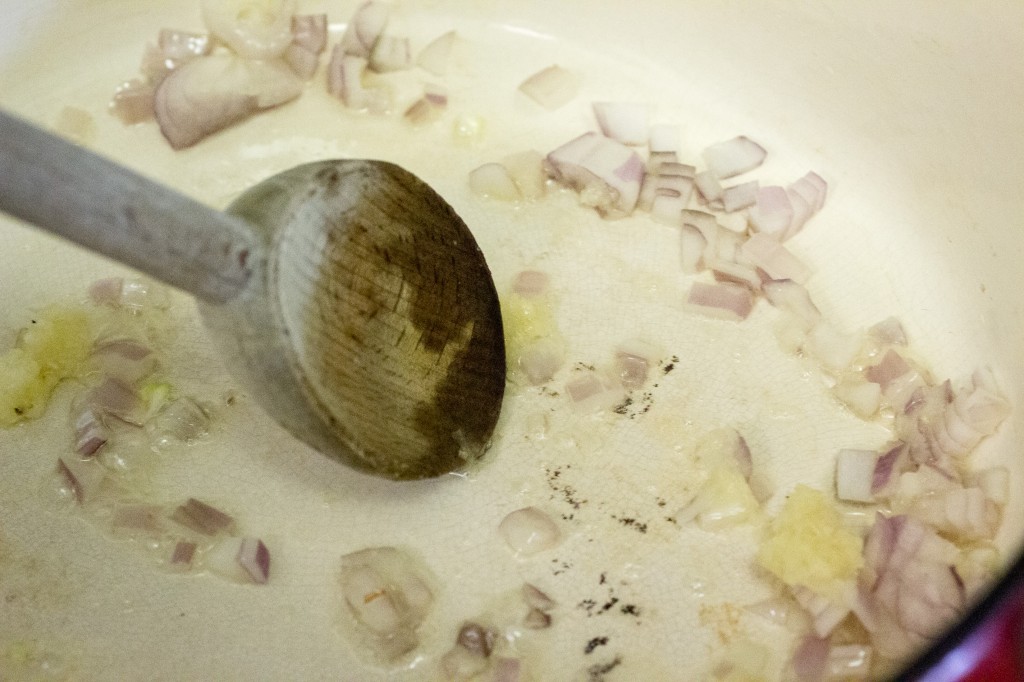 Add the arborio rice and stir letting the butter coat the rice. Pour in the white wine and let evaporate.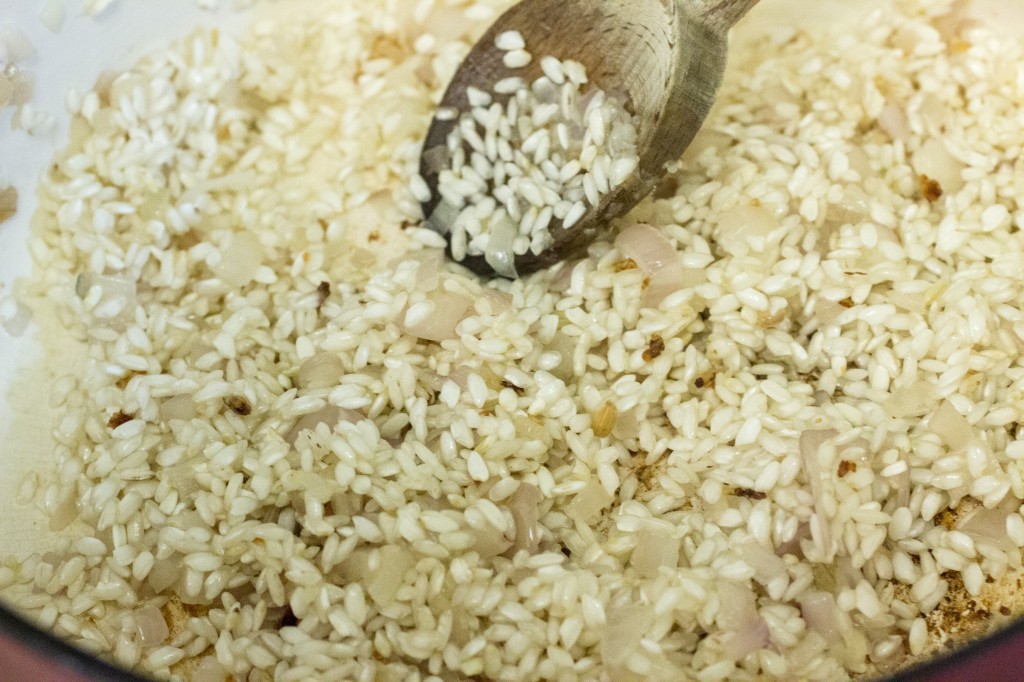 Reduce heat to medium and ladle in enough chicken stock to cover the rice. Stir and continue to ladle stock throughout the cooking time. It will cook for about 18 minutes.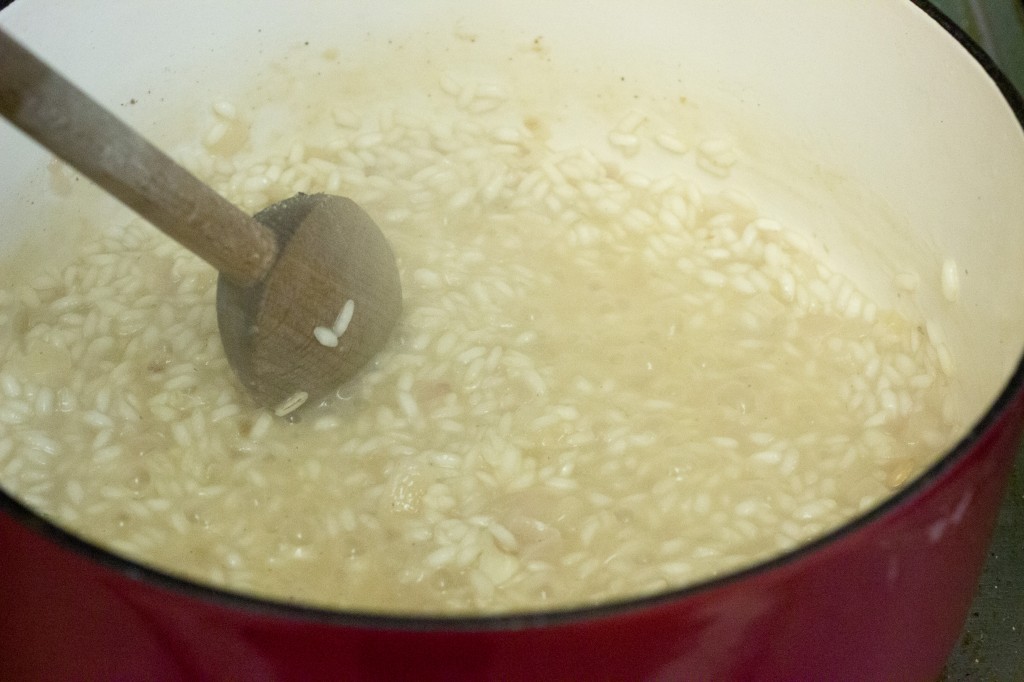 About 3 minutes before the rice is finished cooking, stir in the mashed butternut squash. Stir in the remaining butter and 1/2 cup of the Parmesan cheese. Ladle into bowls, top with sugar snap peas and Parmesan cheese.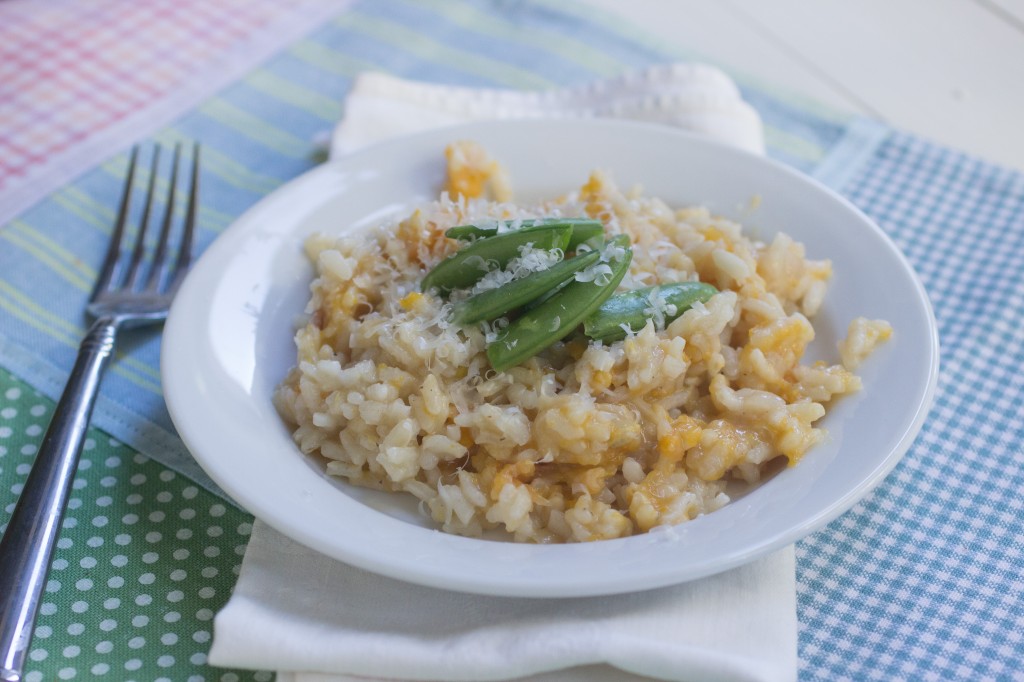 The fun folks at Land O Lakes invited me to create a recipe for their new butter with canola oil and compensated me for my time. All opinions are my own. Visit their Land O Lakes website for more information and discover new recipes.
Butternut Squash Risotto with Lemon Garlic Snap Peas
Ingredients
2

cups

butternut squash

1 1/2

cups

of sugar snap peas

1

tablespoon

lemon juice

4

tablespoons

Land O Lakes® Butter with Canola Oil

divided

3

cloves

garlic

minced

1

large shallot

minced

1 1/2

cups

Arborio rice

1/3

cup

white wine

4 - 5

cups

chicken stock

1

cup

parmesan cheese
Instructions
Place butternut squash in a bowl and heat in microwave for 2 minutes or until tender. Mash and set aside.

Place garlic and 1 tablespoon Land O'Lakes Butter with Canola Oil into snap peas. Stir for one minute. Add snap peas and lemon juice. Stir for 1 to 2 minutes.

Bring chicken stock to a simmer in a saucepot then reduce to low.

Heat in a medium skillet over medium to medium-high heat with 2 tablespoons butter. Add shallots and garlic and soften 2 to 3 minutes. Add rice and cook 2 to 3 minutes, coating rice with the butter.

Pour in the wine and allow to evaporate. Ladle in stock to cover the rice and stir. Repeat throughout cooking time, keeping risotto covered. Cooking time is about 18 minutes. During the last three minutes add in the mashed risotto. Finish with remaining tablespoon of risotto and 1/2 cup parmesan cheese.

Ladle into bowls and top with Lemon Garlic Snap Peas. Sprinkle with parmesan cheese.