Ruth Chris Sweet Potato Casserole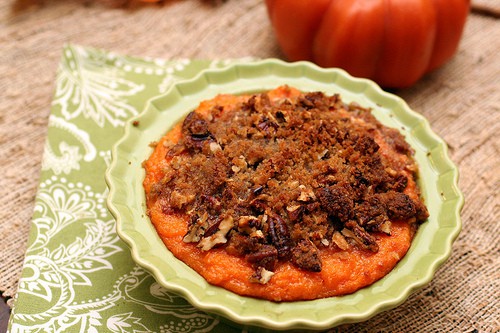 Thank you to all of you who entered the giveaway last week. Maureen was the winner of the cookbooks! Look for another giveaway this week.
It is time to start planning our Thanksgiving meal. There are so many decisions to make. What type of turkey – Classic, Southwestern or Deep Fried. Then what sides will compliment it best? One of the favorite side dishes is always the sweet potato. There are many variations but a few weeks back attending an event for Travel Writers that the Irvine Chamber of Commerce put on I had the opportunity to sample Ruth Chris Sweet Potatoes. Mmmm – they were good. The event was showcasing restaurants in Irvine. It was quite the spread.
Lucky for us the people from Ruth Chris were handing out the recipe so I put it on my list to try. I loved it just as much at home and thought I'd share it with you.
If you want other inspiration check out my favorite Sweet Potatoes and Apple Casserole or Stuffed Sweet Potatoes with Pecan and Marshmallow Streusel by Tyler Florence.
Don't forget to enter the Cookbook Giveaway.
Ruth Chris Sweet Potatoes
Makes 12 servings
Crust
1 cup brown sugar
1/3 cup flour
1 cup chopped nuts (pecans preferred)
1/3 stick butter, melted
Combine brown sugar, flour, nuts and butter in mixing bowl. Set aside.
Sweet Potato Mixture
3 cups mashed sweet potatoes
1 cup sugar
½ teaspoon salt
1 teaspoon vanilla
2 eggs, well beaten
1/2 cup (1 stick) butter, melted
Preheat oven to 350 degrees. Coat a medium-size casserole dish with nonstick spray.


Combine sweet potatoes, sugar, salt, vanilla, eggs and butter in a large mixing bowl in the order listed. Beat thoroughly with a hand mixer to increase the fluffiness of the sweet potato mixture.
Pour mixture into the baking dish. Bake for 30 minutes. (At this point, dish can be covered and refrigerated.)
Sprinkle the surface of the sweet potato mixture evenly with the crust mixture and return to oven for 10 minutes. Allow to set at least 30 minutes before serving.
The brown sugar and pecan crust should be slightly browned and crunchy.