Pumpkin Spice Latte Macarons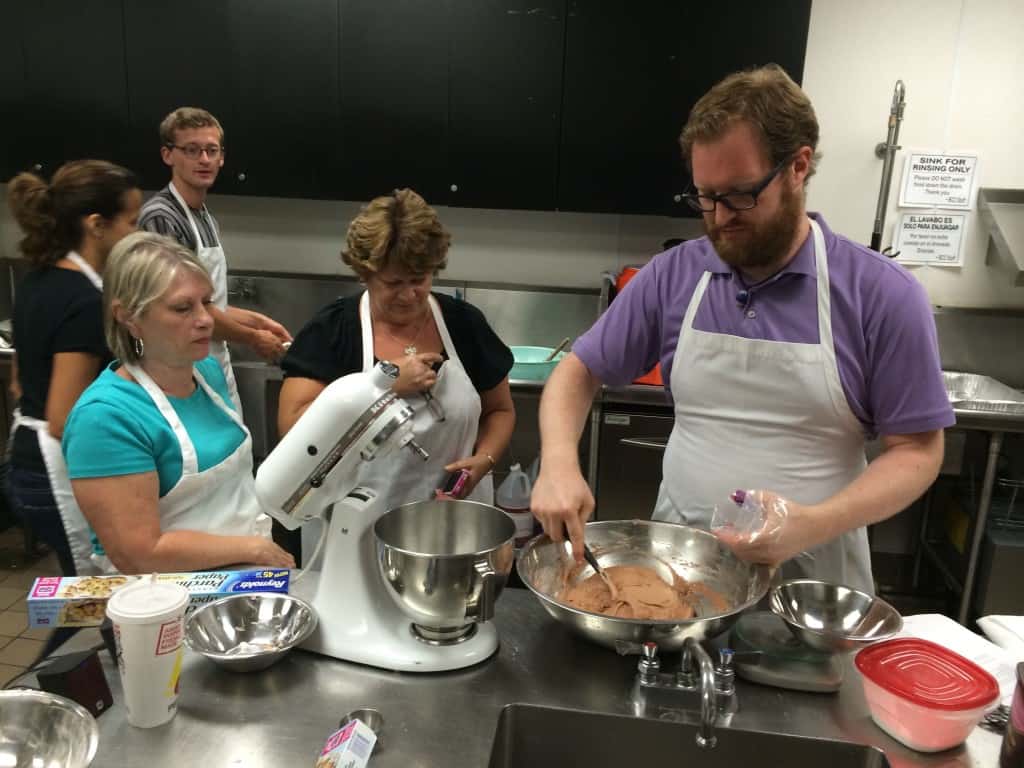 Last week everywhere I looked I people were talking about Pumpkin Spice Latte's. I was prepping for a macarons class and was inspired to create these delicious Pumpkin Spice Latte Macarons. Here is a little secret — I don't actually like Pumpkin Spice Latte's. Please don't hate me. I like my coffee strong and black. But I do love the flavors of Pumpkin Spice. Remember these cupcakes from a few years back.
I teach How To Make Macaron classes a few times a year and always fall back in love with macarons again. They seem scary and tricky but really are quite easy. They are pretty and I feel like Fancy Nancy when I am nibbling on one with my coffee. My niece and I made a step by step I will share with you soon! I use this 9 minute whipping method that seems pretty fool proof.
Add the pumpkin spice to the almond flour and powdered sugar mixture. You can also add just a little espresso powder too if you would like.
What are you excited about making with Pumpkin or Pumpkin Spice this fall? Please share!
Print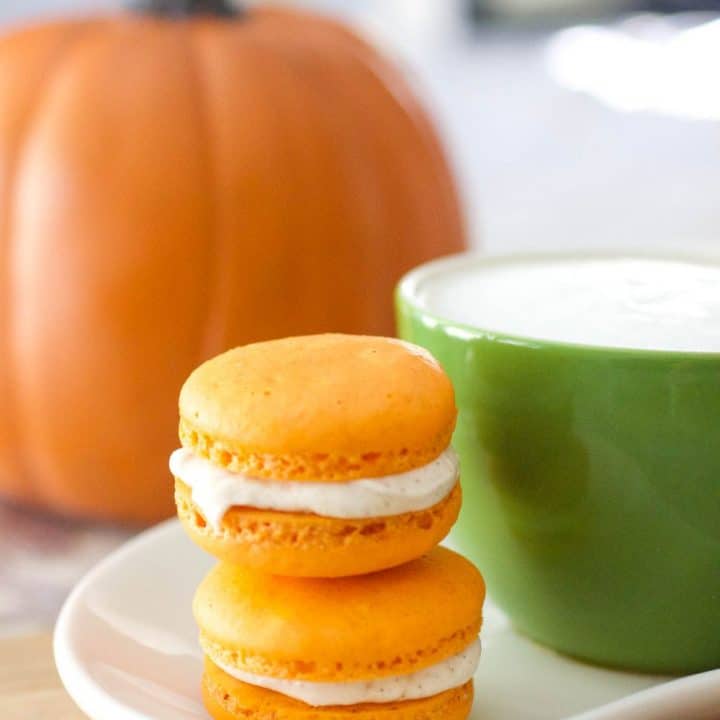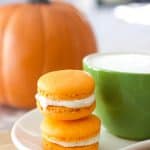 Pumpkin Spice Latte Macarons
---
1

cup

100 gr powdered sugar

1/2

cup

+

3

tablespoons

powdered almonds (about 2 ounces, 50 gr, sliced almonds, pulverized)

1 teaspoon

pumpkin pie spice

1/2 teaspoon

cream of tartar

95

grams

egg whites (at room temp)

5 tablespoons

65 gr granulated sugar

1 teaspoon

vanilla or

1/2

vanilla bean scraped

2

–

4

drops orange gel food coloring

1 tsp

vanilla extract

1 tsp

pumpkin pie spice
Pinch of salt

3

cups

powdered sugar

2 tbsp

whipping cream

1 tsp

strong coffee
---
Instructions
Line two baking sheets with parchment paper and have a pastry bag with a plain tip (about 1/2-inch, 2 cm) ready.Add 1 teaspoon of pumpkin spice to almond flour mixture. Add food coloring and vanilla.
Grind together the powdered sugar with the almond powder and cocoa so there are no lumps; use a blender or food processor since almond meal that you buy is not fine enough.
In the bowl of a standing electric mixer, place the egg whites in and beat at 4 for 3 minutes. Add sugar and cream of tartar and beat for 3 minutes at 6. Up to 8 and beat for 3 more minutes. Add in flavoring or gels and beat for 1 final minute. At this point you should have a dry meringue.
Carefully fold the dry ingredients, in two batches, into the beaten egg whites with a flexible rubber spatula. When the mixture is just smooth and there are no streaks of egg white, stop folding and scrape the batter into the pastry bag (standing the bag in a tall glass helps if you're alone).
Pipe the batter on the parchment-lined baking sheets in 1-inch (3 cm) circles (about 1 tablespoon each of batter) evenly spaced one-inch (3 cm) apart.
Rap the baking sheet a few times firmly on the counter top to flatten the macarons. Let dry for 1 hour.
Heat oven to 280. Bake in oven for 15-18 minutes. Let cool completely then remove from baking sheet.
Buttercream
In a standing mixer fitted with the paddle, beat the butter and pumpkin at medium-high speed until smooth, about 20 seconds. Beat in extract, pumpkin pie spice and salt until well combined about 15 seconds.
Add powdered sugar; beat at medium-low speed until most of the sugar is moistened, about 1 minute. Scrape down the bowl and add heavy cream. Beat at medium speed until incorporated, about 20 seconds, then increase speed to medium-high until light and fluffy, about 4 minutes, scraping down bowl once or twice.
Match up macarons in pairs based on size and shape. Fill a pastry bag fitted with the buttercream and pipe a quarter sized mound of buttercream into half of the shells, then sandwich them with the other half.
.