Carmelized Corn, Mango and Bacon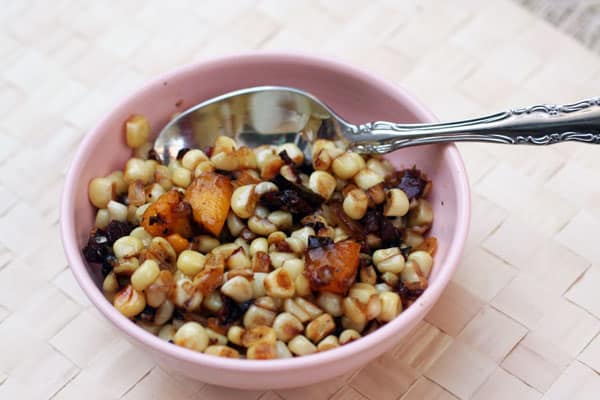 I found a new way to make corn yesterday! If you are a regular reader here you know I have made my share of corn recipes. This week's special is Carmelized Corn, Mango and Bacon. Yes, I said mango and it was delicious.
Last night I came home determined to use up food in my refrigerator. Sometimes my eyes are much bigger than my schedule when grocery shopping and I hate wasting food. I had opened up this cookbook Spur of the Moment Cook. It was a book my friend Deanna first discovered when we were both honing our cooking and entertaining skills. The recipes are easy to put together and she has interesting flavor combinations.
I cooked the bacon and drained all but 1 teaspoon of it and then added the butter.
With half a jalapeno left, I diced and threw that in which was a smart choice. A few minutes later I added the fresh corn and maple syrup and cooked a few minutes more. I topped with mango and it was done. It is sweet, savory and crunchy all at the same time. This would be great with grilled fish or chicken. I think the kids will love it as well, maybe without the jalapeno.
This week our giveaway is week's worth of meal coaching and a copy of Mary de Muth'sbook 150 Quick Questions To Get Your Kids Talking.
Do you need help with menu planning?
Have a picky eater and want tips?
Want to incorporate healthier recipes?
Want to learn how to cook one meal and end up with 3?
I will coach you for one week via email and provide a meal plan for one week for you and your family. So here is how to enter – you can enter once or up to four times. It is your choice! Thank you all for playing here at Adventures In The Kitchen
To enter leave a comment saying why you want the meal coaching.
For a second entry Sign up for Adventures In The Kitchen newsletter
For a third entry like my Facebook page.
The final way to enter is to send an email to friends and family you feel might enjoy the show or this site! Copy me on the email ([email protected]). Then share that you did!
Caramelized Corn, Mango and Bacon
adapted from Spur of the Moment Cook by Perla Myers
4 cups fresh corn
2 tablespoons butter
1 tablespoon bacon fat
1/3 cup bacon, cooked and diced
1 medium onion, peeled and finely minced
1/2 jalapeno, seeded and diced
4 tablespoons maple syrup
1 large mango, peeled and finely cubed
2 tablespoons fresh cilantro
Salt and freshly ground black pepper
Melt the butter in a large skillet over medium heat with one tablespoon bacon fat. Add the onion and jalapeno; cook until soft but not browned. Add the ban, corn and maple syrup and cook for 3 to 4 minutes.
Remove from the heat, season with salt and pepper, and fold in the cilantro and mango. Serve warm or at room temperature.