Date Nut Bread and Hadley's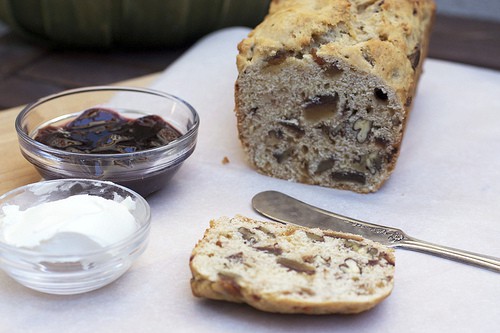 Growing up my family would often go to Palm Springs for a weekend. On the way out there is a place called Hadley's Date Farm. It has been around since 1931, off Interstate 10. They have a wide variety of dates including Medjool, Deglet Noor and Empress dates.
We would stop on the way home and most of the family would get a date shake and shop for date bread to take home. Most of us meaning everyone but me, because as a little girl I was not fond of dates.
Now I love adding them in my Spring Salad or the Arugula, Date and Parmesan salad I made for a Moroccan themed dinner party. I remember my great grandmother used to make date bread that was dark and dense but sadly we do not have the recipe. I went to my library of cookbooks to search and decided to try The Silver Palate recipe. The Silver Palate cookbook by Julee Rosso and Sheila Lukins was one of my first cookbooks when I started to entertain. It was the "hot" cookbook on entertaining at the time and their recipes inspired many of the cooks today. The rum gives it a nice mellow flavor that goes well with the sweetness of the dates.
The bread would be great with a little cream cheese and raspberry preserves. It would also make great little tea sandwiches.
Date Nut Bread
from The Silver Palate Cookbook
4 tablespoons unsalted butter, cut into 6 chunks
1 cup pitted dates, coarsely chopped
1/4 cup dark brown sugar
1/4 cup granulated sugar
3/4 cup boiling water
1 egg, beaten
2 cups unbleached, all purpose flour
2 teaspoons baking powder
1/2 teaspoon vanilla extract
1 1/2 tablespoons rum
Preheat over to 350F. Grease a 9x5x5 loaf pan.
Place butter in a large mixing bowl, place dates on top, and pour sugars over. Pour boiling water over ingredients in the bowl. Let sit for 7 minutes. Stir well.
When mixture is cool, add the egg and mix well.
Sift flour, baking powder and salt together. Add to date mixture, beating for 30 seconds. Stir in walnuts, vanilla and rum.
Pour mixture into prepared pan. Bake for 45 to 50 minutes.