Arugula Mango Salad with Orange Honey Vinaigrette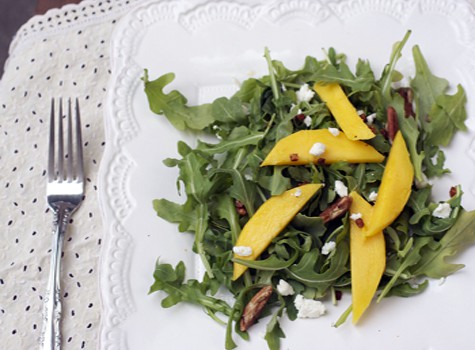 This Arugula Mango Salad is a delicious lunch for a spring day. I find that since I am not working and home more I have been able to eat healthier. Salads are becoming a lunch time staple and last week I made one with items I had sitting in the refrigerator that I did not want to go to waste.
The vinaigrette is one you can make to your preferences. Add more honey to sweeten, more olive oil for a creamier dressing or less for lower calories and with more of a tang to it. If you don't have champagne vinegar you can use white balsamic vinegar.
Last fall I was in Napa and bough several vinegars and olive oils from the St. Helena Olive Oil company. They have been delightful additions to my vinaigrettes. The Sparkling Wine vinegar brightens citrus vinaigrettes and their balsamic vinegar is thick and rich. I have used it to drizzle on mozzarella, tomatoes or to roast strawberries with a drizzle combined with a tablespoon or two of sugar. It would be perfect on this Berry Salad.
Arugula Mango Salad
Ingredients
4 cups arugula

1/2 red onion, thinly sliced

1/4 cup pecans, toasted

3 ounces chevre, crumbled

1 mango, peeled and sliced

2 -3 slices bacon, cooked crisp and crumbled
Instructions
Toss arugula, red onion and pecans together in a bowl. Top with mango, chevre and sprinkle with bacon. Toss the dressing or serve on the side.
Details
:  Prep time: 15 minutes
Yield: 4 servings
Orange Honey Vinaigrette
1/4 cup olive oil
2 tablespoons fresh squeezed orange juice
1-2 tablespoons honey, depending on preference
4-5 tablespoons champagne vinegar or white wine vinegar
Sea salt
Pepper
Combine the ingredients in a bowl with a whisk or a blender.