Caramelized Onion, Bacon and Gruyere Quiche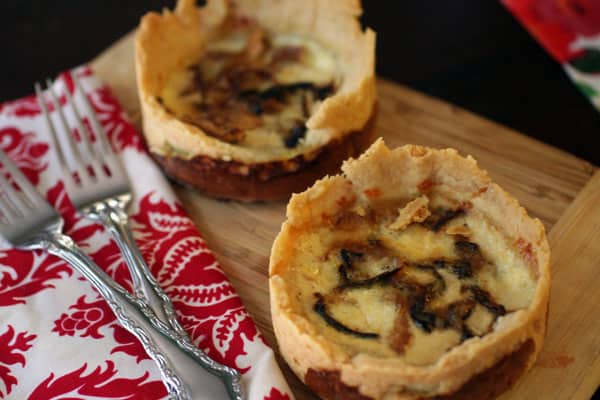 I made this Caramelized Onion, Bacon and Gruyere Quiche last weekend. I had been meaning to make try this for months now. The batter is from Bouchon's recipe and then I adapted the crust and filling. If you use pre made pie crust this is an easy recipe.
The quiche tastes so good. It is rich and creamy with the crunch of freshly cooked bacon. The onions are super sweet and make a greets base to the quiche. The combination possibilities are endless for quiche and it makes a lovely lunch dish.
I am so glad tomorrow is Friday! What are you excited about?
There is still time to enter to win a copy of 150 Quick Questions to Get Your Kids Talking by Mary de Muth and a week's worth of menu planning.
Caramelized Onion, Bacon and Gruyere Quiche
1 pie crust recipe or a pre made pie crust (Double dough if using mini pans)
6 slices bacon, cooked crisp and crumbled
1 cup gruyere cheese, shredded
Caramelized Onions
1 tablespoon olive oil
1 tablespoon butter
1 onion, thinly sliced
1 teaspoon salt
1 teaspoon sugar
Heat oil and butter in pan of medium high heat. Place onions in pan and stir to coat. Cook for 5 minutes until the onions start softening. Sprinkle with sugar and stir. Leave alone to cook until you see the bottom is just starting to brown and then stir. Continue this for about 15 minutes.
Set aside to cool.
Basic Quiche Batter
2 cups milk
2 cups heavy cream
6 eggs
2 teaspoons kosher salt
1/4 teaspoon freshly ground white pepper
6 gratings fresh nutmeg
Put the eggs, cream, milk, salt, pepper and nutmeg in a blender and blend on low speed about 5 seconds to mix thoroughly, then increase the speed to high and blend until the batter is light and foamy, about 30 seconds. Immediately pour into the hot quiche shell and bake.
To assemble:
Preheat oven to 375 degrees.
Line a tart pan or mini cheesecake pans with the dough. Let the dough hang over the cheese cake pans. Some will fall off but will create a rustic crust. Line with parchment paper or foil and fill with baking weights – dried beans, rice or aluminum pie weights.
Bake for 10 to 15 minutes.
Remove from oven. Line the bottom with the onions and sprinkle the bacon on top. Top with the cheese and pour the batter over it.
Cook for 20-25 minutes for mini pans and 30 minutes for the tart pan.