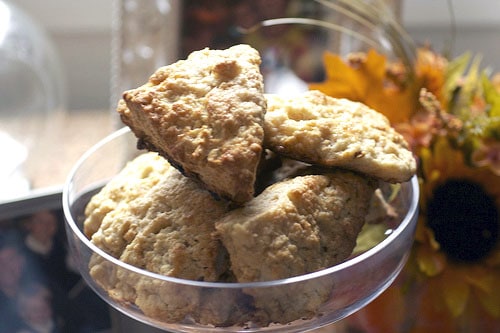 This weekend I invited my friend Nell over for a breakfast tea. Nell has been a mentor in my life over the last seven years. I met her at a point in my life I was in transition. She spoke words of wisdom and encouragement into my life.
We share a love of tea and dishes. We both believe you can't own too many sets of dishes. A girl needs options doesn't she?
After a busy week I needed quick inspiration for a new scone to serve and opened my Foster's Market Cookbook. What a delightful cookbook. I want to go to Foster's Market someday but in the meantime I have enjoyed trying many of her recipes.
This Apple Scone is going to be a new fall treat. It is moist and bursting with apples. Using buttermilk instead of cream makes the scones lighter and lower in fat. The top is sprinkled with cinnamon sugar and bakes up nice and brown. If you want to try another version you will find many options here.
Note:  I divided the dough in to and made half apple and half plain scones.
Enter the Cookbook Giveaway – don't forget to enter!
Apple Scones
Fosters Market Cookbook
Makes 1 dozen scones
4 1/2 cups all-purpose flour
1/2 cup sugar
2 teaspoons baking powder
1/2 teaspoon baking soda
1/2 teaspoon salt
3/4 pound (3 sticks) cold unsalted butter, cut into 1/4-inch pieces
1 1/4 cups plus 2 tablespoons buttermilk
Egg wash: 1 large egg beaten with 2 tablespoons milk
Preheat the oven to 400 degrees.
Lightly grease 2 baking sheets and set aside.
Combine the flour, sugar, baking powder, baking soda, and salt in a large bowl.Add the butter and cut into the flour mixture using a pastry blender or 2 knives until the mixture resembles coarse meal. (Or use a food processor fitted with the metal blade to cut the butter into the flour mixture by pulsing 10 to 12 times. Transfer the mixture to a large bowl to continue making the dough.) Do not overwork the dough.
Add 1 1/4 cups of the buttermilk and mix until just combined and the dough begins to stick together. Add the remaining buttermilk one tablespoon at a time if the dough is too dry.
Turn the dough out onto a lightly floured surface and roll or pat into two 6-inch rounds, about 1 1/2 inches thick. Cut each round in half, then cut each half into 3 triangles (pie-shaped wedges) and place on the baking sheets. Brush the tops with the egg wash.
Bake 30 to 35 minutes, until golden brown and firm to the touch. Remove from the oven and serve immediately.
Cinnamon-Apple Scones
Add 1 tablespoon ground cinnamon and 2 cups peeled and chopped Granny Smith or other tart apples to the flour-butter mixture before adding the buttermilk. After brushing the scones with egg wash, sprinkle the tops with cinnamon sugar (1/2 cup sugar mixed with 2 tablespoons ground cinnamon).