Cookings Tips: How To Freeze Waffles (Apple Waffles)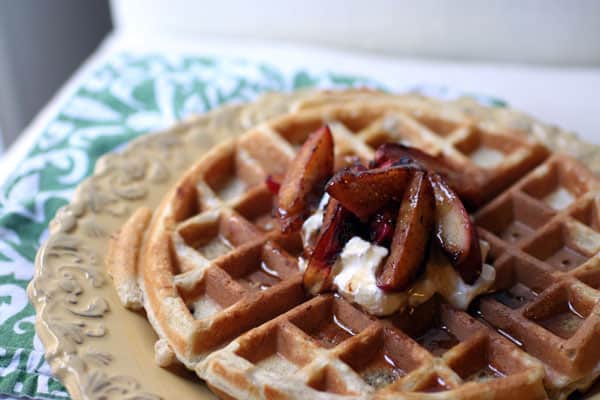 Lately I seem to be sharing breakfast recipes. It has been so busy and weekend mornings have been my time in the kitchen. Until last night when I cooked the first recipe from a much anticipated cooked…but more about that tomorrow! I loved Eggo Waffles growing up. I'd pop one in the toaster for breakfast. These days I make my own frozen waffles because they taste so much better and are very cost effective
Apples are everywhere right now so I thought "how good would they be in a waffle?" Very good it turns out. Even better when you sauteed a few apples in sugar and butter and place them on top of a mound of whipped cream.
I have started making my waffles with the egg whites beaten and then folded in. This creates a lighter waffle.
After you make waffles for your family keep making the waffles until the batter is gone. Then lay them on a sheet and place them in the freezer for 15 minutes. Take them out and either stack them, placing a sheet of parchment paper in between and place in a large ziplock bag. Make sure to get all the air out of the bag. Place in the freezer until you are ready to pop them in a toaster. You can also individually place them in ziplock bags.
When my niece and nephews come over I can just pop them in the toaster or heat in a oven preheated to 350.
Apple Pancakes with Caramelized Cinnamon Apples
2 cups all-purpose flour
1 teaspoon baking powder
3/4 teaspoon baking soda
1/4 teaspoon salt
1 1/3 cups buttermilk
2 tablespoons melted butter
2 large eggs, separated
2 apples, peeled, seeded and grated
Sauteed Apples
2 apples, peeled, seeded and sliced
2 tablespoons butter
2 tablespoons brown sugar
1/2 teaspoon cinnamon
Beat egg whites in a clean bowl until stiff.
In a large bowl, mix flour, baking powder, baking soda and salt. In a bowl, whisk buttermilk with . melted buter , egg yolks and grated apples. Stir buttermilk mixture into flour mixture. Fold in egg whites.
Preheat a 7-inch waffle iron. Brush with a bit of oil and add 1/2 cup batter. Cook until lightly browned and crisp, 6 minutes. Place waffle on a plate in oven; cook remaining waffles. Serve with additional maple syrup, if desired.
Sauteed Apples
Melt butter in a medium skillet over medium-high heat. Add apples and sprinkle with sugar and cinnamon. Reduce the heat and cook about 5 -7  minutes until softened and slightly caramelized.