Oatmeal Caramel Apple Cookies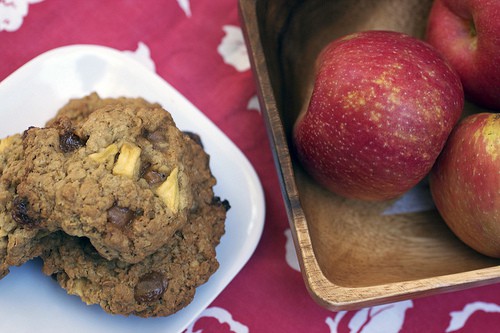 These Oatmeal Caramel Apple Cookies are apple crisp in a bite. They combine all the tastes of fall like oats, caramel and apples for a flavor packed cookie. These would be great in lunches or served warm with a scoop of ice cream.
I used Honeycrisp apples and Kraft Caramel Bites. I have never used the caramel bites before, what a great find. I am already thinking of new ways to incorporate them into recipes. I think they would be great in the Apple Pie Pops I made with the kids.
I baked half the batch and then froze the remaining dough for a later date. Don't forget to enter the Whole Foods Giveaway.
Oatmeal Caramel Apple Cookies
1 cup butter
1 cup brown sugar
3/4 cup white sugar
2 eggs
1 teaspoon vanilla
2 cups flour
1 tsp salt
1 tsp baking powder
1 tsp baking soda
3 cups old fashioned oats
6 oz Kraft caramel baking bits
1 1/2 cups honey crisp apples peeled and chopped
In a bowl combine the flour, salt, baking soda and baking powder.
Place the butter and sugars in a stand mixer and beat 2-3 minutes.
Add vanilla, then eggs and mix for 2-3 minutes more. Scrape down the sides of the mixing bowl with a spatula.
Pour in the flour mixture, then the oats and combine just until blended. Mix in the apples and caramel baking bits with a wooden spoon.
Place in the refrigerator for 30 minutes.
Preheat the oven to 350F. Line a cookie sheet with a Silpat or parchment paper. Scoop dough onto the baking sheet leaving 1 1/2 inches between dough as the cookies will spread.
Bake until golden brown 12-15 minutes. Place on a rack to cool.