Each fall I take a day trip to Oak Glen with my niece and nephews. We start our day at Snowline Orchards buying little bags of mini apple cider donuts. They are hot and we sit out on the bench and devour every one of them, It marks the beginning of another aunt adventure and this one has deep roots.
We literally start talking about it before they go back to school. We talk about and anticipate it for months. I grew up going to Oak Glen each year with my family, so it has been a fun tradition to carry on with them.
I decided to tackle what seemed like a daunting exercise to reproduce apple cider donuts. I have made baked donuts before but never actual, fried donuts. Mostly because frying seems so far from healthy and a bit messy. But, I gave it a try.
I was surprised at how easy these were to make. I used a recipe from Damn Delicious but then made a few tweaks. In researching recipes several mentioned Apple Spice. This was new to me. I made my own batch and worked it into the recipe. It adds an extra layer of flavor to the donuts.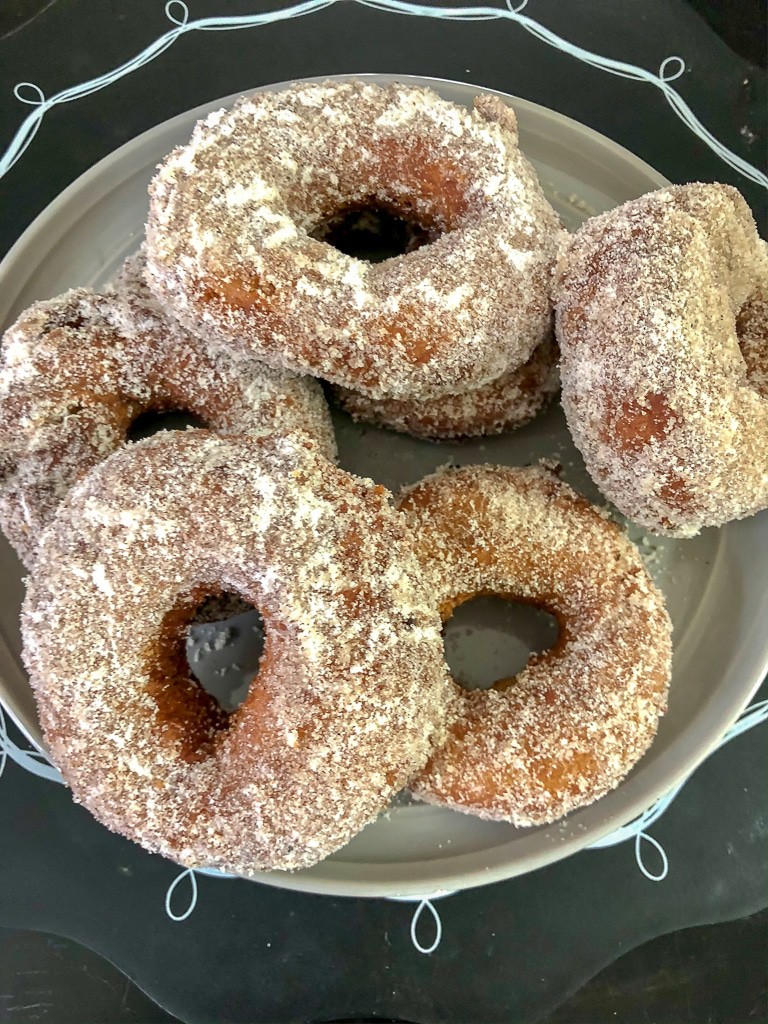 What is Apple Spice Mix?
Apple Spice mix is a combination of cinnamon, nutmeg, allspice, and cardamom. You can find it in stores, but save yourself a run back to the store and make it at home.
4 tablespoons ground cinnamon
1 1/2 teaspoons ground nutmeg
1 1/4 teaspoon ground allspice
1 1/4 teaspoons ground cardamom
How To Get The Strong Apple CIder Flavor
One of the keys to this recipe is cooking down the apple cider to get a more concentrated flavor. I started with 3 cups and took it down to 1 cup. You can do this ahead of time and refrigerate.
Quality of apple cider is key too. You can use the apple cider in the juice aisle but if you can get fresh apple cider, it makes a huge difference, flavor-wise. Check-in your produce section, they sometimes feature it there.
I didn't have a donut cutter but used a circle cutter, and then a tiny circle cutter to create these.
Before you start cooking, making sure to have the apple spice sugar mix ready to go. You will want to serve these hot, just dipped into the Apple Spice sugar.
If you love apples you have to try my Pecan Crusted French Toast with Apples.
[mv_create key="250″ type="recipe" title="Apple Cider Donuts" thumbnail="https://adventuresinthekitchen.com/wp-content/uploads/2020/11/Apple-Cider-Donuts-e1606147033995.jpg"]