Italian Pizzelles: One family's tradition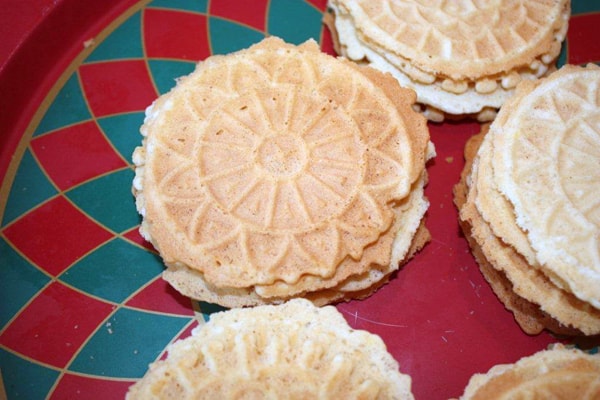 Today is the first of a mini series on sharing Christmas cookie traditions. Trina, from the Dairy Council of California is sharing a tradition she and her boys have, cooking Pizzelles. Aren't they adorable? These would be great for a Cookie Exchange.
[flickr id="6514468679″ thumbnail="medium_640″ overlay="true" size="medium" group="" align="none"]
Paging through colorful cookie cookbooks is a December ritual that motivates my boys for the holiday baking season.
[flickr id="6514469267″ thumbnail="medium_640″ overlay="true" size="medium" group="" align="none"]
We do not bake often, so this is a very special treat in our house. After paging through the recipes and photos one always rises to the top. It's not in the photo-heavy cookbook—in fact, it's not in any cookbook. It's etched in their memories from holidays past. Memories of baking for hours and eating crumbs they carefully trim to make the crisp cookies perfectly round. It's an involved process we all love.
My grandmother and mom made pizzelles and handed the pizzelle maker to me several years ago. It was supposed to be a one-year commitment and then I'd pass it on to my sisters, but I can't give it up. Each December, we dust off the pizzelle iron and carefully pull out the yellowed directions from 1967.
[flickr id="6514469129″ thumbnail="medium_640″ overlay="true" size="medium" group="" align="none"]
We start by mixing the batter and letting it rest in the refrigerator overnight. A full batch includes a dozen eggs, sugar and oil. The biggest decision whether to stick with tradition or be adventurous. We tried chocolate once, but we decided we need to honor tradition. Anise and lemon it is.
[flickr id="6514468599″ thumbnail="medium_640″ overlay="true" size="medium_640″ group="" align="none"]
Part of the appeal of the cookies is counting how many we make. Italians are always cooking for an army and these cookies reflect that: over 100 cookies per batch, even subtracting the broken ones. When my boys were little I was always up until 10pm making the cookies once they were tucked into bed. I love that now we work together. Each one takes a job assignment- one pours the batter into the pizzelle maker, checks for doneness and removes them from the maker. The other carefully trims the edges to make each cookie a circle. Once cooled, the cookies are counted and moved to a plastic container for storage. A separate container stores the crumbs, which is magically emptied by the end of the night.
[flickr id="6514468993″ thumbnail="medium_640″ overlay="true" size="medium" group="" align="none"]
Making cookies together, along with regular balanced meals, is a great way to pass along family traditions and Eat Better, Eat Together. Following the link takes you to a pledge to focus on regular family meals. It's a great way to keep a focus on eating well together during the busy holiday season and to start the new year off right. What are your family's favorite cookies to make during the holidays?
Trina Robertson, Registered Dietitian at Dairy Council of California
Follow me @TrinaR_RD
Print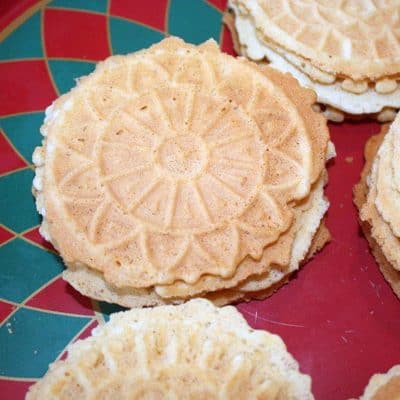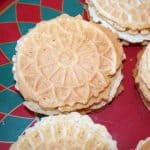 Italian Pizzelles
---
Author:

Cheri

Total Time:

0 hours
12

eggs

3

cups

sugar

2

cups

oil

3/4

cup

anisette liquor

4 tablespoons

anise seed

4

cups

flour

4 tablespoons

baking powder

4 teaspoon

salt
---
Instructions
Place eggs, sugar and oil in blender and mix until blended. Add anisette liquor and anise seed and mix until combined.
Mix flour, baking powder and salt together in a small bowl.
Add flour mixture, a little at a time and mix well.
Chill dough two hours or overnight.
Prep Time:

0 hours

Inactive Time:

0 hours

Cook Time:

0 hours
Nutrition
Serving Size:

1 grams

Unsaturated Fat:

0