Dark Chocolate Cookie Dough Brownie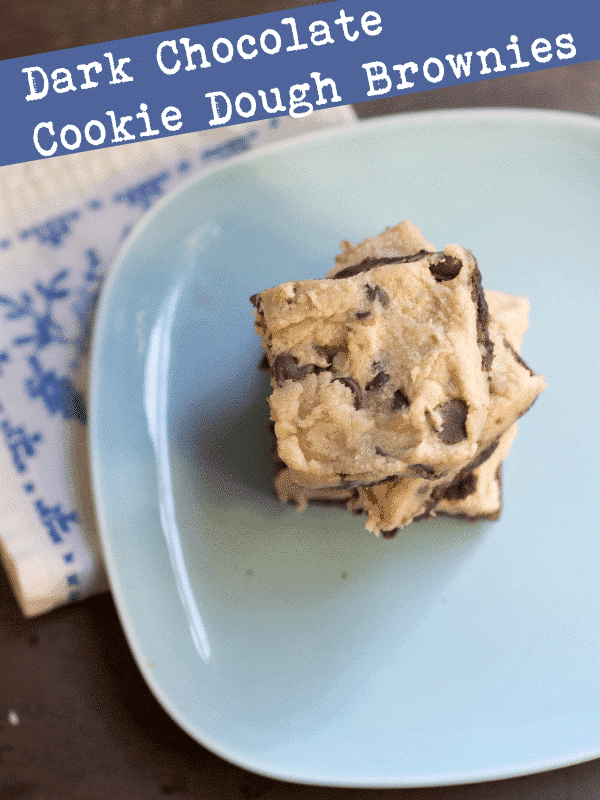 I recently made these Dark Chocolate Cookie Dough Brownies to bring to a friend and his family.
Right after Christmas Abbey was sick and then diagnosed with a two brain tumor's. My heart broke for them when I read the email. She is in 8th grade and goes to my nephews school. I have worked with Ken over the years through the non-profit I worked for. They are a family who has given greatly to our community. he oversees the Care and Recovery ministry at Friends Church of Yorba Linda.
Abbey has been so brave and is such a sweet girl. I see her at my nephews game's sometimes. We are praying for her and the family as she starts her chemo and radiation treatments this week. As a Christian I believe in the power of prayer. There are many things we will not understand here on earth but we can lean our God in our times of trouble. Her dad posted this verse on his FB page "In the multitude of my anxieties within me. Your comforts delight my soul. –Psalm 94:19 (NKJV)
Watching people you care about walk through times of trials makes you feel so helpless. Signing up for meals was a small thing I could do to free them up to focus on what really matters. Meal Train makes it super easy. You can sign up for dates and see what other people are making.
I wanted to make something special so after being inspired by Recipe Girl's Chocolate Cookie Dough Brownies I decided to create one with dark chocolate. They were rich and decadent. I couldn't pack them up quick enough to avoid the temptation.
They were a big hit and I think another batch needs to be made and delivered to them soon.
[mv_create key="69″ type="recipe" title="Cookie Dough Brownie" thumbnail="https://adventuresinthekitchen.com/wp-content/uploads/2013/02/Dk-Choco-Cookie-Dough.png"]