Fiorentini with Guanciale, Tomato and Spicy Pickled Peppers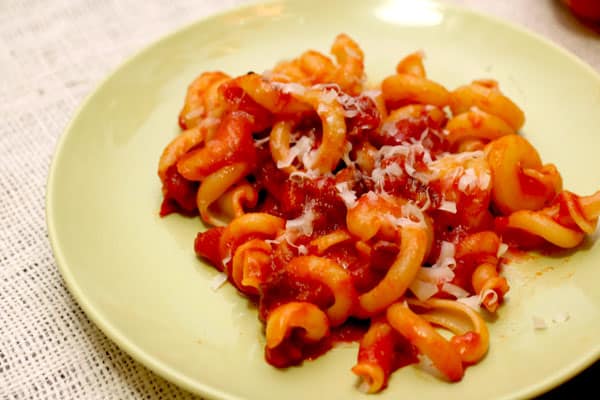 It was a crazy weekend and now it is November 1. I had two photo shoots – one that I did with a fun new Thanksgiving freebie I will be offering this weekend and then one my friend Jeff of Jeff Wallace Photography did. We had a great time and I can't wait to share the photo's with you.
One of my favorite restaurants is Mozza in Los Angeles. I have been a follower of Nancy Silverton since her early La Brea Bakery days. I think I have every cookbook she has published. So when it popped up on Amazon I ordered it and was cooking a few days later.
The book is a restaurant based on so some of these are not quick and easy recipes for the most part but they are good. The cover features a dish I make often at home the Winter Caprese Salad. I created my own version after visiting there for the first time and it is one of my most requested dishes when i cook for friends.
My first dish was Fiorentini with guanciale, tomato, and spicy pickled peppers and it was delicious. The spicy pickled peppers were good adding heat to the sauce.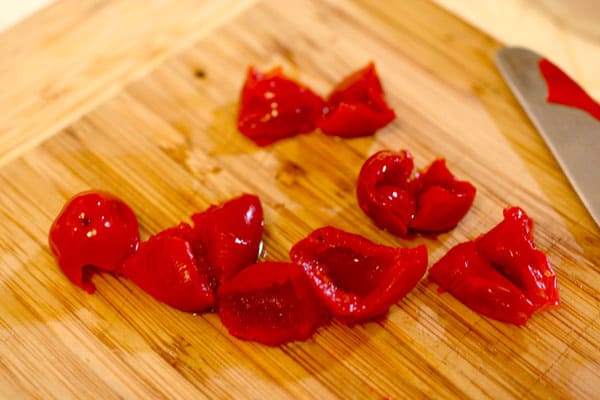 Guanciale is an unsmoked Italian bacon prepared with pig's jowl or cheeks. I first tasted this at a friends house and it was delicious. I can't easily find it in my neighborhood so I used pancetta but if you can I'd say try it.
It was pretty easy, especially if you make the sauce ahead of time. The sauce really made this dish. Also the amount of garlic really boosted the flavor. If you don't like garlic, this is not the dish for you.
I will be cooking my way through this book this fall. You can order it here. Also, if you are looking for a photographer and living in Southern California contact Jeff at Jeff Wallace Photography. He shoots families, individuals and weddings.
Passata di pomodoro (Tomato sauce)
2 28 ounce cans whole peeled plum tomatoes
1/4 cup extra virgin olive oil
1 tablespoon sugar
1 scant tablespoon kosher salt
1 heaping teaspoon freshly ground black pepper
Heat the oil in a large saute pan over medium high heat until the oil is almost smoking and slides easily in the pan, 2 to 3 minutes. Add the tomatoes. Stir in the sugar, salt and pepper and cook until the sauce thickens slightly, about 30 minutes.
Using a hand blender mix until smooth.
Refrigerate for up to several days or freeze for up to several months.
Fiorentini with Guanciale, Tomato, and Spicy Pickled Peppers
adapted from Mozza Cookbook
Kosher salt
1/4 cup extra virgin olive oil
5 ounces guanciale or pancetta, cut into small dice
8 garlic cloves
2 cups Passata di Pomodoro or tomato sauce
1 teaspoon sugar
12 large fresh basil leaves
12 ounces fiorentini or another artisanal pasta
1/2 cup thinly sliced fresh parsley leaves
1/2 cup spicy pickled peppers
1/4 cup extra virgin olive oil
Parmigiano Reggiano for grating
Combine the olive oil and guanciale in a large saute pan over medium high heat and cook until the guanciale is golden brown and crisp, about 3 minutes. Add the garlic, reduce the heat to medium and cook for about 1 minute, until the garlic is light  golden, stirring constantly to prevent from burning. Add the passata, sugar and 1 teaspoon kosher salt and cook for about 1 minute, to dissolve the sugar and warm the sauce. Turn off the heat and add the basil while you cook the pasta.
Cook the pasta as indicated on the package until it's al dente. About 1 minute before the pasta is done, place the sauce over high heat. Lift the pasta out of the cooking water and add it ot he pan with the sauce. Cook the pasta with the sauce for 2 minutes. Turn off the heat and stir in the parsley and peppers. Add the finished olive oil, stirring continuosly and shaking the pan to emulsify the sauce.
Pile on to the center of each dinner plate and spoon remaining sauce over the pasta. Grate Parmiagiano over each plate and serve.