Parisienne Farmgirl's Lemon Pepper Pasta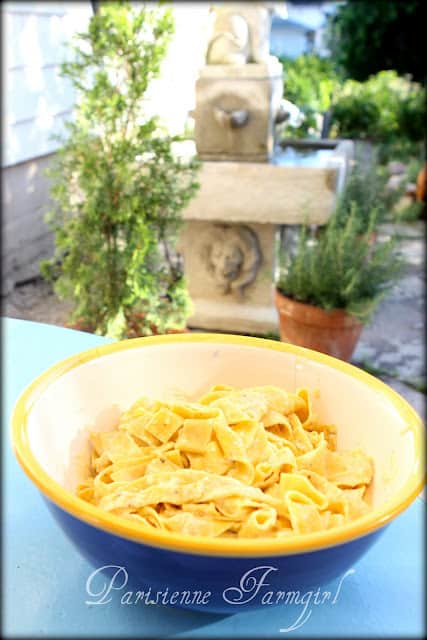 I have a treat for you today. Angela Reed, The Parisienne Farmgirl, is here to share her recipe for Lemon Pepper Pasta with you. I met her online earlier this year and was delighted to be included in her debut issue of The Parisienne Farmgirl Magazine. I shared recipes for Green Pea Soup, Goat Cheese Tarts and Cheddar Chile Gougeres. You'll have to subscribe to get the recipes but it is worth it, a beautiful magazine with a blend of country and French! She has a delightful and inspiring voice I know you will enjoy!

This weather here in the Midwest has been indeed glorious.
And really, considering "glorious" is referring to Heaven one does not hesitate to think that perhaps the "weather" in Heaven will be just like this. (Or perhaps a bit warmer for those of us who don't mind the sweat!)
When the sun shines like this and the house isn't filled with stiffling heat I get very inspired to cook.
But really heavy food just won't cut it.
For those of us who will never give up on pasta no matter how evil it is made to be, it's necessary to find lighter more summertime ways of making it. I stumbled upon this one the other day which includes two of my favorite ingredients; Lemon and Créme Fraiche. This is my version of the original inspired by M.G. of course.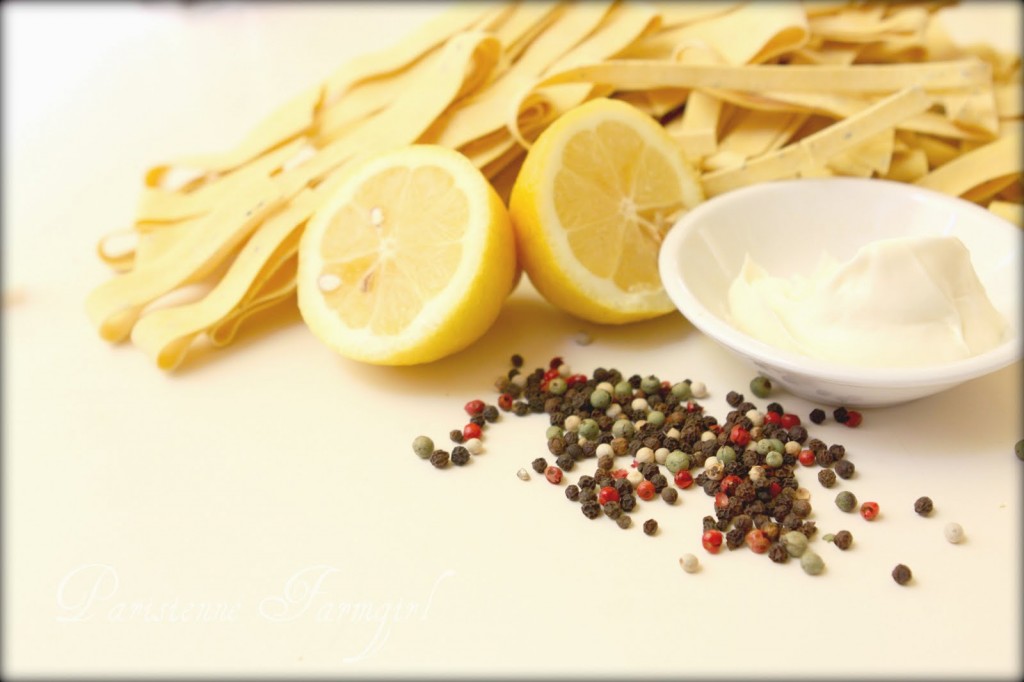 PLEASE DON'T just give up and use sour cream if you can't find Creme Frâiche in your area. It's such a wonderful, wonderful food. Simply make your own by combining one cup whipping creme with two tablespoons of buttermilk, combine in a glass jar and cover. Leave it on the counter top (70 degrees) for 8-24 hours, until thick. Stir and refrigerate. Don't have buttermilk? Just add a little lemon juice to milk.
See? There is ALWAYS a way in the kitchen.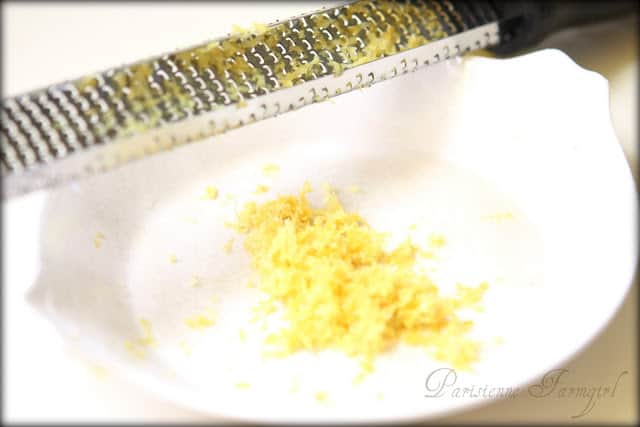 Our terrace has been such a delight to us in this weather. Every chance we get we make a fire and eat "al fresco." If you are still eating with the T.V. on, well, shame on you. Whatever it is; morning coffee or evening meal – get outside while you can.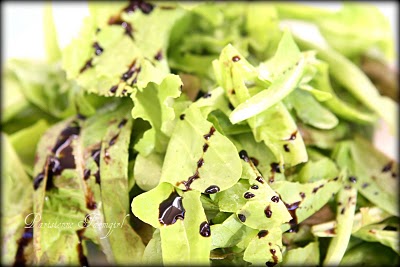 So with our fountain bubbling and fire crackling we popped open a light Prosecco and enjoyed our lemony feast with fresh greens from the Potager drizzled with a hint of Balsamic Vinegar aged 25 years, nothing more.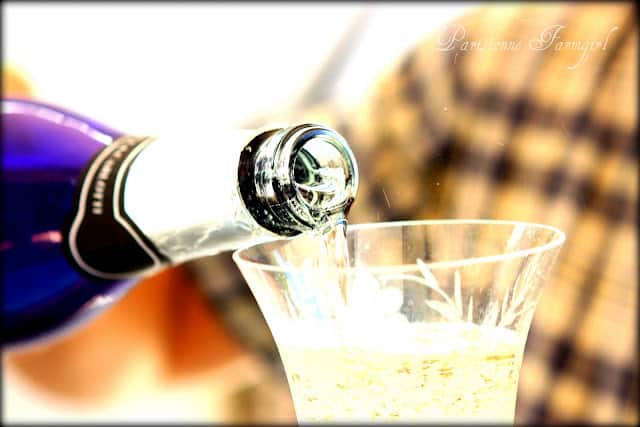 And there is not photo because they were devoured so fast but for desert we put the rest of our Creme Fraîche to use and enjoyed strawberries, slightly mashed, mixed with a spoonful or C.F. and again, drizzled with Balsamic.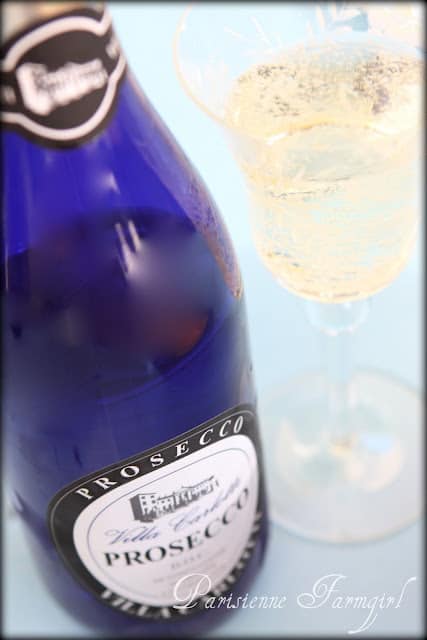 Heavenly.
Sensing a theme here?
Bon Appetit!
To celebrate the release of her magazine we are giving away a one year subscription to The Parisienne Farmgirl.  Here are the ways to enter to win:
1. Like Adventures In The Kitchen on Facebook and leave a comment here.
2. Like Parisienne Farmgirl on Facebook and leave a comment here.
3. Tweet about this giveaway and leave a comment below.
The contest will end Friday, April 27, 2012 and winner announced on Monday.
Lemon Pepper Pasta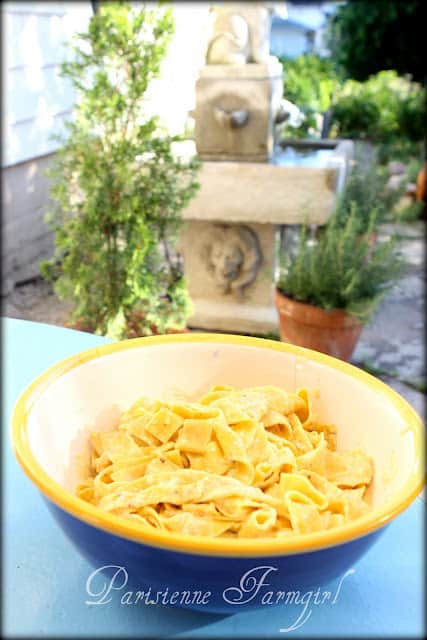 Ingredients
Lemon Pepper pasta. Homemade if you can. 12-16 oz
If you don't make pasta, Trader Joe's carries a fabulous Lemon Pepper Pasta
Creme Fraîche*
4 oz Parmesan cheese
Four lemons
The juice from one lemon
1 tbsp Olive Oil
Salt and Pepper to taste
Instructions
Cook your pasta al dente (or as preferred). While it's cooking, zest your lemons. In a separate sauce pan heat the olive and add the lemon zest, stirring on low for two minutes. Add 6 ounces of Creme Frâiche and bring to a boil, add the lemon juice and bring to another boil. After it begins to thicken add your Parmesean cheese and stir well.
Pour over your pasta and serve immediately.
Nutrition Information:
Serving Size:
1 grams
Amount Per Serving:
Unsaturated Fat:

0g