Pumpkin Spice Latte Cupcakes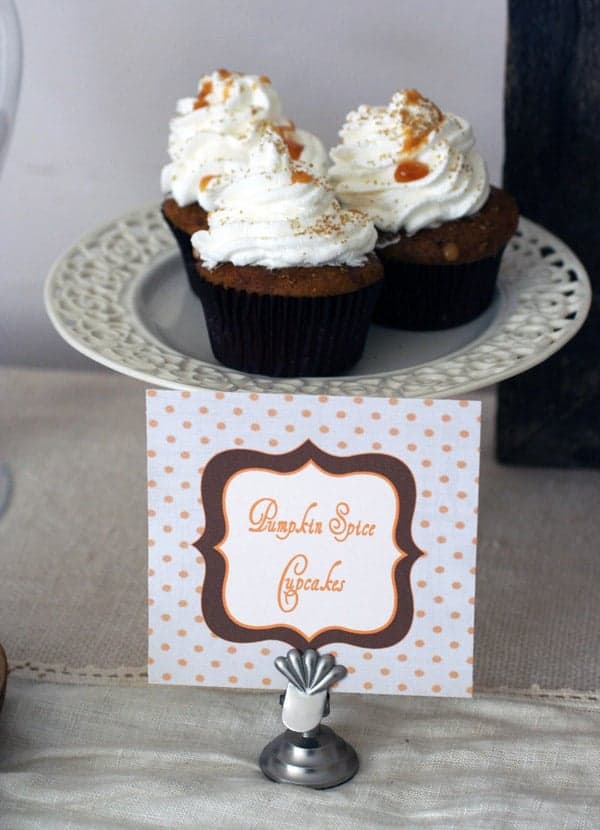 It's November, how crazy is that. The year is zooming towards the end. I have been feeling very arts and crafty lately making a Thankful Tree and Grateful Frame. I started making a set of party printable and had to bake some fall goodies to go with it. I came across these Pumpkin Spice Latte Cupcakes on Annie Eats.
Let's just say oh, my they are good! Bless someone with a delivery of these this month. You won't regret it and they will be very happy.
My weekend holds birthday celebrations, my Friday with the kids and drinks with a friend tomorrow. Sunday I am working on a fun new project. Too early to share but soon.
If you want the Thanksgiving Set, it will be available for download early next week. I'll have more pictures and I am working on the final touches. Don't forget to enter the contest for a Food For Thought Card set. Share what you are thankful for this year. I'll pick a winner next week.
With the holiday's just around the corner we are talking about Difficult Family Dynamics with marriage and family therapist Karla Downing. She deals with difficult relationships and has tips for us to navigate the holidays. Let's face it everyone at one time or another has that awkward family gathering so listen in and get some new tools to tuck away should you need them. That's Sunday at 4 pm on KKLA 99.5.
Pumpkin Spice Latte Cupcakes
by Annie Eats
Yield: about 2 dozen cupcakes
Ingredients:
For the cupcakes:
2 2/3 cups all-purpose flour
3 tbsp. espresso powder
2 tsp. baking soda
2 tsp. baking powder
1 tsp. ground cinnamon
1/8 tsp. grated nutmeg
1/8 tsp. ground cloves
1 tsp. salt
1 (15 oz.) can pumpkin puree
1 cup sugar
1 cup brown sugar
1 cup canola or vegetable oil
4 large eggs
½ cup coffee or espresso, for brushing
For the whipped cream:
2¼ cups heavy cream, chilled
¼ cup confectioners' sugar
For garnish:
Caramel colored sprinkles
Caramel sauce
Preheat the oven to 350°F. Line cupcake pans with paper liners. In a medium bowl, combine the flour, espresso powder, baking soda, baking powder, cinnamon, nutmeg, cloves and salt. Stir together and set aside. In the bowl of an electric mixer, blend together the pumpkin, granulated sugar, brown sugar and oil. Add the eggs one at a time, beating well after each addition. With the mixture on low speed, add the flour mixture in two additions, mixing just until incorporated.
Fill the cupcake liners about three-quarters full. Bake until the cupcakes are golden and a toothpick inserted into the center comes out clean, 18-20 minutes. Transfer the pans to a wire rack and let cool for 10 minutes, then remove the cupcakes from the pans. While the cupcakes are still warm, brush them two or three times with the coffee or espresso, allowing the first coat to soak in before repeating. Let cool completely.
To make the frosting, place the heavy cream in the bowl of an electric mixer fitted with the whisk attachment. Whip on medium-low speed at first, gradually increasing to high speed. Blend in the confectioners' sugar gradually. Whip until stiff peaks form, being careful not to over-beat. Use a pastry bag fitted with a decorative tip to frost the cooled cupcakes. Drizzle with caramel sauce and top with sprinkles. Store in an airtight container and refrigerate.