Apple Hazelnut Radicchio Salad Recipe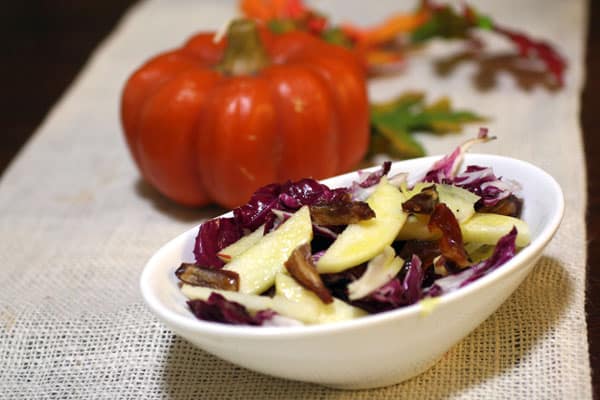 It is the weekend. Who else is doing the happy dance? In a sea of Halloween candy and sweets I thought I would serve up a delicious and light salad. I have lots of fall baking on calendar this weekend along with a few crafts I have put together for the Creating Memorable Holidays Seminar.
My latest obsession is the hazelnut. I have been working my way through a few new recipes highlighting this nut. Wait until I share the caramel corn I added it to last night. This salad has crisp apples, radicchio and endive, sweet dates and toasted hazelnuts tossed in a light lemony vinaigrette.
If you live in Southern California and would like to win a two tickets to the Creating Memorable Holidays Seminar share one timesaving tip you utilize for the holidays in the comments below. The seminar will take place Saturday, November 19 at Crossline Community Church.
For additional entries tweet about the Seminar and or like the Adventures In The Kitchen Facebook page.
Apple Hazelnut Radicchio Salad
Serves 4
2 apples, peeled and sliced
2 cups radicchio, torn
2 cups endive, torn into pieces
1/4 cup dates, chopped
1/4 cup toasted hazelnuts, chopped
Toss all ingredients with the lemon vinaigrette in a bowl.
Lemon Vinaigrette
2 tablespoons lemon juice
2 tablespoons champagne vinegar
1/3 cup olive oil
salt
pepper
Whisk together in a small bowl.