Feed Your Soul Friday: Baked Apple Oatmeal
Welcome to another Feed Your Soul Friday. Lately my soul has been hungry for new ways and approaches. For the last three years I have chosen a word for the year. The first was Fearless and then last year was Believe. I think choosing one word makes you think hard about what that word represents. It may be one simple word but it represents dreams, desires and goals.
My One Word 2013 is Rooted. This year instead of going in so many directions I want to go deeper, build more meaningful relationships and be more intentional in my work. You can read more about this over here.
Why am I talking about one word on a food blog? Well, because I would like to have deeper roots with you and build a community here at Adventures In The Kitchen.
Part of putting down roots is taking time and investing. I am realizing I fight that in the craziness of the day. This week I went to The Grove in LA to buy presents for my niece at the American Girl store.
I had this bright idea to bring my dog Jack, who is adorable, but doesn't love being in the car. It is about an hour's drive to LA. I was also buying gifts for my brother and sister-in-law and my mom. Oh and I also picked up one for Joy's dad. One of the items was HUGE leaving me with a heavy bag on one arm and holding the leash in the other.
Two steps out of the store, right in front of where they are filming Extra, my bag breaks. It was crazy…
Recently I reconnected with Laura, an old friend from my days at Walt Disney Studios. She lives near The Grove so she came over and met me for lunch. Everything took longer than expected and at first I found myself wanting to hurry, skip lunch and miss the traffic. I gave in and I am so glad I did. We had a nice lunch and it was like it had only been a few days and not 15 years since we saw each other last.
Focusing on being rooted I realized these are the moments that feed our souls.
I'd love to hear from you more this year. Say hi. Share the foods you like? What recipes are you looking for? What are your challenges to cooking, feeding your family or entertaining your friends? Laura shared several things she would like to see me make and I am going to try one this weekend.
One of my goals is to try to mesh my Skinny Chick Recipes and this blog into one and simplify. I want to blog more consistently and improve my photos. I have the worst lighting in my house!
This year I have already taken the step of  putting roots down at one church and am looking into serving. My first stop is volunteering with their meals ministry to a local motel that serves low-income families.
I have discovered baked oatmeal. It is delicious and easy to make. I made Baked Apple Oatmeal  and drizzled with a little honey after it came out of the oven. Baked Oatmeal reheats well so you can make a batch and keep it in the refrigerator. Just reheat and eat!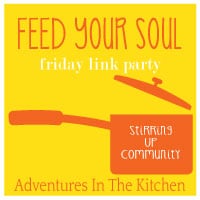 I hope you will take part in Feed Your Soul Friday. You can read more about it over here. Link up your favorite post for the week if you have a blog and if you don't share one of your goals or dreams for this year. I'd love it if you would grab a button here and share with your friends.
Ingredients
3 apples, cut in half and cored
1/4 cup honey
1 cup uncooked quick oats
1/2 teaspoon baking powder
1 teaspoon cinnamon
1/4 teaspoon pinch of salt
1 cup fat free milk
1 egg
1 tsp vanilla extract
1/4 cup chopped almonds
Instructions
Preheat oven to 375F. Spray a 9' square pan or 6 ramekins.
Mix honey, oats, baking powder, cinnamon, salt, milk, egg and vanilla together. Pour mixture in pan and place apples across the top. Sprinkle top with almonds.
Bake for 30 to 40 minutes, or until top is lightly browned. (Based on one pan - for ramekins check after 20 minutes)
Nutrition Information:
Serving Size:
1 grams
Amount Per Serving:
Unsaturated Fat:

0g
'); // ]]>