Crispy Kale Parmesan Salad with Lemon Vinaigrette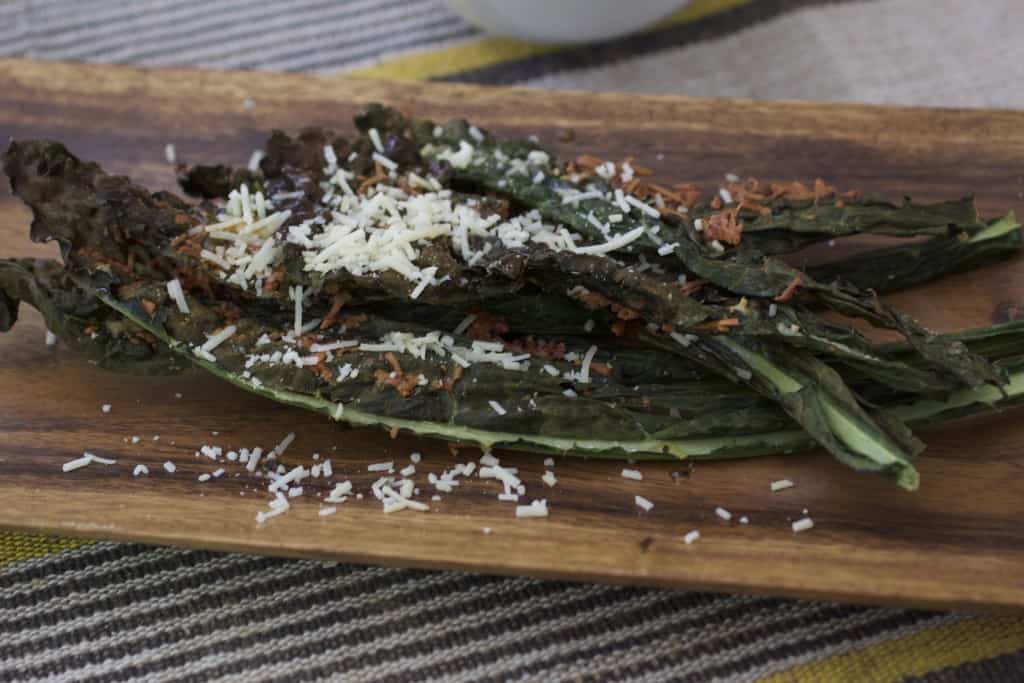 Last month I spent a long weekend in New Orleans. My friend Deanna and I felt it was our duty to try out our way through town and I will be sharing my weekend guide next week. I couldn't wait one day more to share my new favorite salad that was inspired by my trip. This Crispy Kale Salad is a mash up of kale chips and a kale salad, topped with a lemony vinaigrette, toasted pine nuts and tomatoes.
The first night in New Orleans we visited Domeninca, one of John Besh's restaurants. We tried the Crispy Kale Salad. Amazing! I still think about that salad. It was coated with chickpea flour and fried. They served it with parmesan, tomatoes and a lemon vinaigrette.
Back at home I knew wanted to recreate it but was pretty sure none of your would want to deep fry the kale. I set out to make a healthier version. Recently at a bachelorette cooking party many of the girls were saying they didn't like kale. I quickly made a batch of kale chips and won a few of them over. Hopefully, this salad will convince you to give kale a try.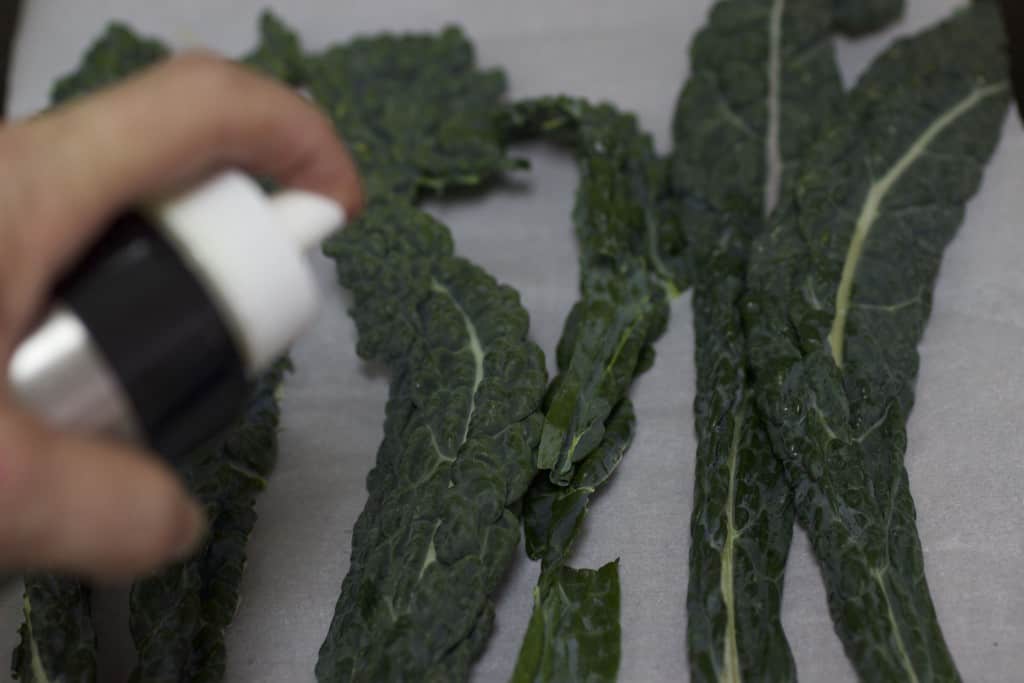 This salad is crazy easy to make. Place the kale on the sheet and toss with olive oil. I used Lacinto Kale which is popular in Tuscany. It is a little sweeter and tastier than other versions. I use a Misto Brushed Aluminum Olive Oil Sprayer">Misto olive oil spray can that finely mists my favorite olive oil over the kale. You use less oil – which means fewer calories!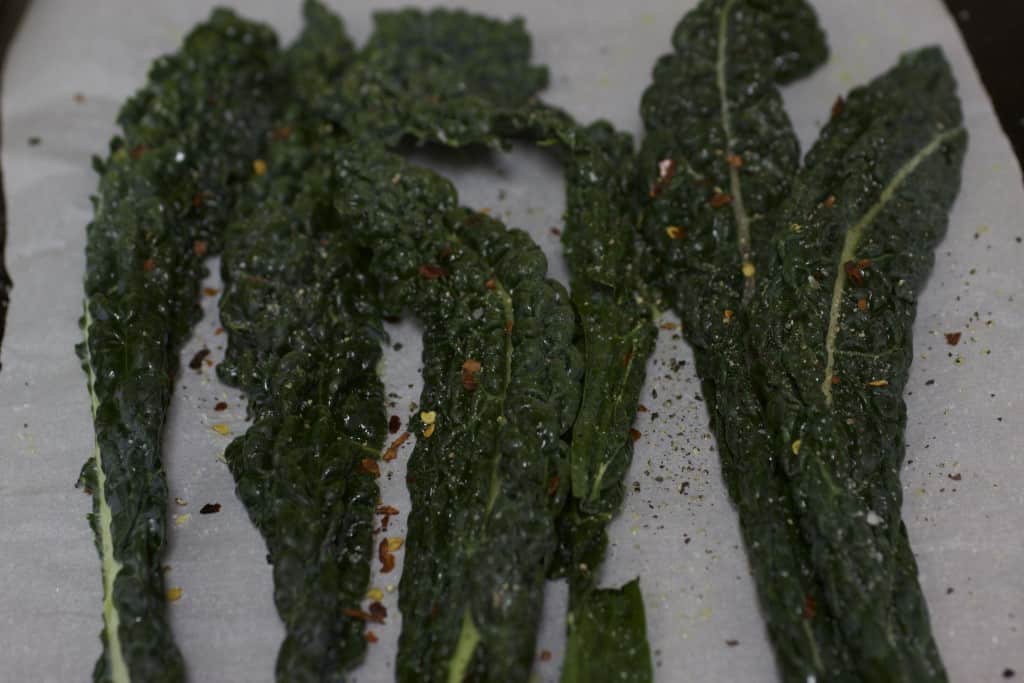 Add the salt, pepper and red pepper flakes.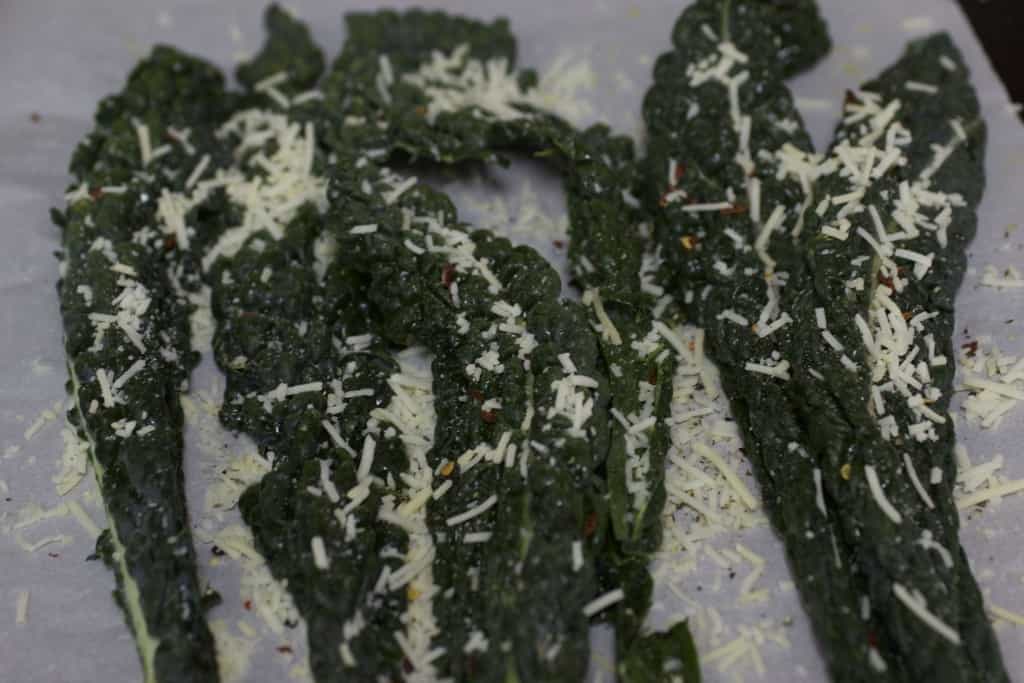 Sprinkle with parmesan cheese and bake until crisp, about 7-10 minutes. Toss with the lemon vinaigrette, pine nuts and remaining parmesan cheese.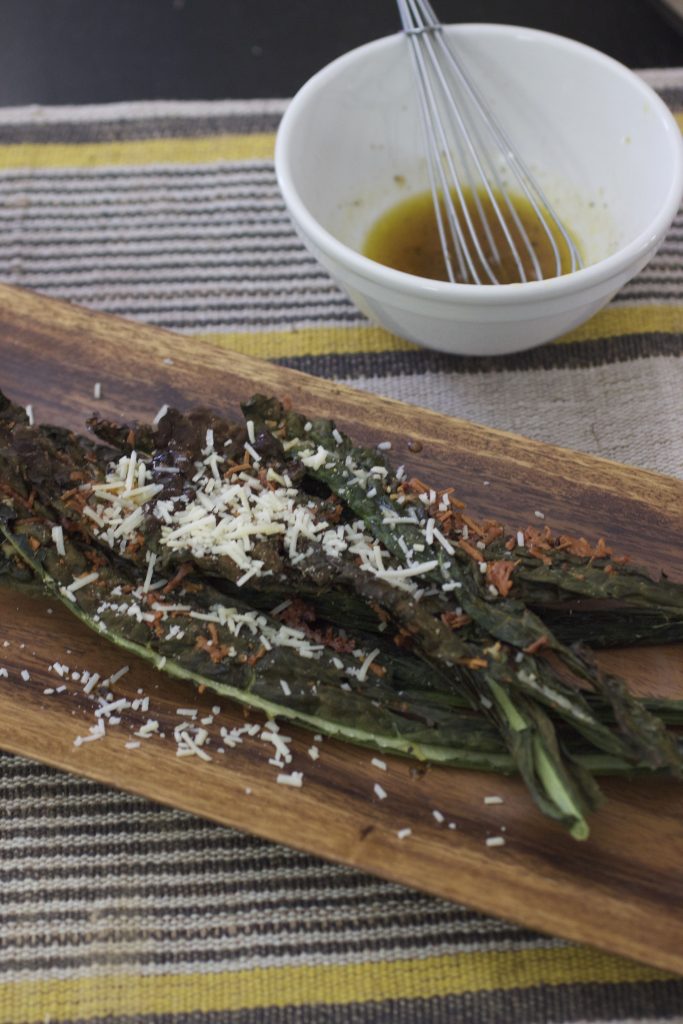 Print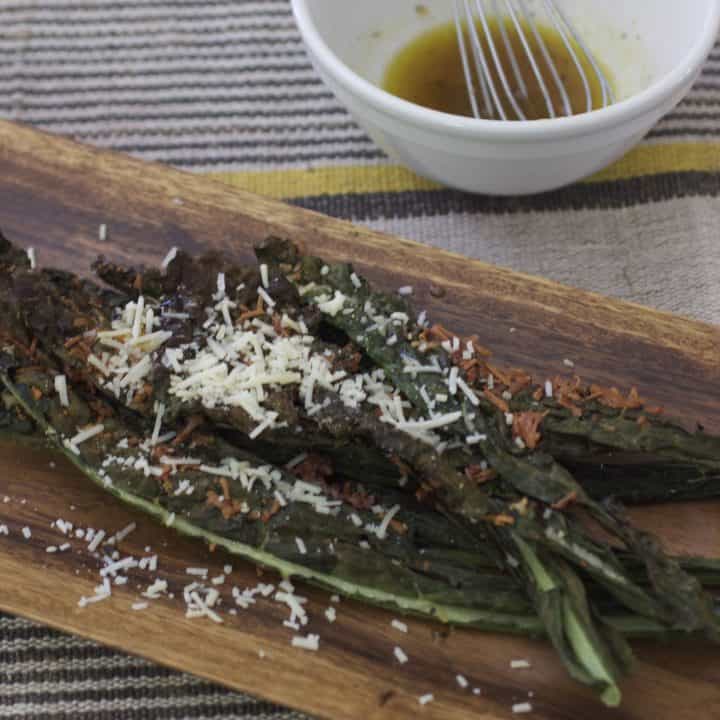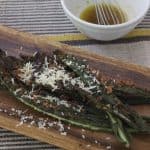 Crispy Kale Parmesan Salad with Lemon Vinaigrette
---
1

bunch of kale, rinsed and dried

1 tablespoon

olive oil

1/2 teaspoon

sea salt

1/4 teaspoon

black pepper

1/4

–

1/2

teaspoon red pepper flakes

1/2

cup

parmesan cheese, divided

2 tablespoons

toasted pine nuts

1/2

cup

cherry tomatoes

1/2 teaspoon

lemon zest

2 tablespoons

lemon juice

1 teaspoon

brown sugar or honey

1/4 teaspoon

sea salt
Pepper
up to

1/4

cup

olive oil
---
Instructions
Heat oven to 400 degrees. Line a baking sheet with parchment paper.
Toss kale with olive oil, sea salt, pepper and red pepper flakes. Place on baking sheet and sprinkle with 1/4 cup parmesan cheese. Bake for 8-10 minutes or until the kale is crisp.
Place on platter, top with lemon vinaigrette, parmesan cheese, pine nuts and tomatoes.
Prep Time:

15 minutes

Inactive Time:

0 hours

Cook Time:

10 minutes
Nutrition
Serving Size:

1 grams

Unsaturated Fat:

0