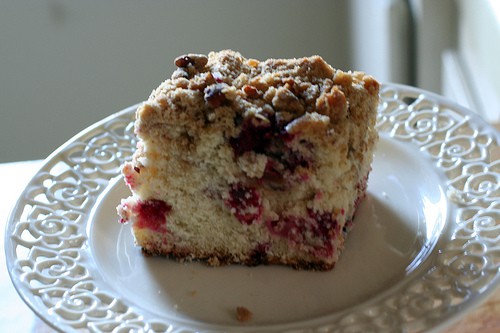 Christmas is here. I am looking forward to special times with my family. My niece and nephews are so excited and it is fun to see Christmas through their eyes.
I love breakfast. Special days demand special recipes to celebrate with. This Christmas morning I am going to share my new favorite coffeecake with my family. It is from Joy the Baker and is a cranberry coffeecake. It is chocked full of cranberries inside and topped with a delicious and crunchy streusel topping.
Merry Christmas from me to you. I hope your holidays are full of special times with those you love.
Cranberry Coffee Cake
from Joy the Baker
Cake:
4 cups all purpose flour
4 teaspoons baking powder
1 1/2 teaspoons salt
2 sticks unsalted butter, softened
2 cups granulated sugar
1/2 cup brown sugar
4 eggs
1/2 teaspoon almond extract
1 cup sour cream mixed with 2 Tablespoons of milk
4 cups fresh cranberries, roughly chopped
Topping:
1 1/3 cups all-purpose flour
1 1/3 cups lightly packed brown sugar
1/2 tsp ground cinnamon
1 stick unsalted butter, well-softened
2/3 cup finely chopped pecans (optional)
1/3 cup quick oats
Put a rack in middle oven and preheat oven to 350 degrees F. Butter and flour a 9×13-inch pan and set aside.
Sift together flour, baking powder and salt into a bowl. Combine butter and sugars in a large mixing bowl and beat with an electric mixer at medium-high speed until pale and fluffy, about 3 to 5 minutes. Beat in eggs one at a time, beating well after each addition, then beat in almond extract. Reduce speed to low and add flour mixture and sour cream mixture in alternate batches, beginning and ending with the flour mixture, and mixing until just incorporated. Fold in cranberries. Spoon batter into baking dish and spread evenly.
For the topping, place the flour, brown sugar, nuts, cinnamon and oats in a large bowl and stir well with a wooden spoon. Work the butter into the mixture with your fingertips until evenly distributed. Take two full handful of the topping and spread it over the cake batter. Use a knife to swirl the topping into the batter. Spread the rest of the topping evenly over the cranberry cake batter.
Bake until golden brown and a wooden pick or skewer inserted in center comes out clean, about 1 hour to 1 hour and 15 minutes. Cool in pan on a rack for 15 minutes. Serve in big warm slices with a cup of creamy coffee.