Grilled Shrimp with Fiery Lemongrass Chile Sambal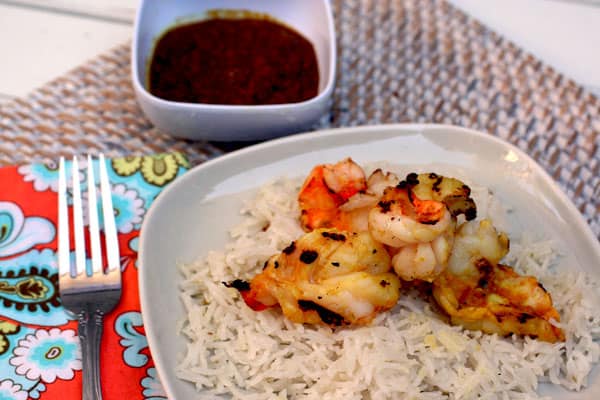 Today on Adventures In The Kitchen radio we are talking about The Global Table so thought I would try something global for the blog. What I ended up making is an adaptation of Bon Appetit's Grilled Shrimp with Lemon grass Chili Sambal.
The fun thing about food is that it can take you away to other countries from the comfort of your home. You can taste the flavors and try dishes from all over the world. These days ingredients are readily available. Have dinner parties centered around a country makes for a fun evening. Play music from the country in the background and add touches to your dinner table. My friend Tammy hosts parties where people have dressed up to add to the fun.
Her book Taste of Humanity gives you everything you need to host a global dinner party. You can find movies, music, table talk questions and recipes for each of the counties she focuses on. Her passion to is to bring people together around the table and tear down walls. I hope you will tune in today at 4 pm on KKLA to hear her share about recent dinners in Ethiopia and India. If you don't live in Southern California you can tune in on the computer by going to kkla.org and click on Listen Live.
The sambal looks like a lot of ingredients but they all end up in the food processor. Be warned it is hot and spicy. It will keep in the refrigerator and can be used to spice up sauces and stir fry's.
This week is a big giveaway if you live in Southern California. I am giving away a global cooking class. You choose the country and I will create a fun cooking class for you and your friends. This is a value of $360. There are 3 ways to enter:
Comment here, sharing how you would creatively market my show to your friends and family ( I need help!)
Sign up for Adventures In The Kitchen newsletter for one entry and leave a comment here saying What country you would chose and why?
Join me on Facebook by clicking like  and leave a comment here.
Tweet about this fun contest  by using the hashtag #AdvinKitchenRadio. Then let me know here that you did it below in the comment section.
Send an email to friends and family you feel might enjoy the show or this site! Copy me on the email ([email protected]). Then share that you did!
Grilled Shrimp with Fiery Lemongrass Chile Sambal
adapted from epicurious.com
2 serrano chiles, seeded coarsley chopped
1 1/2 cups coarsely chopped shallots
1/4 cup fresh ginger
6 macadamia nuts
2 tablespoons chopped lemongrass
4 garlic cloves, chopped
2 tablespoons golden brown sugar
2 teaspoons turmeric
1 1/2 teaspoons salt
1 teaspoon ground coriander
1 teaspoon paprik
1/2 teaspoon freshly ground black pepper
1 tablespoon macadamia oil
1 tablespoon sesame oil
Shrimp Marinade
2 tablespoons fresh lime juice
2 tablespoons vegetable oil
3 pounds uncooked peeled large shrimp
For sambal :
Combine 2 serrano chilies and next 12 ingredients in processor. Using on/off turns, blend until finely chopped and paste forms. If spicier sambal is desired, add more chopped chiles to taste and blend again until paste forms. Transfer sambal to small bowl. Heat 2 tablespoons oil in heavy large saucepan over medium-high heat. Add sambal and cook until fragrant and lightly browned, stirring constantly and adding more oil by tablespoonfuls if mixture is dry, about 7 minutes. Add 1 cup water; reduce heat to medium and simmer until most of water is absorbed but mixture is still creamy, stirring often, about 4 minutes. Transfer to small bowl and cool.
Whisk lime juice, 3 tablespoons oil, and 2 tablespoons sambal in small bowl.
If using unpeeled shrimp, use kitchen scissors to cut shrimp shell along rounded back of tail; scrape out vein with tip of bamboo skewer or tip of small knife. Place peeled or unpeeled shrimp in large glass baking dish. Brush shrimp all over with marinade. Allow shrimp to marinate at room temperature at least 15 minutes and up to 30 minutes.
Heat a grill or grill pan and coat with oil. Grill shrimp until just opaque in center, 2 to 3 minutes per side. Transfer shrimp to platter. Rewarm remaining sambal and serve alongside for dipping or for spooning atop shrimp.