Dark Chocolate Cupcakes with Raspberry Buttercream and a Winner!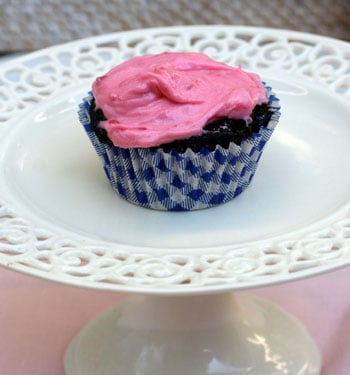 This week I started a new job and decided to whip up a batch of Dark Chocolate Cupcakes with Fresh Raspberry Buttercream. Doesn't everyone love a cupcake? So Sunday night I baked and frosted and packed them up like I was packing lunch for the first day of school
These dark chocolate cupcakes come from the back of the Hershey's Dark Cocoa box. I made a few changes but they are moist and dark, dark chocolate. On the rare occasion I am in a chocolate shop I always buy the dark chocolate truffle with raspberry filling. Dark chocolate and raspberries are a great pair. The fresh raspberries make this frosting pop with flavor.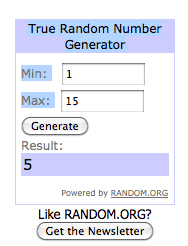 We have a winner for the Cuisinart Ice Cream Maker – Colleen Stockman! Colleen was number 5 – so send me your address and the ice cream maker will be on the way! Thank you all for entering and helping to promote the show.
Each week I have fun giveaways planned – this week is a $25 giveaway to Tomkat Studios and a copy of Edith Schaeffer's book The Hidden Art of Homemaking. From invitations to children's parties and baby showers there are adorable things to buy and print out to add that sparkle to your next celebration. Here is how to enter:
 Sign up for my new Adventures In The Kitchen newsletter for one entry. For a second entry like my Facebook page and leave a comment here. Share "Check on the Tomkat Studio giveway and listen to Adventures In The Kitchen on KKLA 99.5" on twitter or Facebook for a third one and leave a comment.

Dark Chocolate Cupcakes with Raspberry Buttercream
Cupcake recipe adapted from recipe on Hershey's Dark Cocoa
1 2/3 cups sugar
1-3/4 cups all-purpose flour
3/4 cup Hershey's Dark Cocoa (use regular cocoa if desired)
1-1/2 teaspoons baking powder
1-1/2 teaspoons baking soda
1 teaspoon salt
2 eggs
1 cup milk
1/2 cup butter
2 teaspoons vanilla extract
1 cup boiling water
Heat oven to 350°F. Grease and flour or line 2 cupcake pans (24 cupcakes).
Stir together sugar, flour, cocoa, baking powder, baking soda and salt in large bowl.
Place butter and sugar in mixing bowl and mix. Add eggs, milk, butter and vanilla; beat to medium speed for 2 minutes. Stir in boiling water (batter will be thin). Pour batter into prepared pans.
Pour into cupcake pans. Bake 30 minutes or until wooden stick inserted in center comes out clean.
Fresh Raspberry Buttercream Frosting
1/2 cup butter, softened
3-4 cups powdered sugar
1 teaspoon vanilla
1 teaspoon
1/4 cup fresh or frozen raspberries
Place butter and 3 cups of powdered sugar in to a mixing bowl. Mix together until the frosting is smooth and thick. Add more sugar as needed. Add vanilla,     and raspberries. Blen for 1 minute.
Frost the cupcakes and top each with a fresh raspberry.