Baked Figs Over Yogurt and Granola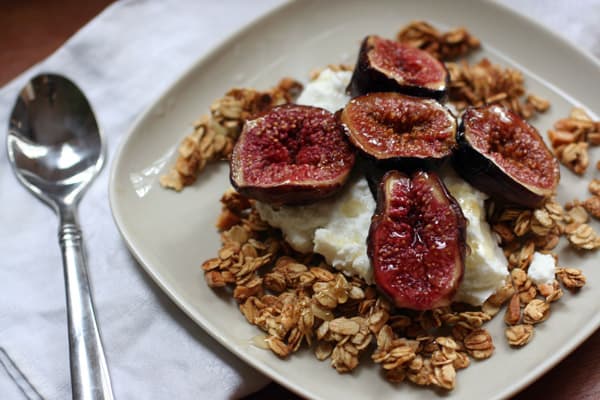 Today is 9/11 and lot's of memories of ten years ago. Everyone remembers where we were at that moment. Today on Adventures In The Kitchen I am joined by Skip Lanfried, Global Freedom Pastor at Friends Church. Ten years ago we were boarding a plan for New York just 5 days after to help, along with 12 people from two other churches. It changed my life.
On a day like this we food is comforting. I made Baked Figs served over yogurt and homemade granola. I saw this recipe in Cooking Light and wanted to make it. I love figs if you haven't noticed. I have two ovens so I baked the figs at the same time as baking the granola. This granola is made with egg whites making it lower in calories and better for you. The baked figs are tossed with honey and vanilla.
Even though it was 100 degrees for most of the week it was raining and cool here Saturday. This made the perfect breakfast meal. Spend time with those you love today. Be thankful, share with others, say a prayer for those who lost family and friends. I am saying a prayer for Miguel and Maribel, two sweet survivors I had the opportunity to talk to ten years ago.
Baked Figs Over Yogurt and Granola by Cooking Light
1 cup old-fashioned rolled oats
1/3 cup chopped pecans
1 large egg white
1 1/8 teaspoons vanilla extract, divided
2 tablespoons packed brown sugar
3/8 teaspoon ground cinnamon, divided
1/4 teaspoon salt, divided
1/8 teaspoon ground nutmeg
2 tablespoons maple syrup
Cooking spray
2 tablespoons plus 2 teaspoons honey, divided
9 firm, fresh dark-skinned figs, stemmed and quartered
3 cups plain fat-free Greek yogurt
1. Preheat oven to 300°.
2. Combine oats and pecans in a small bowl. Combine egg white and 1/8 teaspoon vanilla in a medium bowl; beat egg mixture with a mixer at medium speed until foamy. Fold oat mixture into egg white mixture. Combine brown sugar, 1/4 teaspoon cinnamon, 1/8 teaspoon salt, and nutmeg; fold the sugar mixture into oat mixture. Fold in maple syrup.
3. Spread granola evenly on a foil-lined baking sheet coated with cooking spray. Bake at 300° for 25 minutes, stirring once. Remove granola from oven; stir to loosen granola from foil. Cool on a wire rack.
4. Increase the oven temperature to 350°.
5. Combine 2 teaspoons honey and remaining 1 teaspoon vanilla in a large bowl, and add figs, stirring gently to coat the fruit. Arrange the figs, cut sides up, in a single layer on a foil-lined baking sheet. Sprinkle figs evenly with the remaining 1/8 teaspoon ground cinnamon and remaining 1/8 teaspoon salt.
6. Bake at 350° for 10 minutes or until the fig juices begin to bubble. Remove from oven, and cool completely. Combine the remaining 2 tablespoons honey and yogurt in a small bowl. Spoon 1/2 cup yogurt mixture into each of 6 bowls; top each serving with about 2 1/2 tablespoons granola and 6 fig quarters.