Twice Baked Potatoes with Hatch Chiles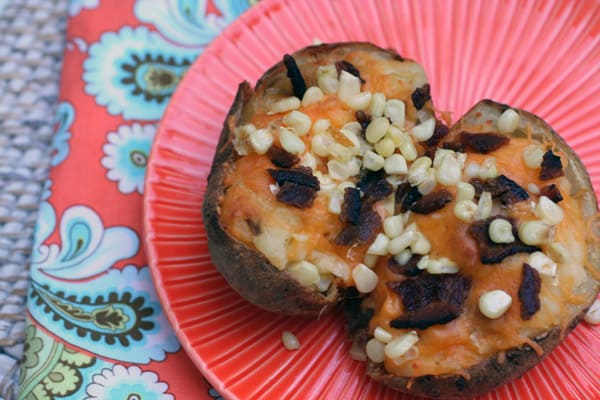 When I was little special family dinners included twice baked potatoes. They were a little crunchy on top and creamy, like mashed potatoes on the inside. When I knew Mom was making them I would look forward with anticipation all day.
Just last week when I asked a friend of mine what he had for his birthday he said twice baked potatoes. A few days later, a box of Melissa's Hatch Chiles arrived and I immediately thought about trying to remake them with the chilies. I turned on the grill and roasted all of them. I removed the skins and seeds and promptly froze a bunch for future use. I chopped up a bunch and threw them into the potato mixture.
I discovered Hatch Chilies two years ago. They are from New Mexico and are only available for a brief period each September. I have some hot one's I am looking forward to trying this week but I used the mild ones for this. They add a smooth mild heat to the dish. I made this hatch potato casserole last year and it was gobbled up by my guests at a Labor Day barbecue.
Now to decide what to try next…  Don't forget to enter to win two books by Karen Ehman.
I promised some quick and easy meals. We'll talk more about it later but here are few ideas:
•    Grill a package of boneless, skinless chicken breasts
•    Take the basic twice baked potato and leave out chilies if the kids do not like the spice. Top with Grilled Chicken tossed with a little barbecue sauce.
•    Place chopped grilled chicken in a bowl and stir in salsa until just coated. Serve with tortillas and grilled peppers and onions for fajita's.
•    Make chicken tortillas adding grated cheese, vegetables and grilled chicken
•    Make Lime Chipotle Tostada's

Twice Baked Potatoes with Hatch Chilies
4 baked potatoes
1/3 cup low fat milk
1/4 cup butter, softened
Salt
Pepper
1/3 cup hatch chilies, roasted, skinned and chopped
2/3 cup cheddar cheese
4 slices bacon, crisp and crumbled
1/2 cup corn, roasted
Preheat oven to 450 degrees. Bake potatoes for 45 minutes to 1 hour. A fork should easily go in the potato,
Scoop out the potato and place in mixing bowl. Add butter and then half the milk. Stir until well mixed. Add remaining milk until the consistency is that off mashed potatoes. Salt and pepper before stirring in the hatch chilies.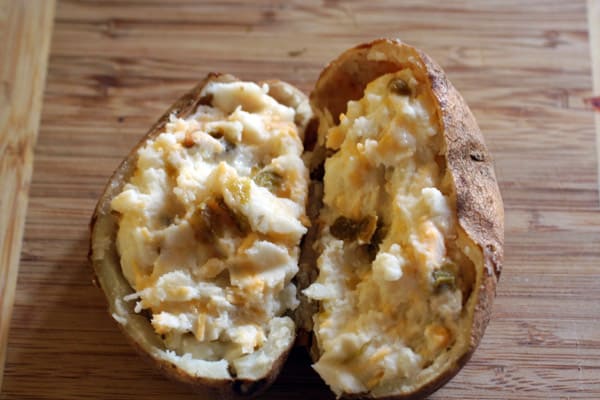 Place the potato back into the skins and top with cheese and bacon. Bake 20 minutes. Cook until the top is just starting to brown. Spoon the corn over the top of the potato. Serve 1 half of potato with the your meal.