Strawberry Honey Popsicles – Lactose Free & a Giveaway!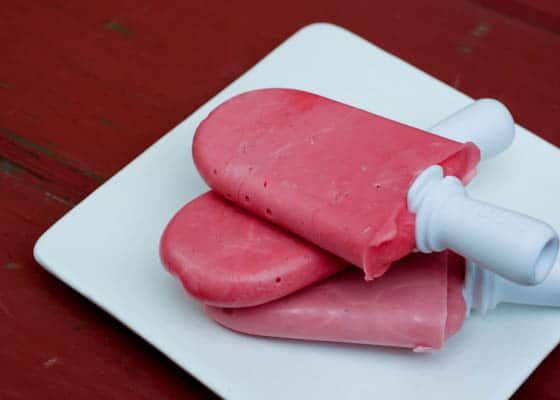 UPDATE – Contest extended until Friday, March 9.  For many of my readers the thought of popsicles this early might seem crazy but here it's was 80 degrees this week. I thought I'd tease you with a hint of what is to come as we get closer to spring. These are Strawberry Honey Popsicles that are Lactose Free thanks to Yoplait's new line of lactose yogurts.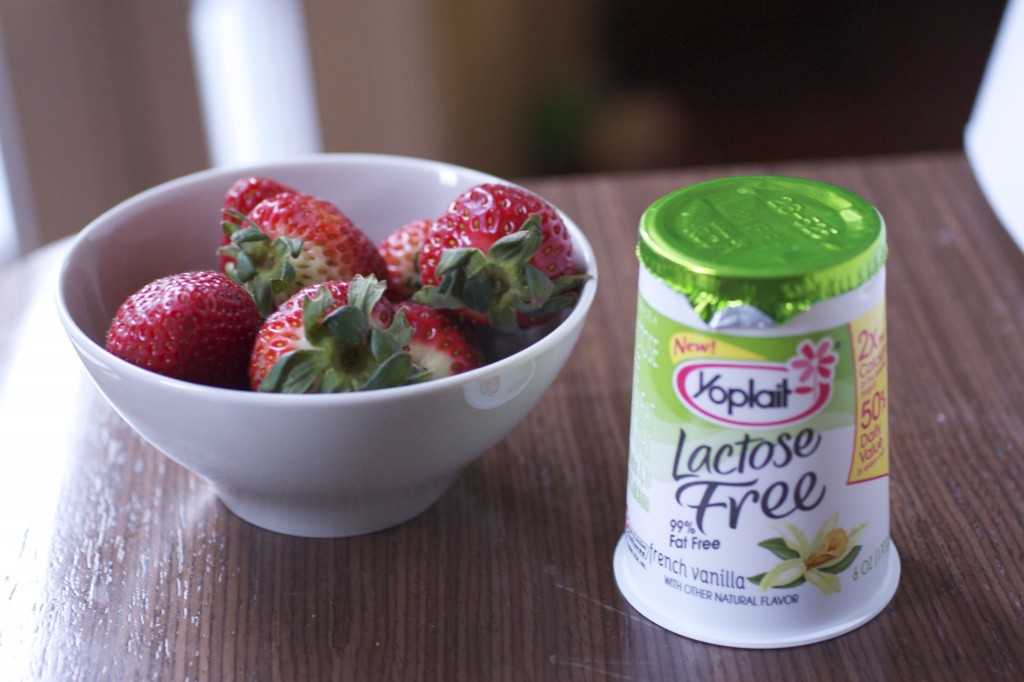 How great is that? New Yoplait® Lactose Free yogurt comes in four flavors: Strawberry; Peach; French Vanilla; Cherry. I borrowed my aunt's popsicle Zoku Quick Pop maker so that I could see if I liked it. It makes them so quickly – which is a huge benefit when working with kids. I had a few trial and errors on removing them. I screwed the top down too tight causing cracks in the popsicles. Overall I was very happy with it and am already dreaming up a few new recipes.
The Zoku maker has to be frozen overnight prior to use. It needs to be solid. If you hear sloshing noises it needs to freeze for longer. Right before you serve you place the stick holders into the molds. (I didn't get a picture of the maker, this is when I tried it in my regular molds)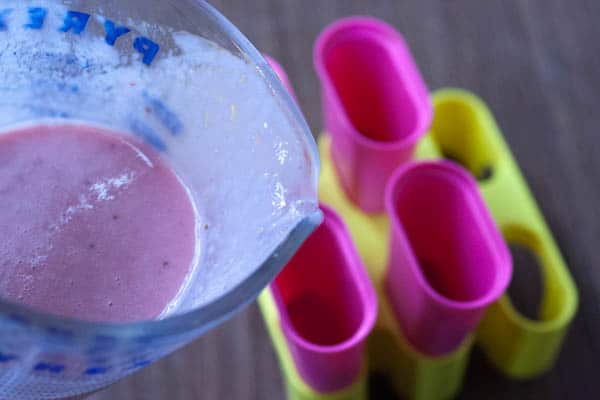 To make them, I mixed the ingredients together and then poured into the molds. I waited   and then put the
Wrap and keep frozen until ready to serve.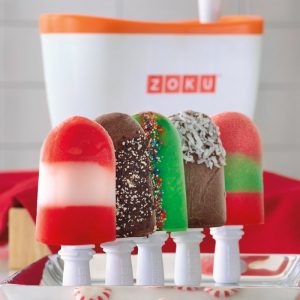 To enter to win the Zoku pop maker leave a comment on our Facebook page sharing what popsicle you would make with the Zoku if you win. For additional entries you can do the following:
Follow Adventures In The Kitchen on twitter
Leave a comment below sharing your favorite childhood popsicle you'd like to see me recreate
Tweet about the contest and leave a comment here
Contest ends Friday, March 9, 2012.
Yield: 6 popsicles
Yoplait Lactose Free Strawberry Popsicles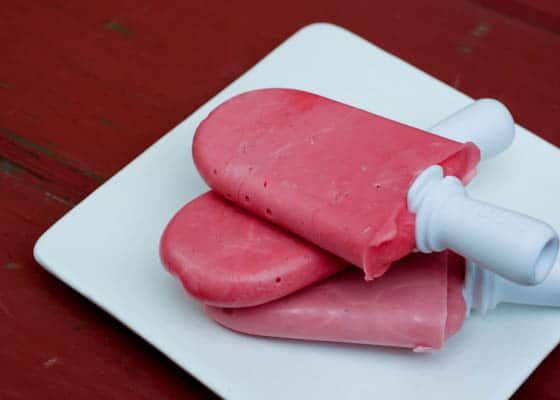 Recipe for Strawberry Honey Popsicles using Yoplait's Lactose Free Yogurt.
Ingredients
2 6 oz containers Yoplait Lactose Free
1 cup strawberries, sliced
1/4 cup almond milk
2 teaspoons honey
1 teaspoon lime juice
Mix all ingredients in a blender.
Instructions
Pour into popsicle molds or paper cups and insert popsicle sticks. Freeze 6 popsicles
Tips:
Substitute agave sweetener for the honey, if desired.
Run under warm water to remove the popsicle from the mold.
Nutrition Information:
Yield:
6
Serving Size:
1 grams
Amount Per Serving:
Calories:

75
Total Fat:

1g
Saturated Fat:

0g
Trans Fat:

0g
Unsaturated Fat:

0g
Cholesterol:

3mg
Sodium:

31mg
Carbohydrates:

15g
Fiber:

1g
Sugar:

14g
Protein:

3g