Cake Batter White Chocolate Cocoa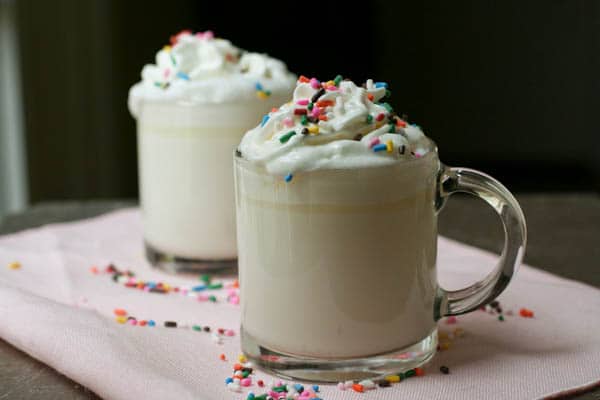 It's Friday, always a time to celebrate right? How about a warm cup of hot Cake Batter White Chocolate Cocoa. It seems cake batter anything tastes great these days. It just hit me the other day that I still have most of a bottle of UV Cake Vodka sitting in my cupboard. My mind started dreaming up new ways to put it to use and what I ended up with was this luscious drink.
Sprinkles just make me smile. It is hard to stay mad or be too serious sipping a drink that is topped with sprinkles. The kids know something. All this time they have cornered the market on sprinkles but then we found out and now we want more. Sprinkles take us all to a happy place, a remembrance of times past, when we were innocent and easily amused. Where a few little colored sprinkles meant this was a special occasion.
This is an adults only drink, though you could give the kids the white chocolate hot cocoa minus the shot and still add the sprinkles. I ended up frothing part of the millk in one of these amazing Nespresso frothers , one of my favorite kitchen gadgets. When I stirred the frothed milk in to the cocoa, it lightened up the drink.
Here's to a wonderful weekend – I will be helping my cousin Cassie celebrate her 30th birthday. She has a new blog called A Time For Everything – go wish her a happy birthday if you have a minute and check out her blog. What are your plans this weekend? Hope they include sprinkles and maybe a cup of hot cocoa.
[mv_create key="34″ type="recipe" title="Cake Batter White Chocolate Cocoa" thumbnail="https://adventuresinthekitchen.com/wp-content/uploads/2012/02/IMG_9189-2.jpg"]

In a small sauce pan melt white chocolate in 1 cup milk and 1/2 cup heavy cream, over medium heat. Stir often.
Steam and froth 1/2 cup milk.
In two mugs pour the white chocolate mix and add one shot of vodka to each. Top with 1/2 the frothed milk. Top with whipped cream and sprinkles.