Roasted Red Pepper Soup with Puff Pastry and a Giveaway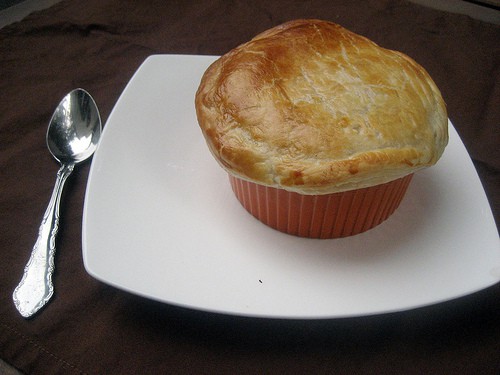 I've been serving up sweet after sweet here and thought it might be time to take a break from Holiday Baking. Today I am serving up a delicious Roasted Pepper Soup with Puff Pastry.
Years ago I visited Domaine Chandon in Napa and had this amazing dinner that started with a Tomato Soup topped with puff pastry. It was one of my most memorable meals. A few months ago at The Bistro Jeanty, their tomato soup tasted familiar to me. Looking up the recipe it turns out the chef that created the soup at Domaine Chandon later opened up Bistro Jeanty. I was so happy.
I looked at the recipe and caught my breath. It called for 4 cups of heavy cream. 4 cups. No wonder if was so amazing. I just couldn't do it though – make a dish with 4 cups of heavy cream. So, I created a plan to combine my favorite Roasted Red Pepper Soup with the Puff Pastry dome. It is from Mozza's Nancy Silverton and I never tire of this recipe. I have made it several times leaving out the cream completely for a low calorie meal.
I wish my pastry had puffed into a beautiful dome but alas that did not happen. Overall I have to say that the outcome was successful. With only 1/4 – 1/2 cup of cream I achieved a very satisfying dish.
To celebrate I am hosting a giveaway by Tate's Bakeshop. They sent me a lovely cookbook and a sampling of their cookies for review. The chocolate chip cookies were outstanding. I can't wait to whip up a batch of them using the recipe from the cookbook. I loved how crispy they cookies were. The sampler includes Chocolate Chip, White Chocolate Macademia Nut and Oatmeal Raisin Cookies.
Best of all they are giving one reader the the same gift pack and the Tate's Bakeshop Cookbook. Here is how you enter:
1. Comment below sharing what your favorite holiday cookie is.
2. For additional entries like Adventures In The Kitchen and Tate's Bakeshop Facebook Pages and leave a comment below.
3. For a final entry follow me on Twitter.
In addition they are offering Adventures In The Kitchen readers a 15% discount off any tatesbakeshop.com purchase. Enter "cookie" when they ask for a discount code. The offer is good through December 31, 2010.
The contest will end Friday at 5 pm Pacific Standard Time.Roasted Red Pepper Soup with Puff Pastry
Adapted from Mark and Nancy Silverton's At Home Cookbook
Serves 6
4 large red bell peppers
1 large onion, coarsey chopped
3 garlic cloves, chopped
1/4 tsp. crushed red pepper
1/2 jalapeno, seeded and minced
1 teaspoon kosher salt
1 teaspoon coarsely ground black pepper
3 tablespoons olive oil
1 1/4 cup chicken broth
1/4 cup water
1/2 cup heavy cream
2 puff pastry sheets
1 egg
1 tablespoon water
Preheat the oven to 400 degrees.


Place two 24 inch long sheets of aluminum foil one lengthwise and one across the side. Place the peppers and onion on the foil, sprinkle with garlic, crushed pepper, fresh chili, salt, and pepper, and drizzle with olive oil. Wrap securely so that no juices will escape and place the cookie sheet in the upper third of the oven. Bake for 1 hour.


Remove from the oven and let cool without opening the foil. When cool enough to handle, remove the skin from the peppers, cut them in half, and scrape the seeds and core from the inside.
Place the roasted peppers and vegetables, along with any liquid that has accumulated in the oil, in a food processor fitted with the metal blade. Puree until smooth. Add the chicken broth, water and cream. Pulse until combined. Pour into a nonreactive bowl, cover, and refrigerate for several hours or as long as overnight.
When ready to serve heat the oven to 450 degrees. Ladle the soup into 6 oven safe bowls.
Roll out the puff pastry to 1/4 inch. Cut into 6 rounds slightly larger than your cups. Paint the dough with the egg wash and turn the circles, egg wash side down, over the tops of the cups, pulling lightly on the sides to make the dough somewhat tight like a drum. Try not to allow the dough to touch the soup. These may be made up to 24 hours in advance and covered with plastic in the refrigerator.
Lightly paint the top of the dough rounds with egg wash with out pushing the dough down. Bake for 10-15 minutes, until the dough is golden brown. Do not open the oven in the first several minutes of cooking as the dough may fall. Serve immediately.