Chocolate Peppermint Shortbread Cookies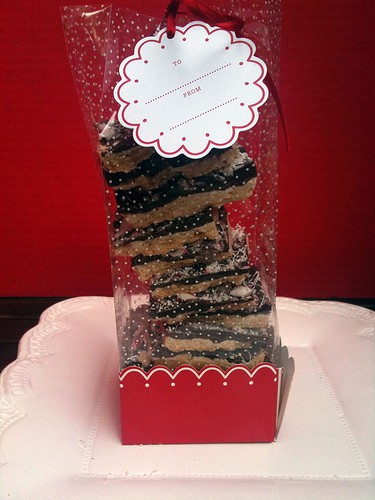 Today I am sharing a new favorite Christmas Cookie. One of the cookies in our family recipe rotation is a shortbread cookie topped with chocolate and nuts. Feeling inspired I tried a new version with crushed peppermints and drizzled with white chocolate. It was dangerously good. It might even be what I make for the Cookie Exchange I am going to this Monday.
It is easy to make and can be packaged up as gifts for your friends or co-workers. I used this cute food packaging that the Michael's by my house features  by Martha Stewart. They always have coupons for 40% off which makes them super affordable. The red and white is bright and cheerful for the holidays.
I lined the pan with parchment paper to make it easy to pull out and cut.
Don't forget to visit the Giveaway and enter for a chance to win Tate's Bakeshop Cookbook and Cookie Sampler. What cookies are you baking up this week?

Chocolate Peppermint Shortbread
8 ounces unsalted butter
1/4 cup sugar
1 1/4 cup all purpose flour
3/4 cup semisweet chocolate chips
2 – 3 candy canes, crushed
2 tablespoons white chocolate chips
Preheat oven to 275 degrees. Grease a 8 inch square pan.
Cream butter and sugar in a small bowl until light and fluffy. Beat in flour. Pat dough into the bottom of the pan. Pat with a fork. Bake 1 hour. Remove from oven.
Sprinkle chocolate chips over the warm dough and let stand for 3 to 5 minutes until chocolate melts. Spread crushed candy canes evenly. Let completely cool.
Melt white chocolate in a microwave. Take a fork and drizzle the white chocolate over the top. Cool and serve.