Give the Gift of Food: Red Velvet Cake Pops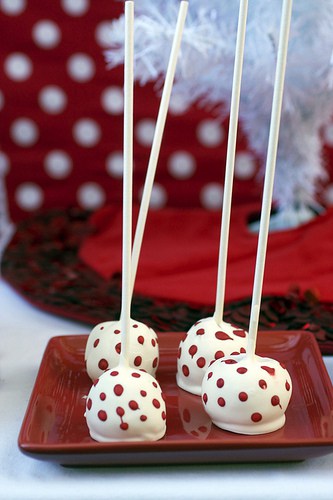 We are kicking off December with a festive Red Velvet Cake Pop. They make great favors or gifts and what better time of year than the holidays to take along a gift of food. A few weeks ago I met up with three new online friends from one of the groups I have joined. We were asked to  bring an example of our blog or the products we produce. I decided to make Red Velvet Cake Pops and bring them as favors.
Cake pops became all the rage thanks to Bakerella a few years back. I sort of missed that wave but seeing her new cookbook I decided to give them a try and see why they were so popular. It turns out they are super easy featuring a cake mix, a can of frosting and chocolate. The cake balls without the chocolate cover freeze quite well. I was able to do a few, freeze the rest and bring out as needed over the next few weeks.
The more difficult part is decorating them. After many attempts I ended up with red polka dots. I put them in cute little red and white boxes that Martha Stewart has at Michael's. It seemed fitting as we are all going to Martha Stewart Living headquarters in January. They loved them!
The best part was the moans that came out of my boss and co-workers mouths as they sampled my treats the following day. They are very good. I can see why she has a hit book based on them. They are a great treat to make with the kids. Look for the reindeer cake pops I am going to make with my niece and nephews.
Red Velvet Cake Balls
Recipe from Bakerella.com
1 box red velvet cake mix (cook as directed on box for 13 X 9 cake)
1 can cream cheese frosting (16 oz.)?1 package chocolate bark (regular or white chocolate)
White popsicle or lollipop sticks?wax paper
After cake is cooked and cooled completely, crumble into large bowl.
Mix thoroughly with 1 can cream cheese frosting. (It may be easier to use fingers to mix together, but be warned it will get messy.)
Roll mixture into quarter size balls and lay on cookie sheet. (Should make 45-50. You can get even more if you use a mini ice cream scooper, but I like to hand roll them.)
Chill for several hours. (You can speed this up by putting in the freezer.)
Melt chocolate in microwave per directions on package.
Place a white lollipop stick in each of the balls. Roll balls in chocolate and lay on wax paper until firm. (Use a spoon to dip and roll in chocolate and then tap off extra.)