This Avocado Soup with Bacon and Chile Croutons is fresh and creamy, with coconut milk, lime, and cilantro.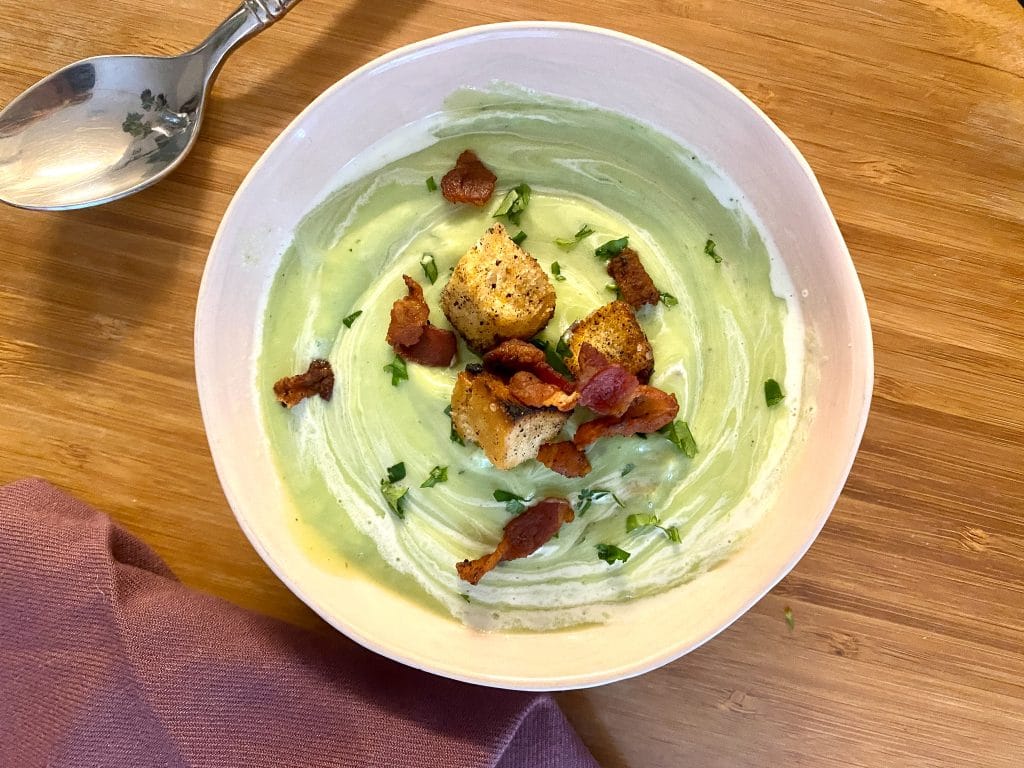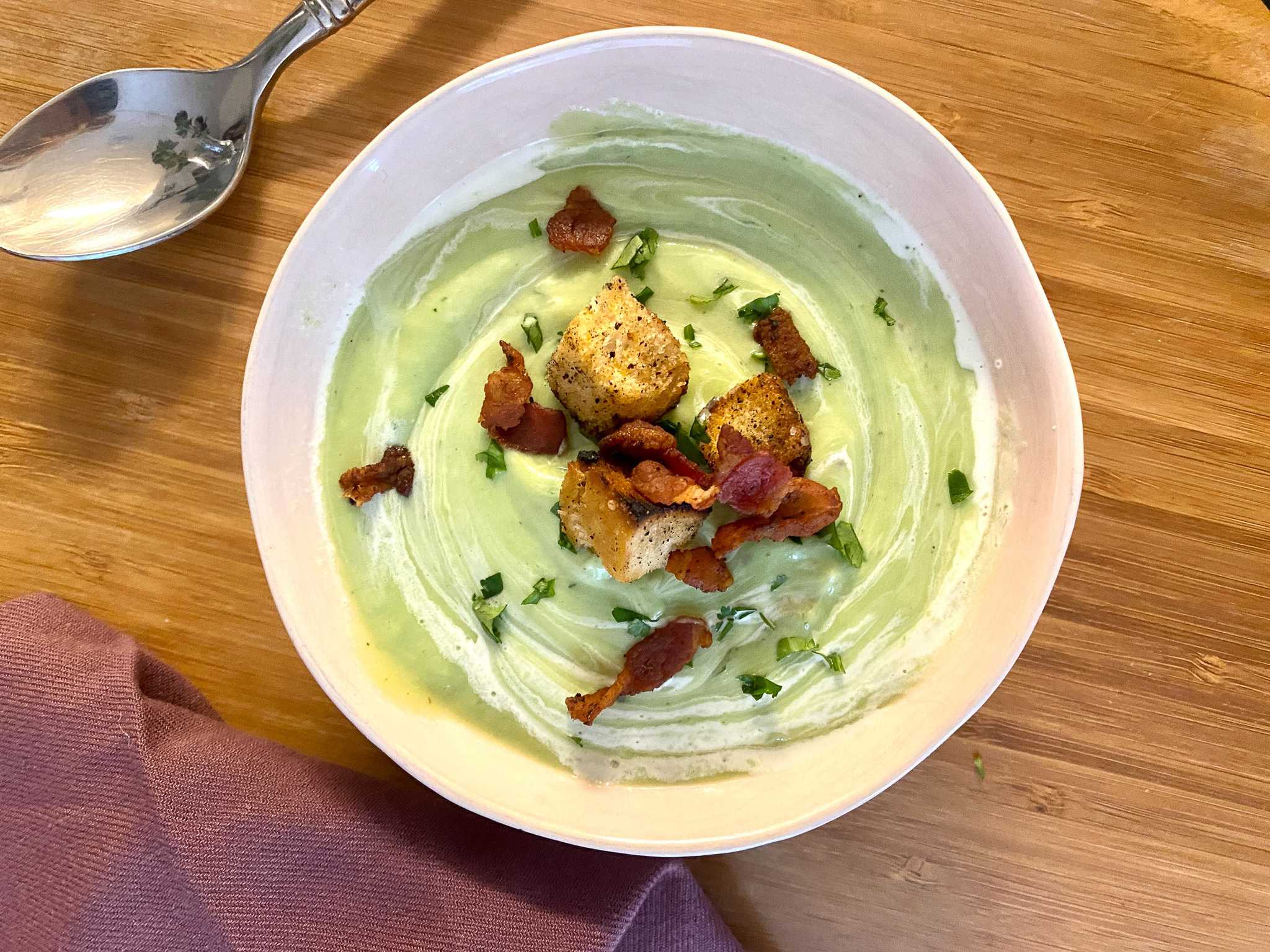 Soup is a go-to meal here at home during COVID. It is an easy lunch or quick dinner. This week, I had a few avocados sitting on my counter and remembered my friend Louise, who made an amazing Avocado Soup with Bacon and Chile Croutons for a cooking class back in the day. I decided to try and find the recipe.
Louise lost a long, cruel battle with Breast Cancer a few years ago. She was so young, and the disease so brutal. We met a few years before she got sick at a Food Bloggers meeting. We immediately connected on food and our shared faith. She was a big dreamer and super talented. Louise encouraged others to follow their heart and modeled it herself, as she chased her dreams.
I had the opportunity to work with her on a few amazing shoots including a two-week big photoshoot for Evite, where we got to style and create amazing kid's parties. We would meet up at 4:30 am to hit the road to Malibu. Those were fun days filled with great conversation. The kind of days you treasure.
Louise could cook. She made amazing food and photographed it beautifully. Sadly, I found that her site is now down but thankfully, I had a copy of her Avocado Soup from a cooking class I taught. Serve the soup cold or warm, topped with crispy bacon lardons and chile-rubbed croutons. Finish with a swirl of sweet Thai sauce for a little kick.
About this Avocado Soup
Confession time I don't really like avocados. I know, how is that possible? However, I recognize how good they are for you so I am trying to find ways to incorporate them into my meals.
The soup is creamy, fresh, and filling. The bacon and croutons kick up the flavor and texture. If you are looking for a healthier alternative top with yogurt and a handful of toasted nuts like pepitas.
Benefits of Avocados
Avocados are chocked full of nutrients, making them an important piece to your meal plans. They serve up potassium, fiber, and heart-healthy fat. They can lower cholesterol and triglycerides. Avocados are loaded with anti-oxidants. So add them to salads to help you absorb the other nutrients in the food you eat.
Ingredients for Avocado Soup
Avocados, ripe
Coconut milk, I used light
Cilantro
Red onion
Garlic
Equipment Needed to Make Avocado Soup
Blender
Cast iron skillet or oven proof skillet
The soup part is super easy, all you have to do is put everything in the blender and go. You can do this while making the bacon and croutons. It stores well in the refrigerator.
If you make this Avocado Soup, be sure to leave a comment and/or give this recipe a rating! I love to hear from you, and try to respond to each and every comment when you do. So don't forget to tag me on Instagram if you do!
Check out these recipes with Avocado