Bacon, Cheddar & Roasted Corn Goureges
These Bacon, Cheddar & Roasted Corn Goureges contain three of my favorite foods in one luscious bite. When I was younger, maybe in Jr. High, my Aunt Ginny made cheese puffs for a Christmas Eve get together. I remember biting into them and getting this light yet cheesy bite of flavor. I was in love.
I kept expecting them to reappear at one of our family gatherings, but they never did. No one remembers them, even Aunt Ginny. I am not sure what it says that I am the only person who remembers them.
Maybe I ate the whole plate and that is why no one remembers. I asked a few times and everyone gave me this blank stare.
Fast forward many years and I am reading cookbooks for fun. I keep seeing these recipes for Goureges and somehow I know that is what my aunt made for us.
You might be thinking I ran out and made them. No, but I clipped this one from an old Gourmet and filed it away. Every summer I would see the recipes I would think someday. Well that day came and finally decided to dive in and try them. This recipe is not the classic but one that uses crisp bacon, corn roasted in a cast iron skillet and cheddar cheese.
These can be made ahead and frozen. They reheat, out of the freezer, in about 15 minutes.
Print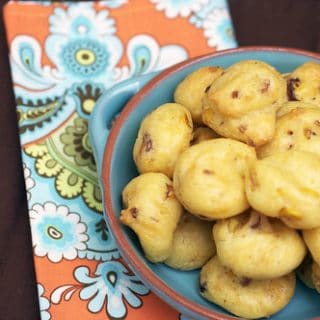 Bacon, Cheddar & Roasted Corn Goureges
---
---
4

smoked bacon slices

3/4

cup

corn

1

cup

water

1

stick unsalted butter (cut into tablespoon pieces)

1/4 teaspoon

salt

1

cup

all-purpose flour

4

to

5

large eggs

1 1/2

cups

coarsely grated extra-sharp Cheddar

2 tablespoons

grated Parmigiano Reggiano

2 tablespoons

finely chopped chives
---
Instructions
Preheat over to 375 with racks in upper and lower thirds.
Cook bacon in skillet over medium heat, turning occasionally, until crisp. Drain on paper towels, then finely chop.
Pour off fat from pan, then wipe clean. Add corn and pan-roast over medium heat, stirring until kernels are mostly golden brown, 10 to 15 minutes
Bring water to a boil with butter and salt in a heavy medium saucepan, stirring until butter is melted. Add flour all at once and cook over medium heat, stirring vigorously with a wooden spoon, until mixture pulls away from side of pan, about 2 minutes. Remove from heat and cool slightly about 3 minutes.
Add 4 eggs, 1 at a time, beating well after each addition. (Batter will appear to separate at first but will then become smooth.) Mixture should be glossy and just stiff enough to hold soft peaks and fall softly from a spoon. If batter is too stiff, beat remaining egg in a small bowl and add to the batter 1 teaspoon at a time, beating and then testing batter until it reaches proper consistency.Stir in bacon, corn, cheeses, chives, and 1/2 teaspoon pepper.
Fill a pastry bag fitted with a 1/2-inch plain tip with batter and pipe about 35 (3/4-inch-diameter) mounds, or spoon mounded teaspoons, 1/4 inch apart, onto each sheet.
Bake, switching position of sheets halfway through baking, until puffed, golden, and crisp, 25 to 30 minutes total. Transfer to a rack (still on parchment if using).
Make more puffs on cooled baking sheets. Serve warm or at room temperature.
Prep Time:

30 minutes

Cook Time:

25 minutes

Category:

Appetizer

Cuisine:

American
Nutrition
Calories:

104

Sodium:

120

Fat:

8

Saturated Fat:

4

Carbohydrates:

5

Protein:

4

Cholesterol:

52
Keywords: bacon, cheddar, corn