Crackling Shrimp with Lime Coconut Noodles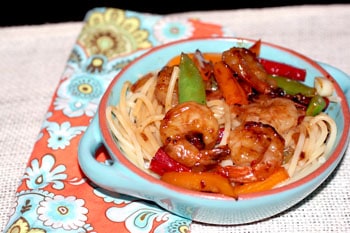 While reading
Too Many Cooks
by
Emily Franklin
I saw the recipe for Crackling Shrimp with Coconut Lime Noodles and craved it immediately. With the time change and spring teasing us, it seemed like the perfect dish.
Her book is a wonderful account of a year in the life of her family and the food they ate. She shares both poignant and funny stories of her family. I love how she thoughtfully approaches introducing new foods to her children. She even has flow charts of how to transition from chicken nuggets to Lemon Panko Chicken with children. You don't have to have children to enjoy this book.
Her shrimp lived up to the anticipation. The brown sugar rub makes for a slightly sweet and spicy bite. It is a good contrast to the tangy noodles. The best part is you can make the noodles the day before and quickly pull dinner together after work. You can buy shrimp and peel them or pay a little extra for preshelled and deveined.
Crackling Shrimp with Coconut Lime Noodles
Recipe for sweet and spicy shrimp served with lime coconut soba noodles. Adapted from a recipe by Emily Franklin.
Prep time: 5 minutes
Cook time: 10 minutes
Total time: 15 minutes
Yield: 4 servings
Ingredients
1 lb. shrimp, clean, deveined

1

onion, thinly sliced

1 teaspoon

fresh grated ginger

1 tablespoon

sesame oil

3 tablespoons

brown sugar

1/2 teaspoon

cinnamon

1/2 teaspoon

chili powder

1/2 teaspoon

salt

1/4 teaspoon

white pepper

Pinch

cayenne pepper
Cooking Directions
In a pan, saute' onion and ginger in sesame oil on medium high heat until just starting to brown.
Make a rub with brown sugar, cinnamon, chili powder, salt, pepper and cayenne pepper. Coat shrimp with rub with your hands and drop into hot pan with onions. Shrimp with crackle as they cook, and the sugar will start to caramelize. When shrimp are cooked through, remove them and the onions from the pan.
De-glaze pan with coconut milk, turning heat on high and letting the bits from the sides and bottom loosen. Let liquid reduce slightly. Add the shrimp and onions in the skillet and warm through. Serve over noodles.
Coconut Lime Noodles
Prep time: 10 minutesCook time: 5 minutes
Total time: 15 minutes
Yield: 4 servings
Ingredients
8 oz.

soba noodles

1/2 cup

coconut milk

1 bunch

scallions

1 cup

sliced peppers

1/4 cup

sauteed onions

1 tablespoon

sesame oil

1 tablesppon

teriyaki

1 teaspoon

rice wine vinegar

2 teaspoons

honey

1

lime, juiced and zested
Cooking Directions
Cook noodles in salted water according to package directions.
When noodles are cooked, rinse with very cold water.
In a small skillet, saute onions, peppers, snow peas and scallions keeping them crisper. Add them to the noodles.
Whisk together sesame oil, teriyaki, vinegar, coconut milk, lime juice and honey.
Dump dressing onto noodles and vegetables and toss gently so everything is evenly coated.