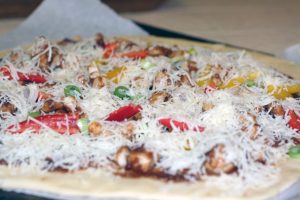 Each month a group of my friends have been gathering to talk about social media. Each of us has projects we are working on. One designs clothes, another designs invitations, a few of us blog and one is in real estate. It has turned into a rich evening of sharing with friends. We hold each other accountable to our goals for the next month and can bring issues for input from our group.
This month I hosted and decided to make an old favorite, Thai Chicken Pizza. I didn't have much time to pull dinner together and I improvised using what vegetables I had in the refrigerator. It was based on the recipe from California Pizza Kitchen. Instead of carrots, I threw on peppers but it is always good with the carrots and sprouts.
I served it with a green salad and my Pomegranate Balsamic Dressing. For dessert one of the girls brought Greek Yogurt with fresh berries. Yum, yum!
Tips:
I love homemade peanut sauce and this one comes together quickly. You could make over the weekend and store in the refrigerator for up to a week. There are plenty of good ones of the shelf that will make this a 15 minute meal.
I also love homemade pizza dough but it is not always practical after work, so I used the dough from Fresh and Easy.
Thai Chicken Pizza
adapted from Caifornia Pizza Kitchen
Makes 1 pizza's
Spicy peanut sauce
1/2 cup peanut butter
1/2 cup hoisin sauce
1 tablespoon honey
2 teaspoons red wine vinegar
3 teaspoons minced ginger (or more if you wish)
3 minced garlic cloves
1 tablespoons toasted sesame oil
2 teaspoons low sodium soy sauce
1 teaspoon vietnamese chili sauce (or dried chili flakes)
2 tablespoons water
Stir ingredients together in a small pan over medium heat. Bring the sauce to a boil; boil gently for one minute. Set aside.
Chicken
1 tablespoon olive oil
10 ounces boneless skinless chicken breasts, cut into 3/4 inch cubes
Heat the olive oil in a skillet and stir fry the chicken. Drain on a paper towel. Place in a bowl and mix in 1/4 – 1/3 cup peanut sauce to coat all the pieces.
For the pizza
1 pizza dough, use your own recipe or store bought
cornmeal or flour, for handling
1 cups shredded mozzarella cheese
4 scallions, slivered diagonally
1/2 cup red and yellow peppers, slivered
1 tablespoons chopped roasted peanuts
1tablespoons chopped fresh cilantro
Preheat oven to 450 degrees.
Roll out your pizza dough into a large 9-10″ circle. Brush the sides with olive oil. Place on a pizza stone or baking sheet. (I place parchment paper under the dough if I am using a baking sheet)
Place 1/3 to 1/2 cup of peanut sauce in the middle and brush over the dough leaving a 1-inch edge. Sprinkle 3/4 cup of cheese over  dough. Add the chicken, green onions and peppers around evenly. Sprinkle the remaining 1/4 cup of cheese over the topping and sprinkle with the peanuts.
Place in the over and bake until the crust is crops and golden and the cheese is bubbly. About 9 to 10 minutes. Remove from oven and sprinkle fresh cilantro on top.