Grilled Lobster with Orange Chipotle Vinaigrette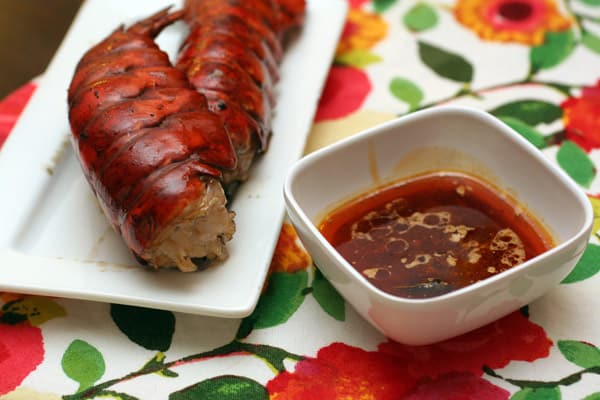 Last week I had a friend over for dinner and decided to grill lobster tails. He was the envy of my other friends. In New England you hear about clam bakes or lobster grills probably because of the abundance of both on the east. Here you hear more about hamburgers and hot dogs with smore's by the beach.
Mouth watering pictures were calling my name as I looked through summer magazines and then I saw Grilled Lobster with Orange Chipotle Vinaigrette on epicurious.com.

They were delicious. I boiled the tails for 2 minutes and then immersed in cold water. I finished them off on the grill, brushing with the vinaigrette that I had warming on the grill. It cooked down and thickened a bit. I served the sauce in little bowls perfect for dipping.
Summer is winding down and eyes are on fall. This weekend we are talking about Grandparents in honor of the upcoming Grandparents Day. We will hear fun ideas for honoring them and creative ideas for Grandparents to engage their grandchildren. Listen in Sunday on KKLA 99.5 at 4 pm.
4-6 lobster tails
3/4 teaspoon finely grated fresh orange zest
1 cup fresh orange juice
1/4 cup white-wine vinegar
1 1/2 tablespoons canned chipotle chilies in adobo, or to taste
2 1/2 teaspoons salt
1 teaspoon firmly packed brown sugar
1 cup olive oil
2 tablespoons chopped fresh basil leaves
Bring a large kettle (at least 8-quart capacity) three fourths full of water to a boil for lobsters.
In a blender blend zest, orange juice, vinegar, chipotles in adobo, salt, and sugar until chipotles are chopped fine. With motor running add oil in a slow stream. Vinaigrette may be prepared up to this point 3 days ahead and chilled, covered. Bring vinaigrette to room temperature before serving. Stir basil leaves into vinaigrette and reserve 1 1/4 cup in a small pitcher.
In boiling water partially cook lobsters  over high heat 2 minutes and transfer with tongs to a colander to drain and cool.
Prepare grill. Brush tails with vinaigrette and grill 2 minutes per side.
Serve lobster warm or chilled with reserved vinaigrette and garnish with basil sprigs.