Barbecue Chicken Salad at the Community Table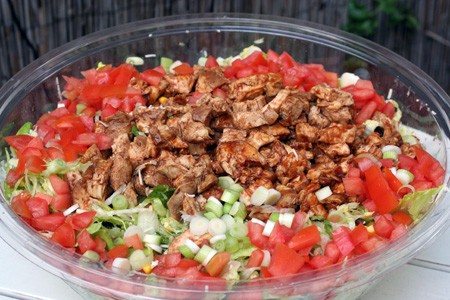 Last week I made a Barbecue Chicken Salad for 60 teenage moms. One of the joys of unemployment is having the time to serve and volunteer. Frister's is a non profit program for teen moms that helps to empower them so that they can lead successful, self sufficient lives.
My friend Ali started this seven years ago and just this year added a new location in Yorba Linda. Each week over 100 girls attend the two evenings. One of the cool things they do is start each evening by sharing a meal together. Ali intentionally built that in and feels contributes to the family feel of the groups. Once a month they celebrate the girls birthday's with cakes baked by volunteers.
To make up for the decadent Baked Ziti with Sausage I had made the week before I decided to make barbecue chicken salad. It was fitness night and they were learning about the benefits of exercise and then working out to a Dancing with the Stars video. Over the course of nine months they visit all aspects of their life through a curriculum Ali and her team have developed.
One of her volunteers was so funny. She was helping me carry in the food and asked if I had made the meal last week. When I said that I had because cooking is one of my passions she replied "Well, we love to eat so this is a match made in heaven."
This is based on the recipe from California Pizza Kitchen with a few adaptations. If you want an even easier version use a bottled ranch dressing, though this one made from scratch is worth the extra effort.
Barbecue Chicken Salad
BBQ Chicken
4 chicken boneless skinless chicken breasts
Bottle of your favorite Barbecue Sauce
Preheat oven to 350 degrees.
Place the chicken in a baking dish. Sprinkle with salt and pepper. Brush barbecue sauce on the chicken breasts.
Bake 20-30 minutes, until chicken is cooked through. Cool and chop up the chicken. Coat it with 1/2 cup barbecue sauce and refrigerate until ready to mix in salad.
Garden Ranch Herb Dressing
1/2 teaspoon dry mustard
1/4 teaspoon cold water
3/4 cup mayonnaise
1 cup buttermilk
8 tablespoons sour cream
1/2 tablespoon apple cider vinegar
1/2 tablespoon thinly-sliced scallion top, and whites
2 teaspoons minced garlic
2 teaspoons minced fresh Italian parsley
1/2 teaspoon Worcestershire sauce
1 teaspoon minced fresh dill
1/4 teaspoon minced dried oregano
1/2 teaspoon fresh ground black pepper
1/4 teaspoon minced fresh basil
In a mixing bowl, use a fork to stir together the mustard and cold water, forming a paste. Set aside for 10 minutes. Add the remaining dressing ingredients to the bowl and, using a handheld electric mixer at low speed or a whisk, blend together just until smooth, taking care not to incorporate too much air into the dressing. Cover with plastic wrap and refrigerate.
Salad
1/2 head iceberg lettuce (cored, rinsed and dried and cut into thin 1/8″ strips)
1/2 head romaine lettuce leaf (separated, trimmed, rinsed, dried, and cut thin strips)
12 large fresh basil leaves, cut 1/8-inch strips
2 cups shredded monterey jack cheese
1 cup canned black bean, rinsed drained
1 cup canned sweet white corn kernels, drained
3 tablespoons chopped fresh cilantro
2 lbs fresh ripe tomatoes, cut into 1/2-inch dices
1/2 cup good-quality sweet-&-spicy barbecue sauce
1 cup tortilla strips
In a large mixing bowl, toss together the lettuces, basil, jicama, Monterey Jack cheese, beans, corn, cilantro, dressing, and half of the Fried Tortilla Strips. Transfer the salads to chilled serving plates. Surround each salad with diced tomatoes and the remaining Fried Tortilla Strips. Top each salad with chunks of BBQ Chicken and drizzle the chicken with the barbecue sauce. Garnish with the scallion.