Strawberry Chopped Salad & A Giveaway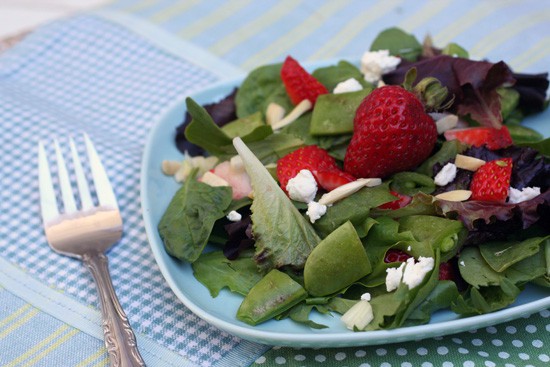 On a hot summer day I think many of us are reticent to turn on the oven or even heat up the barbecue. I know I go for easy and refreshing food. One of my good friends was visiting last week and we went to True Foods, a restaurant by. I had their Summer Chopped Salad and knew I would be home trying to recreate it.
The salad has strawberries, snap peas and fennel topped with a little cheese, toasty almonds and light white balsamic vinaigrette. I have been loving snap peas this summer. They are tasty raw or cooked.
This Sunday Adventures In The Kitchen launches on KKLA 99.5 here in Southern California so I thought it was time for a celebration which means a Giveaway! Cuisinart ICE-21 Frozen Yogurt-Ice Cream & Sorbet Maker along with an ice cream  scoop and a California Milk ice cream freezer container. If you live in Southern California I'd love your help in sharing with your friends. The show will air on KKLA  99.5 FM.
This week's guest is Cathe Laurie from Harvest Fellowship Church and her daughter-in-law Brittany. We'll be talking about cooking with family, establishing family traditions with your kids and Cathe will share a favorite recipe with us! I would love to have you tune in.
To enter to win all you need to do is like Adventures In The Kitchen on Facebook and leave a comment below. For additional entries Tweet "I just entered Adventures in The Kitchen Radio http://ow.ly/5OJ0z giveaway"  After you tweet, come back here and leave a comment letting me know you did. The contest will close Sunday at 3 pm PST.
For a third entry place "Check out Adventures In The Kitchen Radio on KKLA 99.5 and enter to win the giveaway at http://ow.ly/5ON2R " on your Facebook status. Good luck!
Strawberry Chopped Salad
1 bag mixed greens
1 cup chopped strawberries
1 cup snap peas, cut in thirds
1/4 cup fennel, chopped
1/2 cup feta cheese, crumbled
1/4 cup almonds, toasted and chopped
Freshly ground pepper
Toss the mixed greens, strawberries, snap peas and fennel together in a bowl. Sprinkle the cheese and almonds on top and serve with White Balsamic Vinaigrette.
White Balsamic Vinaigrette
1/4 cup white balsamic vinegar
1 tablespoon Dijon mustard
2 teaspoons honey
1/4 cup olive oil
Whisk together in a bowl. Will keep in the refrigerator for up to a week.