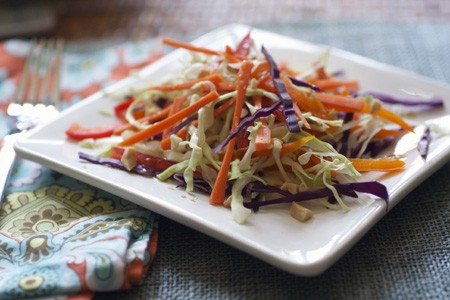 Memorial Day weekend is here and one of the dishes I plan to make for a barbecue is this Asian Coleslaw. I am not of  fan mayonnaise based salads. I am sure that puts me in the minority but luckily I discovered that oil and vinegar based coleslaws are pretty tasty.
I first made this many years ago when the summers were spent with beach cookouts and picnics in the park. I dug through my notebooks of recipes but couldn't find it so I started playing around in the kitchen. This dressing is tart and sweet with just the right amount of bite to it. I love the colors of orange, purple, red and green. It pretties up any picnic table.
You can add this to your favorite bbq sandwich or add to a wrap with some grilled chicken. If the thought of all that cutting wears you out, buy a bag of prepackage cabbage and carrots, add the peppers and toss with the dressing. I'll keep your secret!
Asian Coleslaw
Serves 8   Prep Time:  15 minutes   Start to Finish Time:  20 minutes
1/4 cup rice wine vinegar
1/4 cup canola oil
1 inch piece of ginger, grated
2 tablespoons dark brown sugar
2 tablespoons soy sauce
1 teaspoon lemon juice
5 cups green cabbage, thinly sliced
3 cups red cabbage, thinly sliced
1 large red bell pepper, cut into matchstick size strips
1 large orange bell pepper, cut into matchstick size strips
6 green onions, cut into strips
2 tablespoons peanuts, chopped
Whisk first 6 ingredients in small bowl to blend.
Combine remaining ingredients in large bowl. Add dressing and toss to coat. Season with salt and pepper.