Seared Swordish with Lemongrass Crust and Thai Peanut Sauce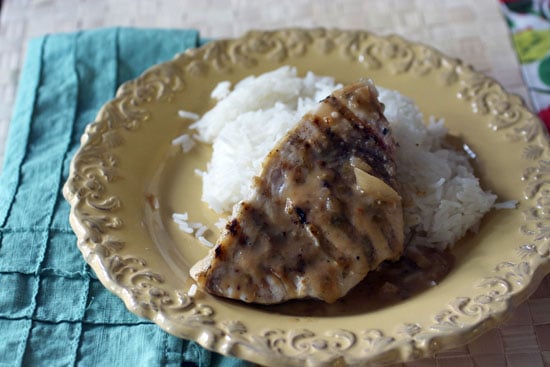 Even though I can't get to Hawaii for a vacation this summer I can bring the tastes of the islands to my house. I had this Seared Swordfish with lemongrass crust and thai peanut sauce when I was at Roy Yamaguchi's restaurant in Maui. The food there was delicious. I still make their Molten Chocolate Cake for dinner parties.
Here at Adventures In The Kitchen I usually share simpler recipes but sometimes you want to make a dinner that is a bit more special. This has many ingredients but you can make the sauce ahead of time and then prepare the fish right before the meal. I adapted it a bit. One of the things I substituted was  Roasted Chili Paste instead of red curry paste. I love the flavor it adds. A little jar or this or the red curry paste will last a long time in your fridge. I stir into in different stir fry's and sauces.
You will have extra sauce. It will make a great Thai Pasta with some peppers and chicken stir fried and tossed with spaghetti or penne pasta.
Check out my new site – SkinnyChickRecipes for low fat recipes featuring Weight Watchers points and calorie info on each recipe!
Seared Swordfish with Lemongrass Crust and Thai Peanut Sauce
adapted from Roy Yamaguchi
Prep Time: 15 minutes   Cooking Time:   35 minutes  Serves:  4
Peanut Sauce
2 cups canned light coconut milk
1/3 dark brown sugar
5 tablespoons creamy peanut butter
2 1/2 tablespoons soy sauce
2 1/2 tablespoons lemon juice
1 tablespoon rice vinegar
1 tablespoon roasted red
2 teaspoons thai or vietnamese fish sauce
1 small sweet onion, such as maui, about 3 ounces, diced fine
15 to 20 fresh basil leaves
1 teaspoon grated lime zest
1 teaspoon minced garlic
1 teaspoon minced ginger root
2 tablespoons unsalted butter
Combine all the ingredients except the butter in a saucepan and bring to a simmer over medium heat. Lower the heat and cook, uncovered, at a bar simmer about 30 minutes.
When you are ready to cook the fish, heat 1/2 cup of the peanut sauce over low heat. Whisk in 1 tablespoon butter and remove from the heat.
Swordfish
4  6 ounce swordfish steaks
salt
2 tablespoons lemongrass, minced fine
1 tablespoon minced garlic
1 tablespoon minced shallots
1 tablespoon minced ginger root
1 teaspoon 5 spice powder
1 tablespoons canola oil
Season the fish lightly with salt. Combine lemongrass, garlic, shallots, ginger root, and 5 spice powder in a small bowl. Spread the mixture on one side of the swordfish and let stand about 5 minutes.
Drizzle the coated side of the fish with the oil. Heat a nonstick saute pan over medium-high heat. When the pan is hot, add the fish, coated side down. Cook 1 to 1 1/2 minutes, until the edges are just opaque. Turn the swordfish and cook an additional 1 to 1 1/2 minutes.
Place the fish, crusted side up, on serving plates. Pour the sauce around the fish.