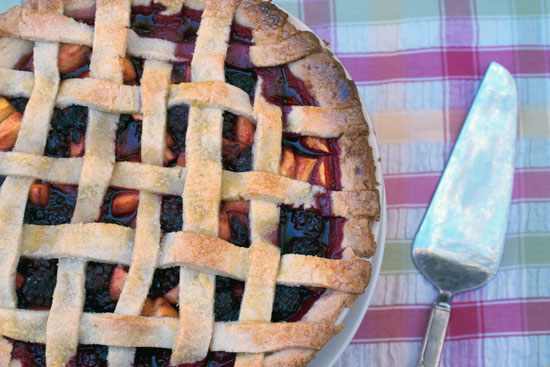 Driving by a farmers stand in Yorba Linda I saw that Olallieberries were back in season. They say this is the year of the pie and the Fourth of July is coming up. Inspired by a few magazine covers I decided to make a lattice topped pie.
Olallieberries are only around for a very short season each year. Last year I made this. I bought a few pints on the way to pick up my niece last week and we munched on them driving home. They are sweeter than blackberries making them a great snack.
I tried a new pie crust this time – it was a cross between a Julia Child recipe and one by Silver Spoon. I have to honest and say while it tastes good I am going to try another crust next time. Next time I am going to try one without the eggs.
I followed the directions for making a lattice top in the Farmchicks in the Kitchen Cookbook. Putting the cut strips in the refrigerator before topping the pie is part of the success. It keeps them cold and easier to handle.
What pies are you making this summer?
Olallieberry Peach Pie
Prep Time: 1 hour 30 minutes   Cooking Time: 50 minutes   Serves 6-8
Piecrust
2 cups flour
1/2 cup sugar
1/2 teaspoon baking powder
1/4 teaspoon salt
Zest of one lemon
2 ounces butter
2 ounces shortening
1 egg
1 egg yolk
1/3 cup ice water
Mix the flour, sugar, baking powder and salt together. Place in the food processor and add the butter and shortening. Blend until they are incorporated into the flour mixture. Pour in the eggs and mix until the dough starts to form a ball. If the mixture is too dry slowly add in the ice water.
Place the dough onto a floured surface and form into two balls, wrap and refrigerate for at least an hour.
Remove one ball of dough and roll into an oblong on a floured surface. Cut out 8-10 Place strips on a parchment lined cookie sheet and place in refrigerator while you roll out the bottom crust.
Roll out the second ball of dough to 1/8 inch thickness; transfer to a 9-inch pie pan.
Olallieberry Peach Filling
3 cups berries
2 cups peaches, skin removed and chopped
1/4 cup brown sugar
1/4 cup white sugar
1/2 teaspoon cinnamon
pinch of salt
1 teaspoon lemon juice
3 teaspoons cornstarch
1 egg whisked (for brushing on pie dough)
sanding sugar to sprinkle over
Mix the sugars, cornstarch, cinnamon and salt together. Place fruit in a large bowl and sprinkle lemon juice over the fruit. Toss the fruit with the sugar mixture and coat the fruit.
Pour the fruit into the pie shell. Build the lattice top, brush with egg and sprinkle with sugar. Refrigerate for 30 minutes. Bake for 50-55 minutes or until top is lightly browned.
Lattice Top Crust
Starting at one edge of the pie, lay half the strips lengthwise over the filling, spacing them evenly. Gently bend back alternate strips and lay a strip crosswise over the ones remaining flat. Lay the bent strips flat again and bend back the ones in between them. Lay another strip crosswise over the flat strips.
Continue to bend back alternate strips and weave the over-under lattice. Wen all the strips are in position, trim any long ends, fold up the bottom crust over the strips and crimp the edge to seal.