Caramel Cake and an ITunes Podcast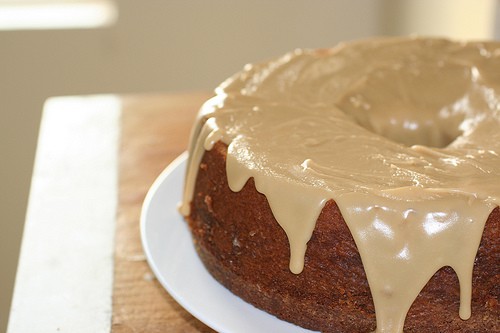 This Brown Sugar Cake is my top most searched post on a regular basis. Three years ago when I decided to try that recipe I had no idea it was be such a hit! I am still getting used to being back at work full time and starting a radio show. I haven't been able to spend much time in the kitchen the last few weeks but this week that will change. In the meantime I thought I'd share this recipe again since many of you might not have seen it.
Reviewing the recipe made me hungry for this cake. It has the taste of a maple bar at your donut shop. It is delicious. You can get the recipe here.
If you don't live in the area and are not able to listen to Adventures In The Kitchen Radio good news – you can subscribe to the Itunes podcast. The first episode is up and I will be posting the rest this weekend. If you subscribe each Monday the new episode will be delivered to your account.
Tomorrow starts a long weekend! What will you be doing? Better yet what will you be cooking? I'd love to hear.