Sweet Potatoes with Cinnamon Meringue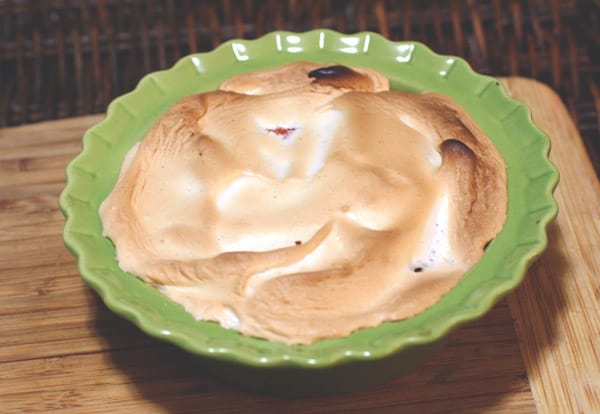 I know that most of you will have chosen your Thanksgiving dishes by now but I wanted to share a few more recipes with you. Today it is Sweet Potato Casserole with Cinnamon Meringue.
It was only a few years ago that I started to like sweet potatoes. I started with the old school yams with marshmallows and graduated to sweet potatoes with sauteed apples. Last year I tried Ruth Chris Sweet Potatoes. I have been making up for lost time.
I started seeing different versions of sweet potatoes with a meringue. I ended up creating a mashup of several recipes. It's like a sweet potato meringue pie. I made this for 4 servings. Sometimes you need smaller quantity recipes for a more intimate Thanksgiving.
So tomorrow is the big day. My nephews and I were talking about Thanksgiving and we might play games after dinner. What do you do? One is already petitioning his mom to take out all the Christmas decorations after we leave. Funny, I was thinking that just yesterday. It is already beginning to feel like Christmas is coming.
Check out my new print capability for the recipe. After numerous attempts to get a print button I found this plug in for recipes. If you push the print next to the recipe title you get a nice clean copy of the recipe to print!
[mv_create key="14″ title="Sweet Potatoes with Cinnamon Meringue" thumbnail="https://adventuresinthekitchen.com/wp-content/uploads/2011/11/BEAUTY-Sweet-Potato-with-Cinnamon-Meringue.jpg" type="recipe"]