Cooking With Kids: Chocolate Chip Scones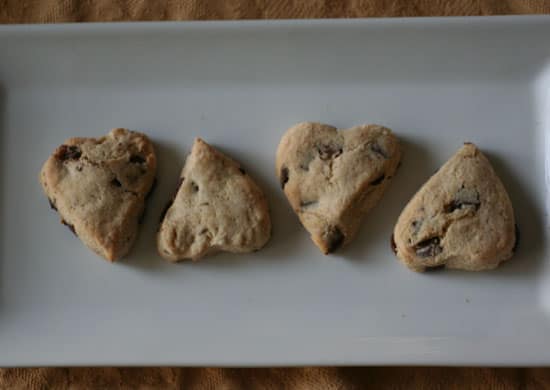 Recently my niece called a meeting with me to discuss new recipes for us to make. She pulled out her Pink Princess  cookbook by Barbara Berry and we sat at the family room game table. She has become a great little baker and loves to help out in the kitchen.
When I brought my coffee over she ran over to get her lemonade. She had stickies and we marked all the recipes that sounded good. We were hard at work. When her brothers tried to join us she said "there are no breaks in meetings!" We then prioritized which ones we wanted to make first. Chocolate Peppermint Scones were her first priority.
It turns out peppermints aren't so easy to find in June in Southern California so we make Chocolate Chip Scones. They were easy for her to make under my supervision. This recipe uses cream in place of butter. She cut out heart shaped scones. Her brother even joined in on the fun and cut out some alphabet shapes.
These scones are delicious eaten warm right out of the oven.
Chocolate Chip Scones
by Barbara Berry
Prep Time:  10 minutes   Cook Time:  20 minutes
Servings:  12
Ingredients:
1 1/2 cups All purpose flour
1/4 cup granulated sugar
2 tsp baking powder
1/8 tsp salt
1 cup milk chocolate chips
1 cup whipping cream plus 2 tablespoons
Instructions:
Preheat oven to 375 degrees F.
In a large mixing bowl, stir together flour sugar, baking powder, and salt until well combined.
Add 1 cup whipping cream to the mixture, stirring just until ingredients are moistened. Turn mixture out onto lightly floured surface. Knead gently until soft dough forms (about 2 minutes). Pat dough out to about 1 inch thickness. Cut out into assorted shapes.
Place scones 1 inch apart on foil-lined baking sheets that have been sprayed with non-stick cooking spray.
Brush each scone with the remaining 2 tablespoons whipping cream and sprinkle with crushed peppermint candy.
Bake 15 to 20 minutes or until very lightly browned. Really good served warm.