These days I am cooking more in a commercial kitchen than at home. I thought it would be fun to share some of the class recipes and creations with you. We are starting with a starter. Greet your guests with a Red Pepper Shooters with Cilantro Pesto at your next summer shindig.
Bursting with flavor and nutrients this cool shot teases the palate. I love them because you can whip this up in a blender and chill the day before. You don't have to heat up your kitchen on a hot day.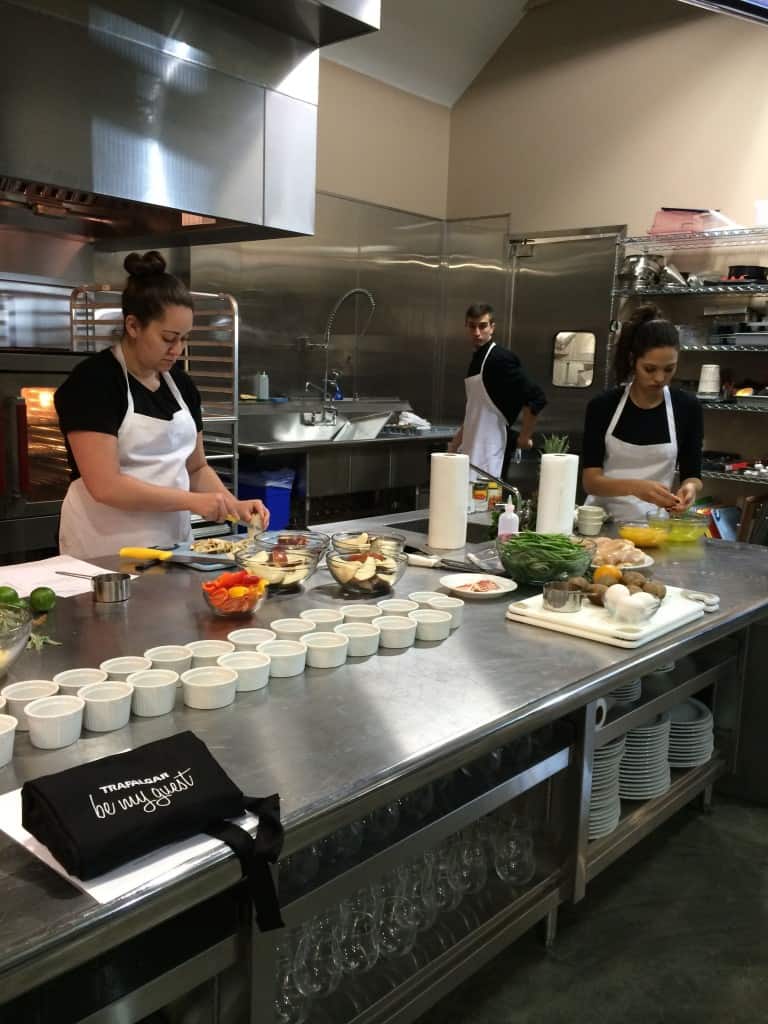 At our cooking parties we make things people can easily replicate at home. I have made this one Red Pepper soup for years but it is time intensive. I love helping people discover simple ways to make delicious food for their families and friends.
The key to this recipe is tasting as you go. If you like it a little hotter, add a little more jalapeno. Make sure to puree the peppers well. If you like it a little creamier add a little cream or yogurt. These little shooters are topped with a swirl of Cilantro Pesto but you could top with a little Creme Fraiche or yogurt..
The little glasses I serve them in are from the local dollar store. I think they are $1 for 6. How great is that? I use them to serve mini portions of chocolate mousse.
If you live in Orange County I am kicking off my summer series through the City of Brea. It would be fun to have you join me! Next Monday is Summer Grilling and I love this menu full of ideas for your summer entertaining:
Peach Raspberry Agua Fresca; Grilled Corn; Crema Cilantro Bruschetta; Grilled BBQ Shrimp with Spice Rub; Grilled Rib Eyes with Chipotle Honey Barbecue Sauce; Grilled Veggies with Jerk Seasoning; and White Chocolate and Berry Ice Cream Sandwich
The following week is Summer Pies. We will be making:
Nectarine Raspberry Streusel Pie, Cherry Bourbon Pie, Blackberry Lemon Thyme Hand Pies, and Peach Pie Pops
There is also a Cooking With Beer, Italian Garden and a Farmer's Market class. Come have some fun playing in the kitchen! You can see the line up on the calendar.
Chilled Red Pepper Shooters with Cilantro Pesto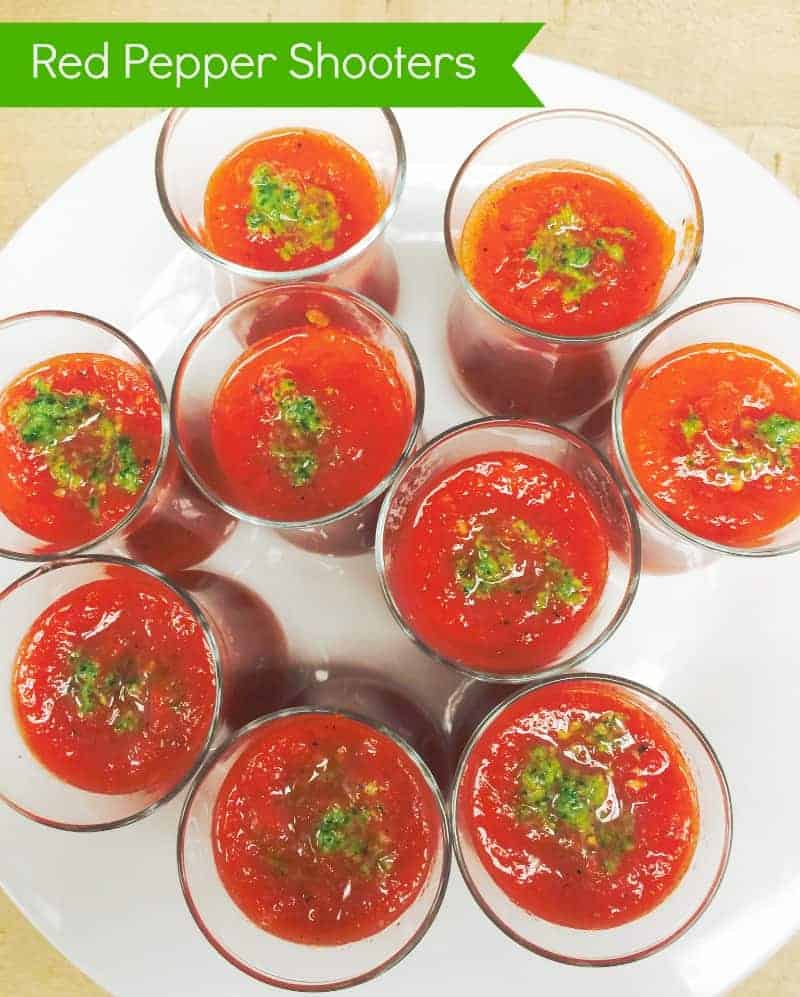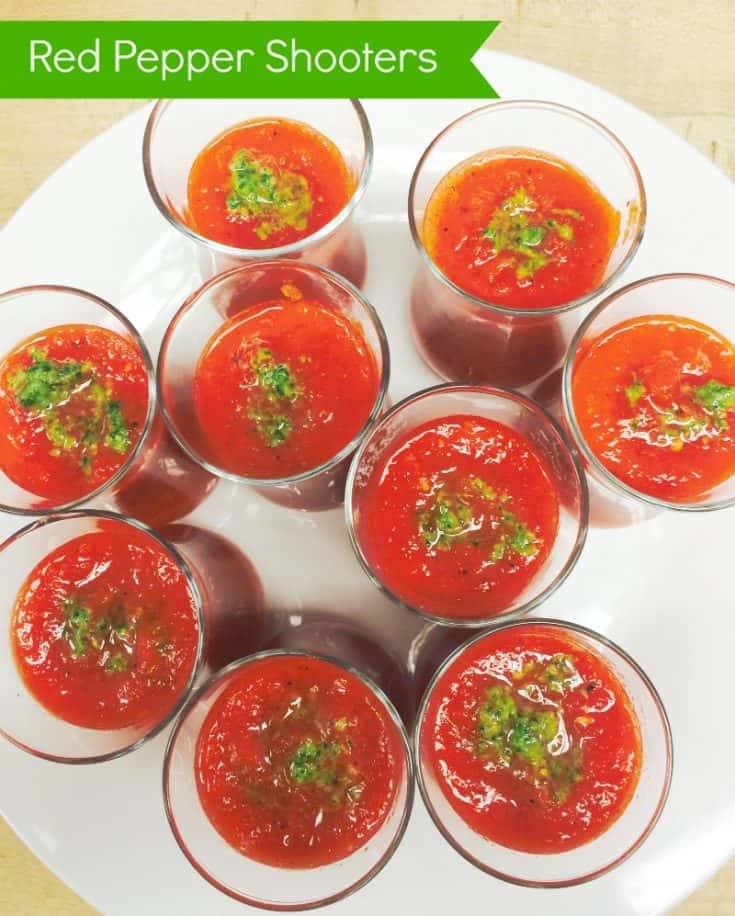 Ingredients
4 large, ripe tomatoes, halved
½ cup roasted red peppers or pequillo peppers
4 garlic cloves, chopped
¼ tsp. crushed red pepper
½ jalapeno, seeded and minced
1 teaspoon smoked paprika
1 teaspoon kosher salt
1 teaspoon coarsely ground black pepper
1 ½ tablespoon sherry vinegar
3 tablespoons olive oil
¼ cup water
½ cup heavy cream, optional
Cilantro Pesto
2 cups cilantro
½ cups blanched almonds
¼ cup red onion
½ Serrano chile
1 teaspoon kosher salt
¼ cup olive oil
Instructions
Place the tomatoes, peppers, garlic, jalapeno, red pepper and 1 tablespoon of sherry vinegar in the blender/food processor. Blend the soup until finely pureed. Season with salt and pepper and drizzle in the oil.
Taste and adjust seasonings.
In a food processor, pulse the cilantro, almonds, onion, chile, and salt until well blended. With the food processor running, slowly add the olive oil in a steady stream.
Add more oil as needed for your use.
Nutrition Information:
Serving Size:
1 grams
Amount Per Serving:
Unsaturated Fat:

0g