Vanilla Bean and Raspberry Macarons
Macarons just make me happy. It appears I am not alone on this! They are delicate, a little crunchy and sweet. My niece and I love to make them. She feels like Fancy Nancy when they come out of the oven. Recently I made Vanilla Bean Macarons filled with a fresh raspberry buttercream.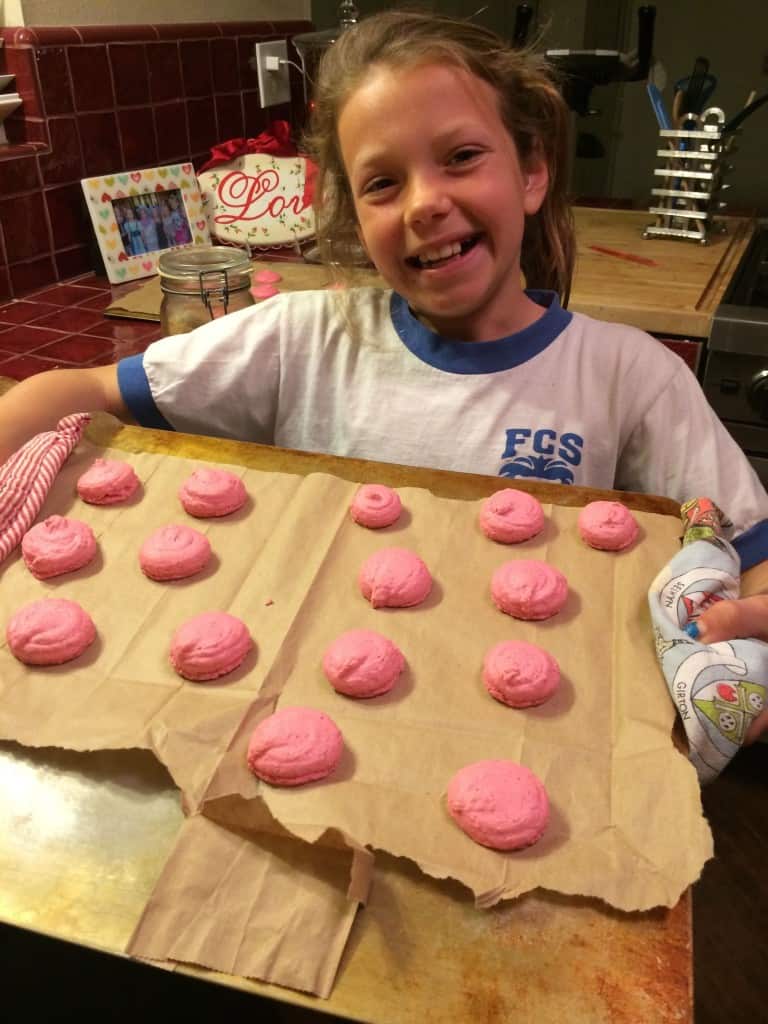 Once you master the technique you can play around with so many flavor combinations. I am thinking about creating a  mango or pineapple macaron this week. Doesn't that sound summery!
Keys to Macaron Success
You can Google how to make a macaron and find numerous how to videos. My personal tips for success are:
Timing – I time the beating of the eggs. I beat on low for 3 minuts, medium for 3 minutes and high for the final 3. That seems to produce a consistent macaron shell.
Line with parchment paper.
Bang – a good bang or two of the cookie sheet after you have piped them. Don't be afraid!
Rest – let them rest and dry out for 30 minutes to 1 hour before baking.
Take Our Summer Macaron Cooking Class
If you are local you can take our Summer Macaron class through the City of Brea. These classes always sell out, so sign up soon if you are interested!
Vanilla Bean and Raspberry Macarons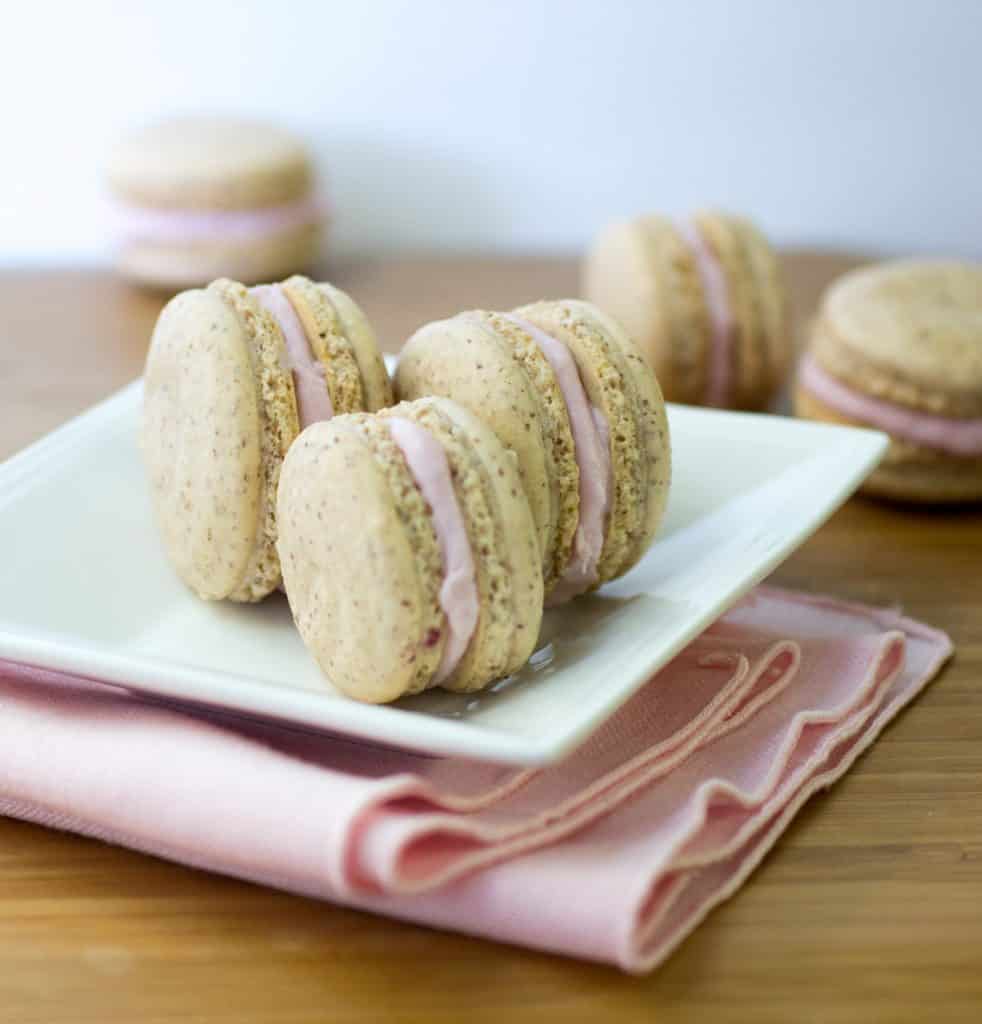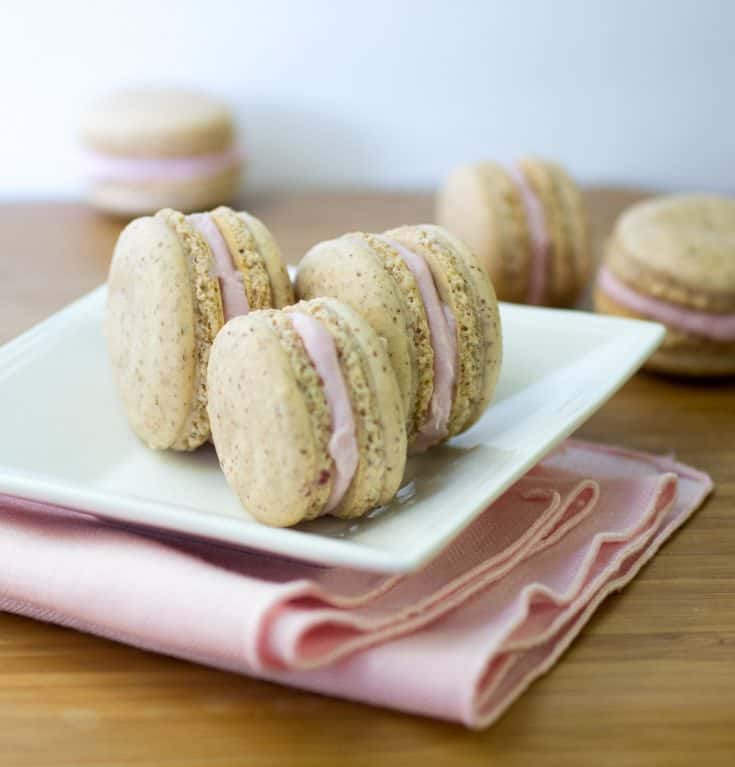 Ingredients
1 cup powdered sugar
½ cup + 3 tablespoons almond flour
1/2 teaspoon cream of tartar
2 large egg whites, at room temperature
5 tablespoons granulated sugar
Buttercream
1/2 cup unsalted butter, at room temperature
2 cups powdered sugar
1/2 cup fresh raspberries
1 teaspoon pure vanilla extract
Instructions
Line two baking sheets with parchment paper and have a pastry bag with a plain tip ready.
Sift the powdered sugar and almond flour so there are no lumps. Scrape the inside of 1 vanilla bean and add with flour mixture.
In the bowl of a standing electric mixer, place the egg whites in and beat at 4 for 3 minutes. Add sugar and cream of tartar and beat for 3 minutes at 6. Up to 8 and beat for 3 more minutes or until stiff peaks. Add in flavoring or gels and beat for 1 final minute. Tip - you should be able to turn the bowl upside down without anything falling out)
Carefully fold the dry ingredients, in two batches, into the beaten egg whites with a flexible rubber spatula. When the mixture is just smooth and there are no streaks of egg white, stop folding and scrape the batter into the pastry bag (standing the bag in a tall glass helps if you're alone).
Pipe the batter on the parchment-lined baking sheets in 1-inch circles (about 1 tablespoon each of batter), evenly spaced one-inch apart.
Tap the baking sheet a few times firmly on the countertop to flatten the macarons, then bake them for 15-18 minutes. Let cool completely then remove from baking sheet.
Nutrition Information:
Serving Size:
1 grams
Amount Per Serving:
Unsaturated Fat:

0g