Sweet Potatoes and Apples with Brown Sugar Pecan Toppings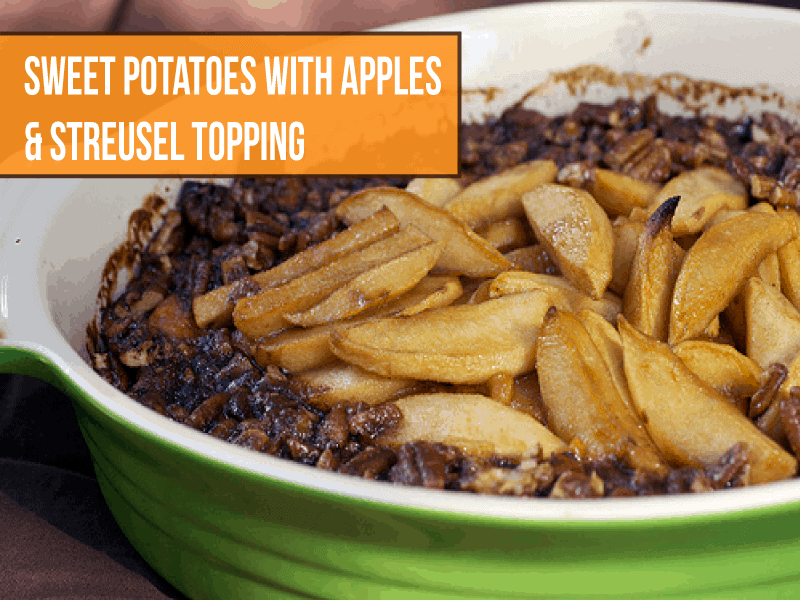 It is Thanksgiving Week and I have many recipes to share with you. I love Thanksgiving, don't you? It is probably my favorite holiday. I love hanging with my family and this year Max, my new Yorki Poo. Later in the day we go to see a movie together as a family. When I was little we would go to Los Angeles for a musical. I remember seeing Annie at the Pantages when I was younger.
We still gather as a family and everyone brings a dish. This year I am bringing dessert. I am thinking about this. But I love to cook all the fun sides, so I decided that I would make my own  at home so I could share them with you.
This is my take on Ina Garten's Sweet Potatoes and Sauteed Apples. I decided to add a ring of crunch brown sugar pecans around the side to give a little crunch to the dish.
What is your favorite side dish? Share below!
Sweet Potatoes and Apples with Brown Sugar Pecan Topping
4 pounds sweet potatoes
1/2 cup orange juice
1/2 cup heavy cream
3 tablespoons unsalted butter, melted
1/4 cup light brown sugar
1 teaspoon ground nutmeg
1 teaspoon ground cinnamon
1 teaspoon kosher salt
1/2 teaspoon freshly ground black pepper
3 apples, peeled and sliced
2 tablespoons unsalted butter
2 tablespoons dark brown sugar
1/3 cup brown sugar
2 tablespoons unsalted butter, melted
1/2 cup pecans, chopped
Preheat the oven to 375 degrees.
Prick the sweet potatoes with a fork several times and bake them for 1 hour.
Saute the apples with the melted butter and brown sugar until tender, about 10 minutes.
Remove from the oven and let cool. Scoop out the insides and place into a bowl of an electric mixer. Add the orange juice, cream, butter, brown sugar, nutmeg, cinnamon, salt and pepper.
Place in a baking dish and top with sauteed apples and place pecan mixture around the sides. Bake 30 minutes or until the pecans mixture is browning and dish is heated through.