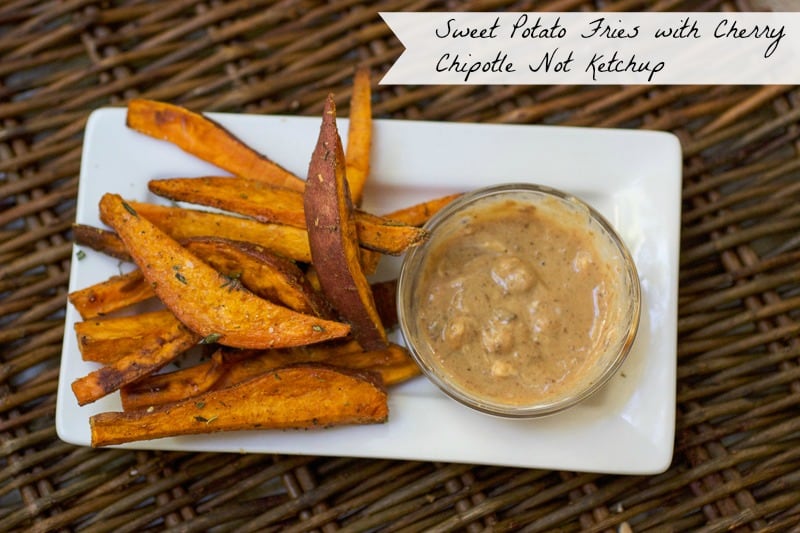 The Super Bowl is this weekend which means a Super Bowl food fest. It is a time to nibble and graze as we watch the commercials and halftime show. Oh and to root on your favorite team. I wish LA had a football team. How crazy we don't have a team in Southern California. I miss the Rams!
Last week I shared my friend Erika's new line Not Ketchup. Have you tried it yet? Last week I made Goureges and a Grilled Cheese I am still thinking about. Both of those used the Blueberry White Pepper Sauce. This time I made the most amazing and simple dip for my Baked Sweet Potato Fries seasoned with herbs and spices. I had the Cherry Chipotle Sauce in mind. Her slogan is Dip Differently and this is the perfect dip for your game day gathering.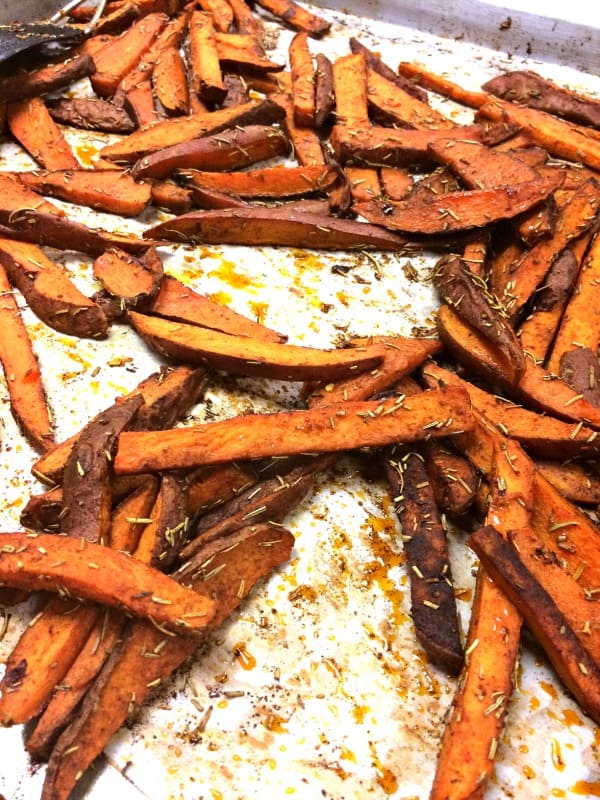 We made these fries at a cooking class I held at the beginning of the year and they quickly disappeared. Not one left. Sweet potatoes are super good for you and baked they are lower in calories. These will be a healthy addition to the feast.
Not Ketchup's Cherry Chipotle sauce flavors pair well with the sweet potato fries. A little spicy and a little sweet. Erika worked hard to develop a sauce sweetened naturally. The flavors come through.
If you are looking for other recipes for these great sauces check out the list compiled by Nicole of Presley's Pantry over on Babble.
You can buy the sauce here. If you love it as much as I did suggest to your local market that they carry Not Ketchup in the store. All this talk is making me hungry! I am off to play in the kitchen.
What are you serving for your Super Bowl party?
Spiced Sweet Potatoes
Spcied Sweet Potatoes served with Not Ketchup Cherry Chipotle
Print Recipe
Ingredients
1.5 to 2

lbs.

sweet potatoes

partially or totally peeled

1½

Tablespoons

olive oil

1½

Tablespoons

dried rosemary

1

teaspoon

smoked paprika

¼

teaspoon

cayenne pepper

¼

teaspoon

cinnamon

1

teaspoon

kosher salt

pinch

red pepper flakes

1/2

cup

Not Ketchup Cherry Chipotle Sauce

1/4

cup

greek yogurt
Instructions
Prepare fries: Preheat oven to 425°F. Cut each potato in half crosswise. Cut each half into 1/2-inch slices, then cut slices into 1/2-inch strips (to resemble French fries). Place potatoes in a large bowl.

In a small bowl, combine paprika, cumin and oregano. Drizzle oil over potatoes. Using a silicone spatula, toss potatoes gently yet thoroughly to coat. Sprinkle paprika mixture evenly over potatoes and toss gently.

Arrange potatoes in a thin layer on a large, foil-lined baking sheet. Bake for 25 to 30 minutes, stirring every 10 minutes, until tender and golden brown.

Meanwhile, prepare dipping sauce: In a separate small bowl, whisk together all sauce ingredients and refrigerate until serving.

Remove potatoes from oven, sprinkle evenly with salt and serve with dipping sauce.