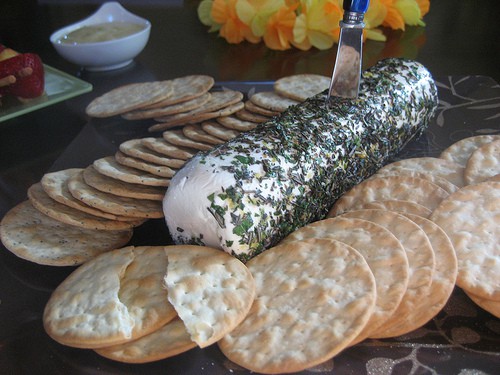 The first recipe I will share from the party is the Herb Coated Goat Cheese. It is so flavorful coated with rosemary, thyme, lemon zest and parsley. It has a fresh taste with the tang of lemon.
Serve it with toasted crostini or crackers.
Herb Coated Goat Cheese
Adapted from Giada De Laurentis – Everyday Italian
3 tablespoons finely chopped fresh Italian parsley leaves
2 1/2 teaspoons finely chopped fresh thyme leaves
2 teaspoons finely chopped fresh rosemary leaves
1 teaspoon lemon zest
1 teaspoon coarsely cracked black pepper
1/4 teaspoon salt
1 11-ounce log soft fresh goat cheese
1 1/2 tablespoons extra-virgin olive oil or Meyer lemon olive oil
Fresh herb sprigs, for garnish
Meanwhile, stir the herbs, lemon zest, pepper, and salt in a medium bowl to blend. Take plastic wrap and lay it out on the counter and place the goat cheese log on top. Drizzle olive oil on top of the cheese. Sprinkle with the herb mixture, rolling it back and forth to coat the log.
The cheese can be prepared 1 day ahead. Cover and refrigerate.