Browned Butter Snowballs with Dried Cranberries & Pecans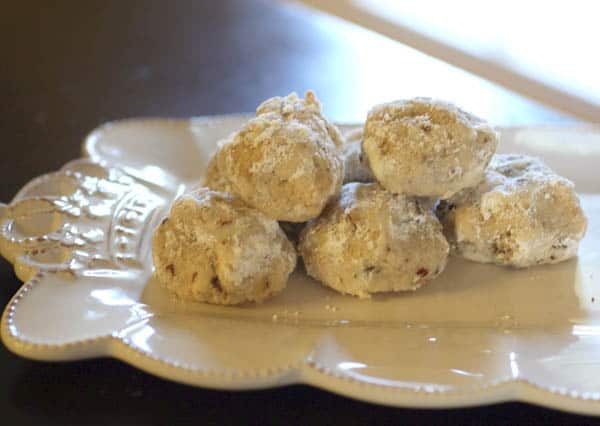 I started my Christmas cookie baking the other night. Sadly, I had a bit of a mishap and lost a tray of them to the floor, right out of the oven. My dog was happy! These cookies are the bomb if I do say so. I was inspired by one of my fellow Betty Crocker bloggers, Sugar, from Cooking With Sugar's, Browned Butter Pecan Balls.
We have a family recipe that was similar so I thought I would try our recipe with browned butter and added the dried cherries. The results were a nutty buttery cookie. The powdered sugar provides a melt in your mouth texture.
Alicia McKeown is the winner of the cookbook. Please email me with your address and the cookbook you would like.
[mv_create key="17″ title="Browned Butter Snowballs with Dried Cranberries & Pecans" thumbnail="https://adventuresinthekitchen.com/wp-content/uploads/2011/12/IMG_7011.jpg" type="recipe"]