Grilled Apricots, Cherries, Goat Cheese and Pancetta Salad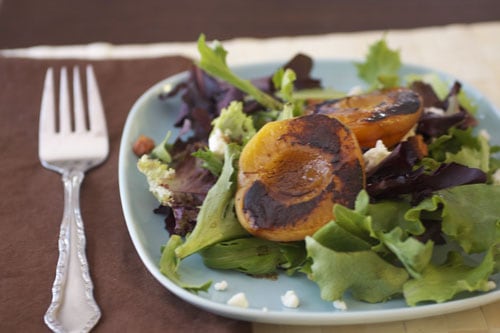 When summer comes around I love mixing grilled fruit with salad so this week made a Grilled Apricot, Cherries, Pancetta and Goat Cheese Salad. I was at the local farmers market and bought a bag of sweet dark cherries. They are my summer candy. I love the dark crimson color and the sweetness of the cherries. They pair beautifully wit the apricots and the salad quickly comes together.
Things have been a bit busy around here. I have been knee deep in a project that I am so excited about and can't wait to share with you. Hopefully soon!
I have also been working on a new site that I will be launching next week that will focus on low fat healthy meals. My first few weeks on Weight Watchers has inspired me to create delicious low fat meals and thought I would share them with you. Stay tuned.
I love the early days of summer. Most Friday nights I hang out with my niece and nephews. They are days away from the end of school. I remember the anticipation of summer, the days spent playing in the yard, family barbecues and swim lessons. We would listen for the music of  the ice cream truck so we could run outside to buy a popsicle.
Once a week we would walk to the library. I loved walking up and down the aisles looking at the books. Every so often I would ride my bike down the street to my grandparents.
This weekend includes a barbecue with friends. I am thinking of introducing my friends to an old favorite. They are a refreshing drink on a hot summer day. What will you be doing this weekend? What will you be grilling this weekend?
Grilled Apricot, Cherries, Pancetta and Goat Cheese Salad
4 cups mixed greens or arugula
4 apricots, halved and pit removed
8 cherries, halved and pit removed
3 ounces of pancetta, cooked crisp
3 ounces goat cheese
Balsamic vinaigrette
Heat a medium non stick skillet that has been sprayed by canola spray. Place the apricots and cherries cut side down and cook until tender but firm, about 5 minutes. Remove cherries after 3 minutes.
Mix together the greens, pancetta and goat cheese. Plate and then top with 2 apricots and 4 cherries. Mix with the balsamic vinaigrette.