Grilled Ribeye Steak with Mesa Steak Sauce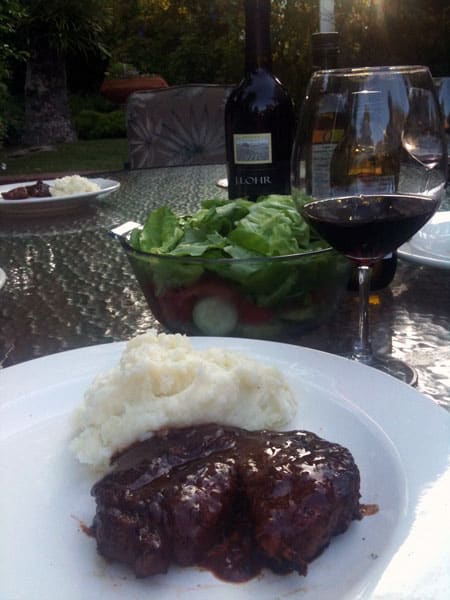 Lately a group of my friends have gathered for Sunday suppers. Last night it was my turn to cook so I made Grilled Ribeye Steaks with Steak Sauce. It is a fun way to wind down the weekend. We sit around sipping a glass of wine and nibbling on cheese and crackers. Being single we have created our own weekly family meal in a way.
My friend has a beautiful barbecue that we have been putting to good use. I used a spice mixture from Bobby Flay and then adapted his steak sauce. I am a huge Bobby Flay fan, I love the flavor he injects into the food with rubs and sauces. It is no secret Mesa Grill is one of my favorite restaurants but I don't make it to Vegas or New York enough so I am often cracking open one of his cookbooks.
This was a big hit with my friends. They put this on the repeat list. The steak sauce really makes this meal and it is so easy. You dump all the ingredients in a bowl and mix. How simple is that. It will last for two weeks in your refrigerator so you can have it on hand for another meal.
Grilled Spiced Ribeye Steak with Mesa Steak Sauce
adapted from Bobby Flay
Prep Time:  20 minutes     Cook Time:  15 minutes
Ingredients
4 Ribeye Steaks
2 tablespoons canola oil
Preheat a grill to medium-high or preheat a grill pan over medium-high heat. Brush both sides of the steaks with the oil and season with salt and pepper. Rub one side of each steak with about 2 tablespoons of the spice mixture.
Grill the steaks, rub side down, until lightly charred and a crust has formed, 3 to 4 minutes. Flip over the steaks and top with 2 teaspoons of Mesa Steak Sauce. Continue grilling for 5 to 6 minutes more for medium rare; the steaks will be bright pink in the middle.
Spice Rub
2 tablespoons ancho chile powder
1 tablespoon Spanish paprika
1 tablespoon ground coriander
1 tablespoon dry mustard
1 1/2 teaspoons dried oregano
1 1/2 teaspoons ground cumin
Kosher salt
Freshly ground black pepper
Mix all ingredients in a small bowl.
Mesa Steak Sauce
1 cup ketchup
1 tablespoon honey
1 tablespoon maple syrup
1 1/2 tablespoon ancho chile powder
1 tablespoon Dijon mustard
Salt and freshly ground pepper
Mix ingredients in a small bowl. Refrigerate until you use. Will keep for two weeks in the refrigerator.